It's been more than two years since Apple launched its streaming platform Apple TV+, offering exclusive movies and TV shows. While Apple TV+ has grown somewhat slowly, the global market share has increased over the past five months, bringing Apple's subscription service closer to HBO Max.
Apple TV+ lost some subscribers after Apple cut its free trial period for new customers in July 2021, according to a new report from JustWatch. Apple TV+'s market share fell below 5% in July-September 2021, but the platform regained subscribers in October 2021, surpassing the 5% mark.
The influx of new subscribers to Apple TV+ during this period may have been due to the highly anticipated new shows and seasons released last September and October.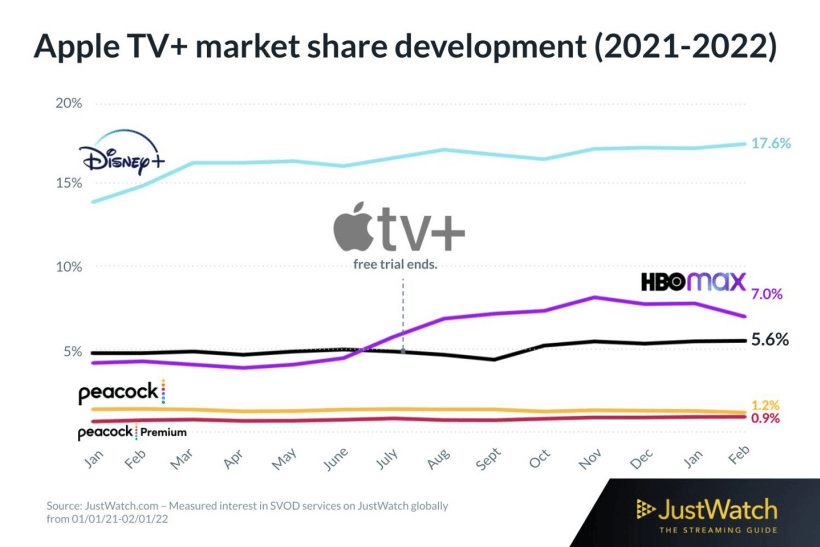 Apple TV+ has a global market share of 5.6% in February 2022, which is still well behind major competitors like Disney+ and Netflix, but is approaching HBO Max. The streaming platform, which is owned by WarnerMedia, lost subscribers last month, even as it is expanding into more European countries. JustWatch estimates that HBO Max has 7% of the global streaming market share.
New streaming service HBO Max is gaining market share thanks to its European launch. Both Peacock and Peacock Premium failed to gain momentum, while Apple TV+ gained momentum after an initial dip. Apple's streaming service is close to surpassing HBO Max in global share.