Netflix's
original animated series "Kipo and the Age of Wonderbeasts" (provisional translation) released a pilot trailer! The show's dubbing cards include Karen Fukuhara, Dion Cole, etc., guest guest dubbing cards include Sterling K. Brown, Dan Stevens, Leah Delalia, Joan Jett , John Hodgman, GZA, etc. The story tells that the little girl Chibo, who has lived in an underground cave all her life, was taken to the end of the earth's surface and embarked on an adventure. She joined a group of survivors and embarked on a journey of wonderland, where the creatures who wanted to kill them were very cute.
What happens to the world when humans are no longer at the top of the food chain?
A cartoon gives the answer.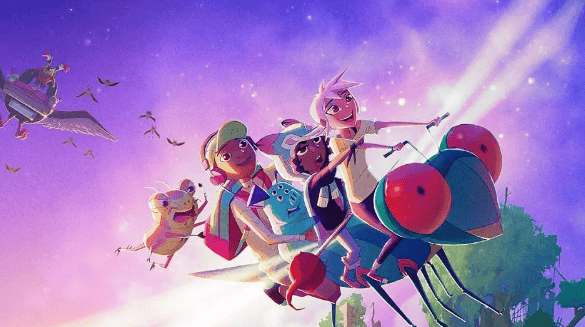 This cartoon, which was only released in January this year, has completed its first season, with a total of 10 episodes.
The cooked meat resources can be obtained by replying "
Kipo
" in the background of the public account in Baidu pan.
Kipo is the little girl in this cartoon. She lived underground from an early age and came to the ground in an accident. The ground at this time is no longer human dominated. Go through adventures again and again to find family members in your crypt.
Hearing is a brand new adventure story.
The founder radford sechrist said that he was inspired by "The Walking Dead" and "Game of Thrones,"
so he used the same method to create a special, for children Dark and pleasant, funny and humorous drama.
So, when Dong and I accidentally found this episode and watched it for a few minutes, he was completely attracted. You know, boring this little boy, Disney's princesses are repulsive to "Frozen" and "Mulan" dominated by girls. They have never seen it at all. In his world, boys have Ultraman Severn, Siro, Aix, Galaxy, Ged, King of Ultra and so on, he is like a treasure, including every Ultraman form ~~~ omg), the heroes with Avengers are already satisfied Too.
But this time, he was fascinated by this "Kipo and the Age of Wonderbeasts", whose Chinese name is: the era of odd waves and magical animals. We watched on time for ten consecutive days! I can imagine the creativity and design of this animated cartoon, which is great!
Speaking of the animation, the main story line is very simple, but the people, monsters, scenes, and plots surrounding the main line are very attractive.
Last edited: