On Dec. 29, media reported that the eight top U.S. streaming companies, including Disney and Netflix, will reach at least $115 billion in content budgets in 2022. The data is based on the statistical analysis of public information disclosed by these companies. Disney's investment in streaming content will grow 35% to 40% to $33 billion in 2022, and Netflix will spend more than $17 billion on content in 2022, up 25% from 2021. In addition, WarnerMedia, Paramount, ViacomCBS, Fox and Apple also plan to spend tens of billions of dollars on content.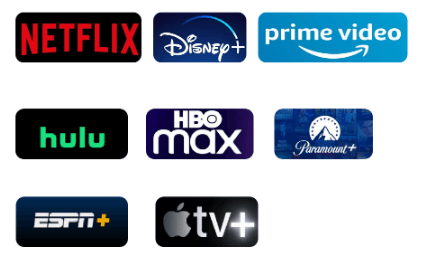 Subscription growth has slowed over the past few quarters, including for Netflix, Disney's streaming service Disney Plus and other streaming services. After the rapid growth of subscribers driven by the epidemic, the key for streaming platforms to attract new subscribers as well as retain old ones also lies in the appeal of content on the platform, so major streaming companies have increased their investment in premium content in their 2022 budgets.
According to new research by Parks Associates, U.S. streaming subscriptions have surpassed the total U.S. population to 340 million, and 82% of U.S. households have at least one streaming subscription service. At the same time, the average subscriber churn rate for U.S. streaming services is 44%, and consumers tend to choose multiple subscriptions and try different types of streaming services, which has led to competition for subscribers on U.S. streaming platforms has become increasingly intense, with competition between platforms becoming increasingly fierce.
The melee between U.S. streaming platforms is really beneficial to the integration of streaming resources in the market, which will benefit streaming TV platforms that bring together Disney+, Netflix, YouTube TV, Hulu and others. As the "bridge" between users and streaming media platforms, the streaming TV terminal has become the channel entrance for the major streaming media giants to fight for. During the epidemic, the format of streaming content + Internet TV viewing is becoming more and more popular among US home users, which makes the streaming platforms in the melee see the opportunity to increase the layout of content on the TV side in order to attract more people to watch through streaming TV terminals.
At present, more and more streaming media platforms in the United States tend to send all four ends (cell phone end, ipad end, PC end, TV end), all four ends have become the standard terminal configuration of streaming media platforms, and the TV end is more and more important in the business layout of streaming media platforms, which also makes streaming media TV platforms will benefit from the fierce competition in the streaming media market.
For example, Roku, the largest streaming TV vendor in the U.S., currently holds nearly half (49%) of the U.S. Internet TV market, with 56.4 million active subscribers in the third quarter of 2021, and serves as a "bridge" between subscribers and streaming content platforms by partnering with Roku is a "bridge" between subscribers and streaming content platforms, profiting from partnerships with Netflix, Disney+, and HBO Max to deliver their content. The rich content applications are directly driving growth in Roku's subscriber base and revenue; in addition, the more time users spend on the Roku platform is indirectly driving growth in Roku's advertising revenue.
Like Roku, which has benefited from the competition in the U.S. streaming market and gained a strong opportunity for development, the domestic Internet TV market has also emerged with Dangbei as the leader of the large-screen Internet platform companies, Dangbei's business is similar to Roku, but in the ecology is more complete than Roku, has achieved complete access in the field of TV software, TV hardware, TV systems, covering the entire ecology of the Internet TV industry.
Dangbei has the largest TV application distribution platform in China - Dangbei Market, in addition to providing Dangbei TV, Dangbei Education, Dangbei Fitness and other own high-quality large-screen applications, also established content cooperation with domestic mainstream video platforms, and occupies the top three market position in the large-screen terminal equipment industry, including smart projection, OTT boxes. In addition, SONY, LG and other global well-known TV manufacturers in the Chinese smart TV market also adopted Dangbei OS operating system. Up to now, the total coverage of Dangbei's business has exceeded 200 million home users.
With the normalization of global epidemic prevention and control, the role of epidemic boosting the growth of streaming media users is gradually fading, and the attrition rate of streaming media users is also rising, so in order to attract new users and retain old users, streaming media platforms should increase their investment in platform content to enhance their competitiveness, and the streaming media TV terminals represented by Roku and Dangbei will continue to benefit from this round of competition in the streaming media market The market will continue to benefit from this round of competition in the streaming media market and become a winner, and still have very large growth space in the future.