Projector lumens is an important consideration when purchasing a projector. Some of the projector users may be confused by the brightness measurement and don't know how many lumens is good.
1. What is lumens in a projector? Why is it so important?
Lumen is a unit of luminous flux. Projectors often use
ANSI lumens
to show the brightness, and it is the
international standard unit
for the brightness of a projector. So if you see a projector with a brightness unit other than ANSI lumens, you may need to be wary of whether it has a false mark.
When choosing a projector, we see ANSI lumens in the product marketing description, like JMGO O1is 1,400 ANSI Lumens. In brief,
higher ANSI lumens means higher brightness
.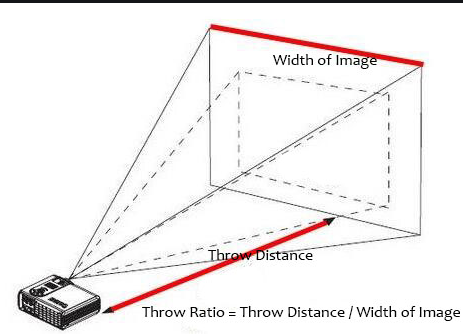 2. Do I have to choose the high lumens? Not essential
Since higher lumens mean higher brightness, am I better off buying a projector with higher lumens? Does higher lumen mean a better viewing effect? Actually, it's not necessary.
For home projectors, a proper brightness can bring the best viewing effect and best reflect contrast and colors. Lumen is the sum of the brightness of the entire screen area. While the lumens remain constant,
the larger the projection area, the darker the screen
. So how many lumens you choose depends on how large a screen you want to set up for your home theater.
Here's a chart that shows the suggested projector brightness for different screen sizes (diagonal).
| | | | | | | |
| --- | --- | --- | --- | --- | --- | --- |
| Screen size(inches) | Suggested Projector Brightness ( Lumens) | Suggested Projector Brightness ( Lumens) | Suggested Projector Brightness ( Lumens) | Suggested Projector Brightness ( Lumens) | Suggested Projector Brightness ( Lumens) | Suggested Projector Brightness ( Lumens) |
| 140​ | 1000​ | 2000​ | 4000​ | 6100​ | 8200​ | 12200​ |
| 120​ | 750​ | 1500​ | 3000​ | 4500​ | 6000​ | 9000​ |
| 100​ | 500​ | 1000​ | 2000​ | 3100​ | 4100​ | 6200​ |
| 80​ | 300​ | 700​ | 1300​ | 2000​ | 2700​ | 4000​ |
| 70​ | 250​ | 500​ | 1000​ | 1500​ | 2000​ | 3000​ |
| 60​ | 200​ | 400​ | 750​ | 36526​ | 1500​ | 2200​ |
| 50​ | 150​ | 250​ | 500​ | 800​ | 1000​ | 1500​ |
| 40​ | 100​ | 150​ | 300​ | 500​ | 700​ | 1000​ |
| 30​ | 50​ | 100​ | 200​ | 300​ | 400​ | 550​ |
| 20​ | 20​ | 50​ | 100​ | 125​ | 150​ | 250​ |
| 10​ | 10​ | 10​ | 20​ | 30​ | 40​ | 60​ |
| Image Brightness (nits) | 50​ | 100​ | 200​ | 300​ | 400​ | 600​ |