There's plenty of drama to be found in "The Lost Husband," Vicky Wight's adaptation of Katherine Center's 2013 novel of the same name, much of it baked right into its intriguing title and the odd misdirection that comes from it. Yes, Libby Moran (Leslie Bibb) has lost her husband, but that's hardly what this story is about; really, it's about Libby finding herself after a horrible tragedy that took nearly everything from her. If that sounds like the makings of a Hallmark movie or a mass market paperback you might find at a well-stocked airport bookstore, well, yes — but this genre doesn't typically yield great art. In that context, "The Lost Husband" is at least above average.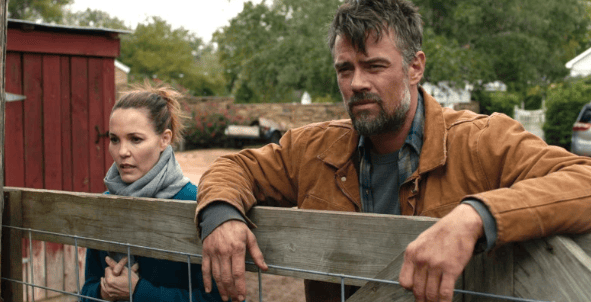 It's not a lack of drama that hobbles "The Lost Husband," but too much of it: The meandering, often directionless plot begs for a miniseries treatment, rather than the dense feature that has resulted here. However, Wight's approach may still appeal to fans of the novel and even pick up other audiences looking for a paint-by-numbers crisis story that manages to skirt a few tired tropes along the way.
Libby's life has been in flux since the death of her husband Danny (Kevin Alejandro), a tragedy that effectively ended life as she (and her two kids) knew it. They're not just down a husband and father, but also the financial security he provided, even a house to call their own. Fed up with living with her cold mother (Sharon Lawrence), Libby decamps for a quiet Texas farm owned by her aunt Jean (Nora Dunn), who she has hasn't seen in years. Jean's farm is picture perfect, and the frequent appearances by its gruff manager James (Josh Duhamel) aren't so rough on the eyes either. So far, so cookie cutter.