The year 2020 is shaping up to be a huge one for theatrical movies. With new Marvel and DC movies introducing new characters and worlds, big name directors producing movies for streaming services, and a ton of new comedies, dramas, and action films hitting theaters in 2020. This upcoming year seems to be the beginning of an exciting decade of films, and, in fact, highly anticipated romantic movies are among the most thrilling films being released in theaters in 2020.
Romantic comedies and dramas will be everywhere this year (e.g. as TV specials or streaming service originals), especially during Valentine's Day. However, for this list, we only included romantic movies that are being released in theaters, so movies like the sequel to
To All The Boys I Loved Before
and
The Prom
weren't included because they'll be released through streaming services like Netflix. Now let's take a look at all the sugary sweet, intense, sometimes funny, and engaging romantic films coming to theaters in 2020.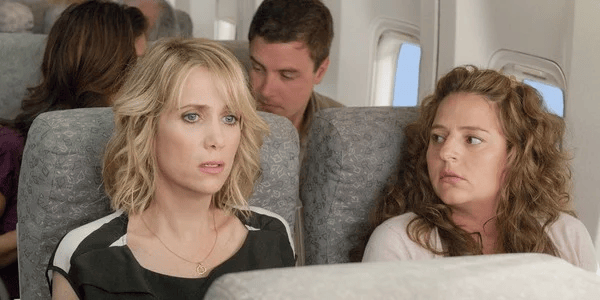 Barb And Star Go To Vista Del Mar (July 31, 2020)
In Barb and Star Go to Vista Del Mar, Kristen Wiig and Annie Mumolo play Barb and Star, two Midwesterner best friends who get out of their comfort zone by taking a trip to Vista Del Mar, Florida. The trip brings them love, adventure, and danger, as they try to stop a plot to kill everyone in Vista Del Mar. Barb and Star Go to Vista Del Mar's supporting cast includes Jamie Dornan (who plays Wiig's love interest), Damon Wayans Jr., and Wendi McLendon-Covey.
Barb and Star Go to Vista Del Mar
adds to Kristen Wiig's exciting year of movies. In June, fans can catch her as Cheetah in
Wonder Woman 1984
. Then in July, this romantic movie comes out. It's Wiig second collaboration with writing partner Annie Mumolo; they also wrote the hit comedy
Bridesmaids
together. Going by Mumolo and Wiig's past work, we expect many outrageous comedic moments in
Barb and Star Go to Vista Del Mar.
The film will also have no shortage of female empowerment moments as well as some romantic ones, since we know Jamie Dornan has a past with them.
Barb and Star Go to Vista Del Mar
should be the fun summer romantic comedy that we need.
Emma (February 21, 2020)
Anya Taylor-Joy stars in the latest adaptation of Jane Austen's beloved novel
Emma
. Emma is a young socialite who uses her boredom and fortune to play matchmaker to some of the townspeople and her friends. Along the way, she discovers that her true love was there waiting for her the whole time.
Emma
has been adapted for the big screen a few times, including with Gwyneth Paltrow playing the title character and with the modern take,
Clueless
. We're excited to see the latest story of
Emma
play out, mainly because of the interesting cast that includes Bill Nighy and Johnny Flynn, who is best known for his role on Netflix's
Lovesick
. The 2020 movie version of
Emma
definitely looks like it's staying close to the original novel, but adding a few elements to increase the comedic factor and make it more universal to audiences of all generations.
The Lovebirds (April 3, 2020)
Kumail Nanjiani, aka your next Marvel crush, and Issa Rae star in
The Lovebirds
, a romantic comedy about a couple on the brink of a breakup.
The Lovebirds
follows them as they get involved in a whodunit. They must survive the night, clear their names, and decide if their relationship can withstand this and everything else. Anna Camp from
Pitch Perfect
has a supporting role in
The Lovebirds
, as well.
Michael Showalter directed and wrote
The Lovebirds
. He previously directed Kumail Nanjiani in
The Big Sick
, and he directed the cult classic
Wet Hot American Summer
. The premise of
The Lovebirds
sounds a lot like the hit-comedy
Game Night
, but with the added tension of a near breakup. Issa Rae and Kumail Nanjiani have both played romantic leads, Kumail in
The Big Sick
and Rae in her HBO series
Insecure
. They're no strangers to combining romance and comedy, so we're excited to see the chemistry they have together in
The Lovebirds
, along with the hilarious hijinks that should ensue.
The Photograph (February 14, 2020)
The Photograph
follows a young woman named Mae (Issa Rae) who receives letters from her deceased famous photographer mother. The letters detail her mother's struggles with love and life, which mirrors Mae's commitment issues. While Mae is discovering more about her estranged mother, Michael Block (Lakeith Stanfield), a journalist, enters Mae's life looking for more information about her mother. The two begin to fall in love as they explore her mother's past.
The Photograph
appears to be a sexy romantic drama with Lil Rey Howery acting as the comedic relief. In 2020, Issa Rae is taking her place as a romantic movie-leading lady. Combine Rae's natural acting sincerity with Lake Stanfield's superb talent for character acting and you have a winning romantic combination. Courtney B. Vance and Chelsea Peretti also have supporting roles, and Emmy and Grammy Award winner Robert Andre Glasper provides the music for
The Photograph
.
The French Dispatch (2020)
Wes Anderson's latest film
The French Dispatch
follows an American journalist based in Paris after World War II who creates his own newspaper called
The French Dispatch
. The film tells a few different stories, some of which appear in
The French Dispatch
, and others about the journalist's fight for freedom of the press. Wes Anderson keeps his signature aesthetic by teaming up once again with cinematographer Robert Yeoman.
The French Dispatch
has an all-star cast that includes some of his regular collaboration partners, like Bill Murray, Owen Wilson, Jason Schwartzman, Bob Balaban, and Frances McDormand.
The French Dispatch
also includes an array of new faces to Wes Anderson's world, like Timothee Chalamet, Jeffrey Wright, Kate Winslet, Elizabeth Moss, and Christoph Waltz. These are only a few of the many major Hollywood actors appearing in
The French Dispatch
: Wes Anderson really went all out with the cast.
Billed as a comedy/drama/romance, Wes Anderson's signature storytelling style and all-star cast makes this one of the most anticipated romantic comedies (especially as a love story to journalism) and movies of 2020. The current release date of
The French Dispatch
is unknown, but I would assume that this is most likely an Academy Award contender, so I expect it to hit theaters sometime in the fall for award season.
Last edited: