Catalogs Hide
1

2022 Apple TV 4K vs Roku Ultra Review Comparison

1.1

2022 Apple TV 4K Quick Review

1.1.1

Pros

1.1.2

Cons

1.2

2022 Roku Ultra Quick Review

1.2.1

Pros

1.2.2

Cons
2022 Apple TV 4K vs Roku Ultra Review Comparison​
If you ask what is the best TV streaming in 2022, Apple TV 4K and Roku Ultra2022 are definitely on the recommended list. And, you may compare the 2022 Apple TV 4K vs Roku Ultra 2022, which one is better? It's a fair comparison because both streaming devices sell for around $100 with 4K capabilities, Dolby Vision, and other similar features. Also, both are launching their latest versions in 2022. In this article, we'll compare the 2022 Apple TV 4K and 2022 Roku Ultra to help you make the best choice.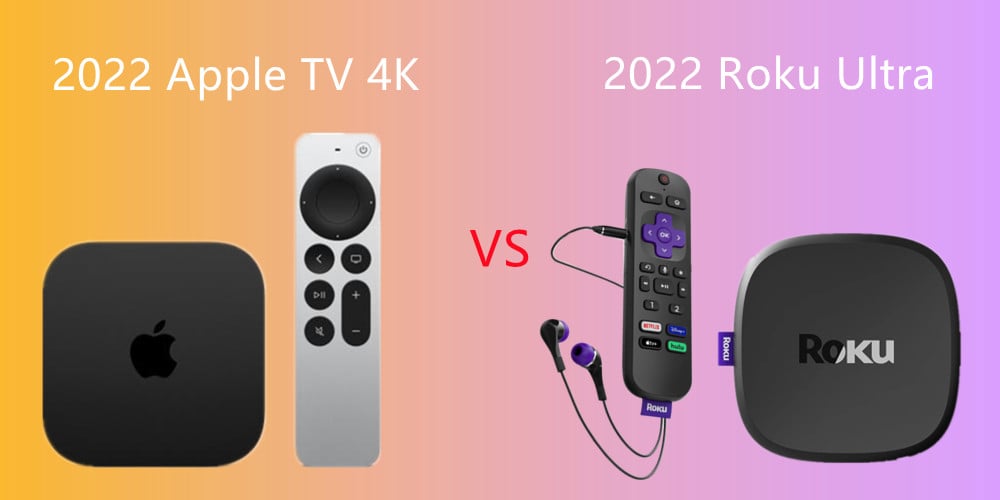 Specs
Apple TV 4K
2022 Roku Ultra
Launch Year
2022
2022
Price
$129 (64GB)
$149 (128GB)
$99.99/$68.84
System chip (SoC)
A15 Bionic
(5nm chips)
Roku OS, CPU ARM Cortex A55
RAM+ROM
4GB+64/128GB
2GB+4GB
Video
Dolby Vision
4K60 DV
HDR10, HDR10+
4K60 SDR
HD TVs
4K TVs*(Up to 2160p at 60fp)
4K HDR TVs*(Dolby Vision® at 60fps, HDR10/10+ HLG)
Audio
HE-AAC (V1), AAC, protected AAC, MP3, MP3 VBR, Dolby Digital Plus 7.1 surround sound,Dolby Atmos.
Digital stereo over HDMI
DTS Digital Surround
Dolby Atmos
Voice Remote
Siri Remote
Roku Voice Remote Pro
Connectivity
HDMI 2.1/eARC/ARC
Siri Remote 2022 USB-C port
TV control HDMI CEC + infrared
Ethernet1000 Mb/s(only128GB version)
WiFi 6 (ax) with 2x2 MIMO
Bluetooth 5.0
AirPlay 2, HomeKit, Siri
Power Port
HDMI 2.0b
USB 3.0
Ethernet 10/100
802.11ac dual-band MIMO Wi-Fi(2.4 GHz / 5 GHz)
Bluetooth
Apple AirPlay
2022 Apple TV 4K Quick Review​
The Apple TV 4K 2022 is without a doubt the newest and most powerful Apple TV streaming device available. Compared to its predecessor, the Apple TV 4K 2022 is available in two versions and boosts storage to 64GB and 128GB - you'll be unlikely to find a TV streaming device with more memory than that. And, the 128GB Apple TV 4K 2022 comes with an Ethernet interface, but the 64GB version only supports WiFi network connectivity.
On top of that, the Apple TV 4K 2022 features the A15 Bionic chip, which claims to run four times faster than its predecessor. This may seem hard to measure, but the A15 Bionic chip does make the Apple TV 4K 2022 run much smoother and faster.
As for picture quality, the Apple TV 4K 2022 supports HDR10+, which wasn't available in the previous model, and continues to be compatible with 4K, Dolby Vision, High Frame Rate HDR and Dolby Atmos.
The otherwise identical Siri Remote can now be charged using USB-C instead of Lightning, but the new Apple TV 4K will not come with a USB-C cable - which may be one of the reasons it's less expensive but with better features.
Incredibly, even though it's not cheap, the Apple TV 4K 2022 is available for just $129 (64GB)/$149 (128GB). If your plan is to find a powerful streaming device and you're on a budget, the Apple TV 4K 2022 is certainly worth checking out.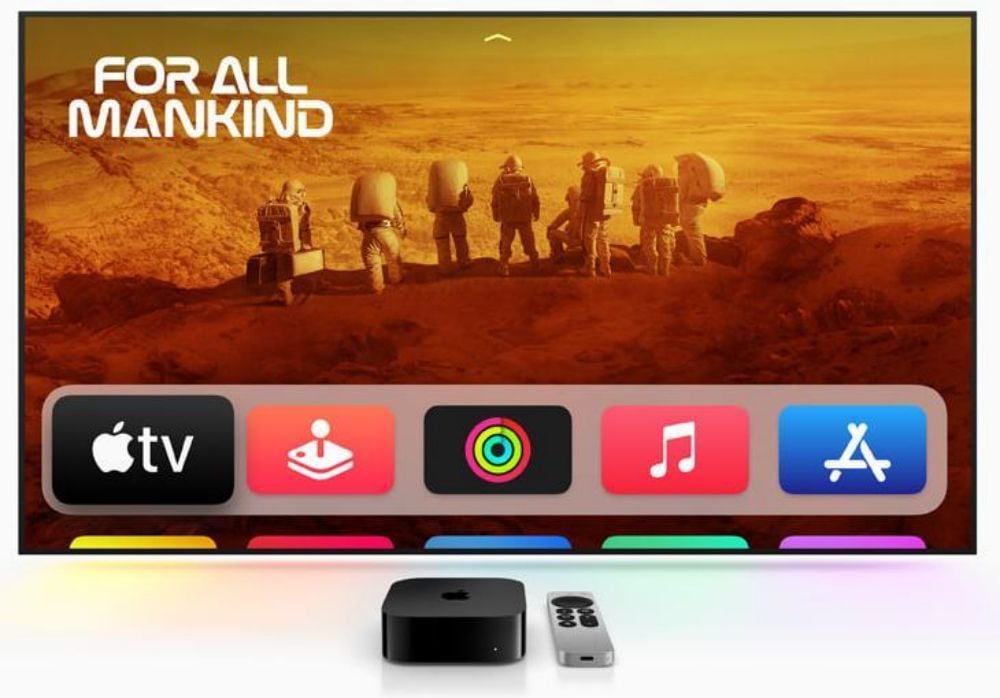 Pros​
Fast A15 Bionic Chip
Large app Storage
tvOS excels at multitasking
Far cheaper than before
Cons​
Several features exclusive to Apple users
No location tracking for the remote
No USB-C cable or HDMI in the box
Ethernet port only in 128GB version
2022 Roku Ultra Quick Review​
The Roku Ultra 2022 supports all major 4K streaming services, HDR (including Dolby Vision and HDR10+) and Dolby Atmos, but it is still in fact the 2020 version of the streaming device. That's because the latest upgrade mainly comes with the Roku Voice Remote Pro.
The Roku Voice Remote Pro has a rechargeable battery, retrieval of lost remotes, programmable app shortcuts, and the ability to search for content using your voice. There's also a headphone mini-jack on the remote. It offers earbuds, but you can still use your own headphones.
The Roku Ultra has four ports, an Ethernet port, an HDMI port, a USB 3.0 port, and an included proprietary DC power supply. The Roku Ultra comes with an HDMI cable and a remote control with a headphone mini-jack.
In short, the Roku Ultra is easy to set up. Once up and running, you can watch videos in HD, 4K or 4K HDR formats. The device also comes with an impressive remote control with a lost remote finder, hands-free controls, Bluetooth technology for private listening, and preset buttons for faster access to the most popular streaming channels. It is a high-end TV streaming device with an initial price of $100, but now you can buy it for around $70.
Pros​
Supports Ethernet Network
Easy-to-use interface
Features headphone jack and remote finder
Cons​
Only slightly improve over the processor
Lack of voice control
2022 Apple TV 4K vs Roku Ultra Comparison​
Appearance Design​
The latest Apple TV streaming box, Apple TV 4K 2022, is faster, smaller, more efficient and less expensive than its predecessor. The same simple, discreet round black box design is now 20 percent smaller and half the weight of previous versions. The previous model had the Apple logo followed by the letters "tv," but the new model has been simplified by making it just the Apple logo.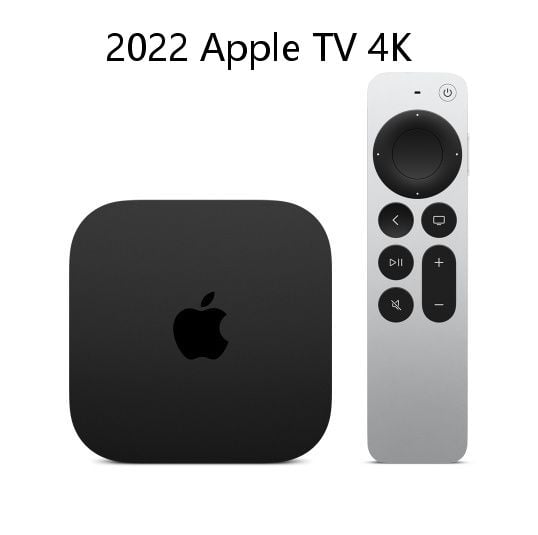 The Roku Ultra is also a four-square TV box, but it has a more rounded design, so you'll see a very sleek look. The top has the Roku logo, with ports and a purple braid on the side. Overall, both the Apple TV 4K 2022 and the Roku Ultra 2022 are small black TV boxes. They can be nicely hidden behind a motor or placed on a TV table without taking up too much space.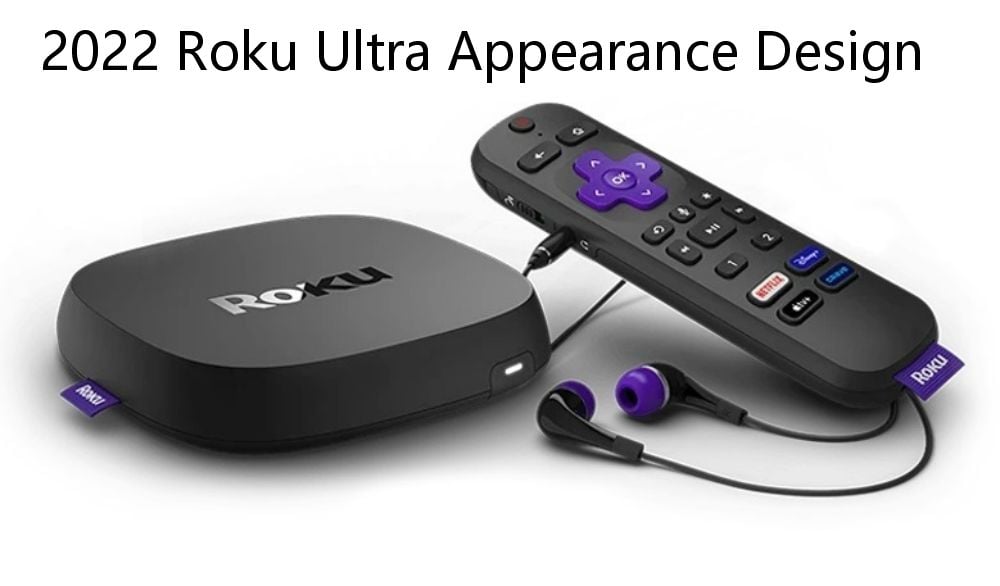 Display and Streaming​
Both the Apple TV 4K and Roku Ultra boxes offer the best quality 4K HDR streaming from compatible apps, as well as Dolby Vision and Dolby Atmos. Both also work with Apple's AirPlay 2 system to project content from an iPhone, iPad or Mac to a TV and HomeKit to control the box via Siri and Apple TV Plus.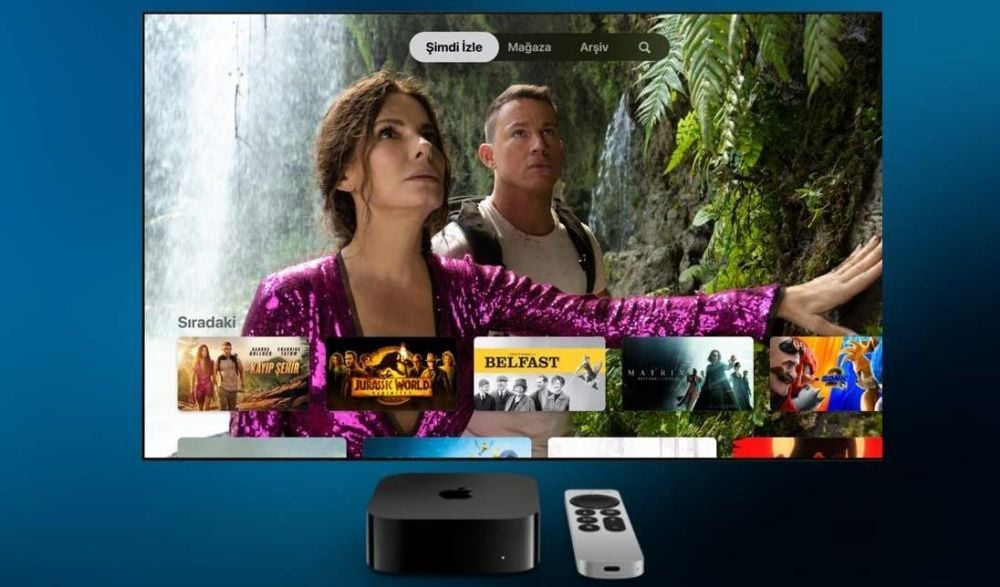 While Apple TV integrates with other Apple services that Roku lacks, including Apple Music, Arcade and Fitness Plus, app support is equally comprehensive between the two.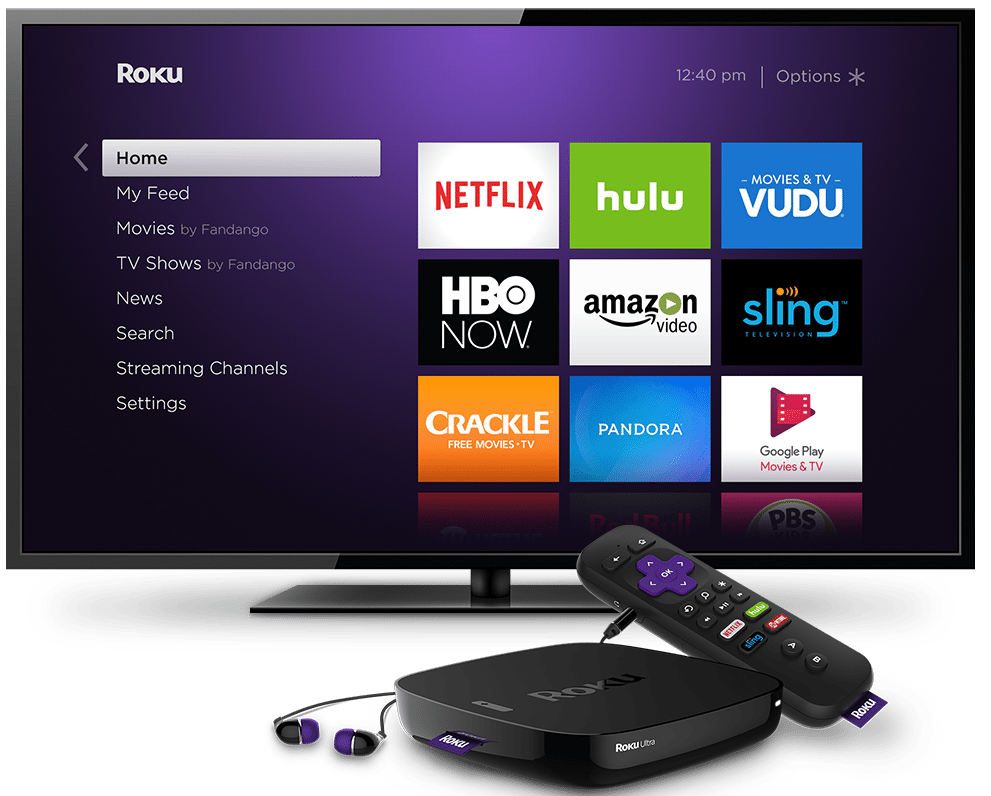 However, Apple TV includes a Steam Link app that gives you an advantage over Roku by enabling you to stream PC games to your TV. Apple devices also support the simultaneous connection of four Bluetooth controllers for intense gaming. In contrast, Roku can only enable two audio-only connections at a time.
Ports and Connectivity​
As for connectivity, the Apple TV 4K 2022 has a power connector and an HDMI 2.1 port for connecting to the TV, plus an Ethernet port for connecting to a wired network for the 128GB version.
2022 Apple TV 4K Ports​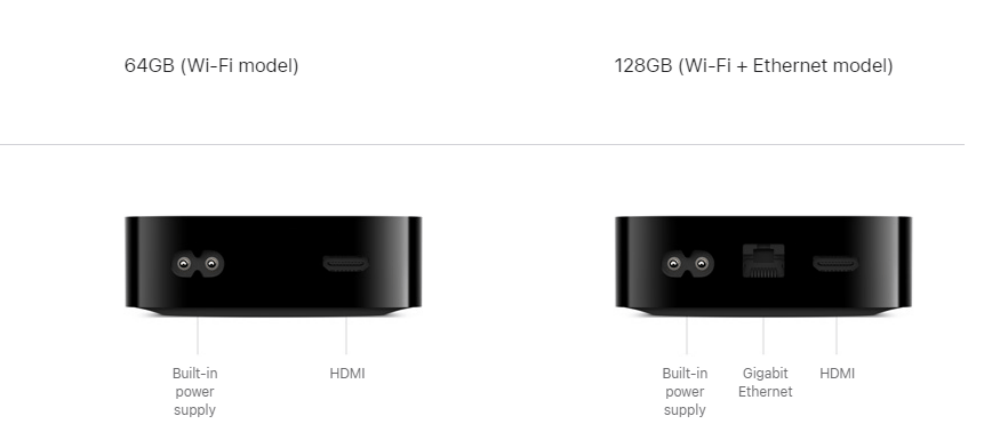 Roku Ultra 2022 also has a USB port for connecting to other external devices, in addition to power, HDMI and Ethernet ports. In addition, there is a lost remote finder button on the side of the Roku Ultra. If you are unfortunate enough to lose your remote, press this button and the remote will beep to guide you to it.
Roku Ultra Ports

Remote​
The Apple TV 4K comes with a Siri remote pad that has almost no buttons on it, and you can rotate your thumb on the touch-sensitive wheel to navigate through videos, but annoyingly, it doesn't work with all streaming services. There's a power button to turn off the TV as well, just one long press, and the Siri button is located on the right edge. It's a very flexible touch remote, but some people have commented that sometimes the touch controls aren't timely, which is annoying.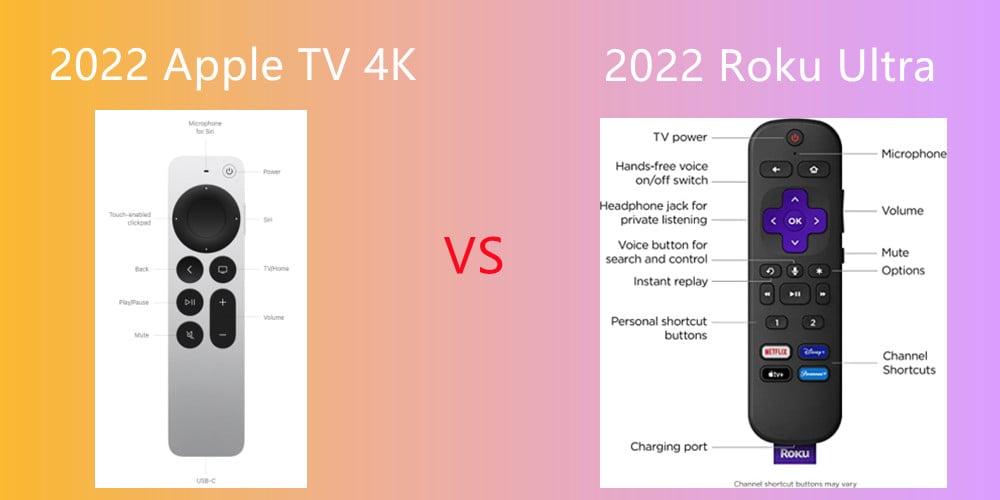 The Roku Ultra 2022 features an upgrade to its remote control, the Roku Voice Remote Pro, which does have a very handy remote control feature: the remote plays sound when you press a button on the Roku Ultra box. Plus, it has four pre-assigned buttons that call up Netflix, Disney+, Hulu and SlingTV, plus two customizable buttons. You can play entertainment, control streaming, power on your TV, and even find a lost remote. And you can also plug headphones into your remote or use wireless pairing with the Roku mobile app to turn up the volume without disturbing the quiet of your house.
System​
The big difference between Apple TV 4K and Roku Ultra remains that they run completely different systems, so they have different interfaces. You can find the Roku Ultra very simple and easy to navigate. You can sign in to your Roku account and add apps to your channels list. Apple TV 4K's interface is also very clean, but with a different layout. You can see the home page with separate sections and check out your favorite apps or download your favorite apps from the Apple Store.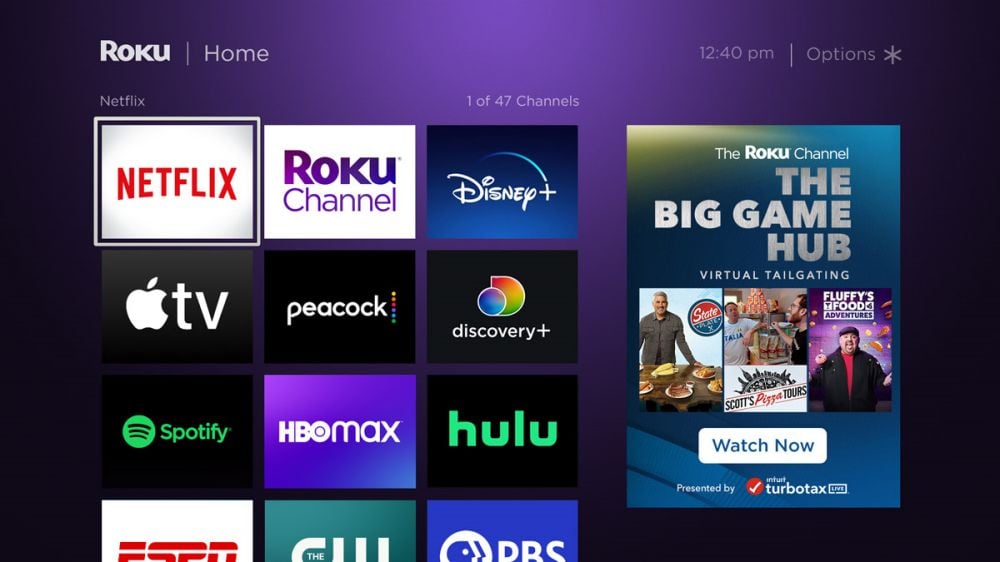 Additionally, both the Apple TV 4K and Roku Ultra have 4GB of running space, but the Apple TV 4K is available in two separate versions with 64GB and 128GB of storage. This is incredible! You can download a lot of your favorite apps on the Apple TV 4K without worrying about storage, and the Roku Ultra 2022 only has 4GB of storage, but since the apps are added to channels, this seems like a huge space saver.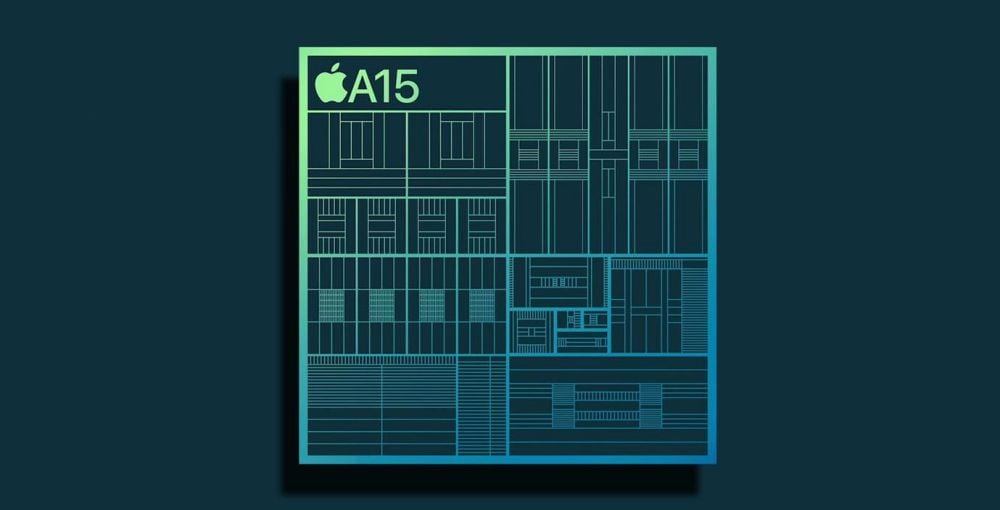 What's more, the Apple TV 4K features an A15 Bionic chip with excellent power efficiency, saving 30 percent over the previous generation Apple TV 4K powered by an A12 Bionic. It also means that powerful features can be used in games, and a faster chip means better smoother graphics.
2022 Apple TV 4K vs Roku Ultra Summary Verdict​
Finally, in our comparison of the 2022 Apple TV 4K vs Roku Ultra, we found that the 2022 Apple TV 4K is the latest and most powerful TV streaming box. It has almost the best chip and the largest storage space, and supports HDR10, HDR10+, Dolby Vision and more. It's no exaggeration to say that you can find the best streaming experience here. But it has a simple connection interface and only 64GB of 2022 Apple TV 4K without a wired network interface. If that's your must-have, go with the 128GB Apple TV 4K or Roku Ultra.
On the other hand, both TV boxes offer the best picture display and comprehensive streaming services. But if you also want gaming performance, the Apple TV 4K is a better choice because it has a better chip and storage space.
Finally, 2022 Apple TV 4K and Roku Ultra both work perfectly in their own ecosystems. If you're already in the Apple family, then Apple TV 4K will fit perfectly into your other entertainment devices. If you're already used to Roku, then you'll find it easy to sign into your Roku account on Roku Ultra. So, I would like to emphasize that please choose the most suitable device according to your preference. But it cannot be ignored that the price of Roku Ultra has come down and this will become a valid attraction.
Last edited: