Optoma CinemaX Pro vs Optoma P2 Both models are ultra-short throw projectors with high-quality built-in sound but comparing the Optoma CinemaX Pro vs the P2, you notice a few differences. The CinemaX Pro produces brighter, sharper images, and is easier to install, but this doesn't mean you should ignore the P2. Before you pick one projector over the other, take a closer look at their specifications.
Both projectors come with smart features, onboard sound, and produce stunning onscreen images, but there are also differences.
4K Projector Reviews Optoma CinemaX Pro vs Optoma P2
| | Optoma CinemaX Pro | Optoma P2 |
| --- | --- | --- |
| | | |
| Resolution | 3840x2160 | 3840x2160 |
| Contrast Ratio | 2,500,000:1 | 2,000,000:1 |
| Brightness (Lumens) | 3,500 ANSI | 3,000 ANSI |
| Input Lag | 55ms | 67ms |
| Throw Distance | 1.5' - 2.2' | 1.5' - 2.2' |
| Screen size | 85" - 120" | 85" - 120" |
| Internal Speakers | 20.0 Watts × 2 | 20.0 Watts × 2 |
Optoma CinemaX Pro Review
Pros
Accurate colors
4K resolution
Voice-control
Flexible installation
Dynamic contrast
Cons
Input lag is too slow for most gamers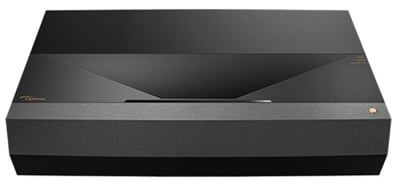 Optoma CinemaX Pro​
The CinemaX Pro comes with advanced picture technology. You get amazing image quality in most lighting. A high-performance all-glass lens, 2,000,0000:1 dynamic contrast ratio, and HDR10 support ensure images a crisp and clear with vibrant colors. It's easy to get lost in the onscreen picture when you're watching a movie or show.
Installing a home theater projector has never been easier. An ultra-short throw distance, combined with the automatic 81-point image alignment system ensures you won't struggle to center onscreen images. With support for IFFFT and multiple voice-control systems, it's easy to integrate the 4k projector into your smart home.
You can easily install your favorite streaming apps via the onboard Android-based operating system. You can access Optoma's online marketplace and download your favorite apps, often without connecting a streaming stick. Dual 20-watt speakers deliver impressive sound. You won't get surround sound, but you can fill small rooms with crystal-clear audio.
About Optoma CinemaX Pro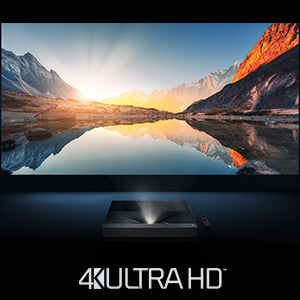 TRUE 4K ULTRA HD: Enjoy a high-quality home theater experience with 4K Ultra HD with 8.3 million distinct addressable on-screen pixels
HDR COMPATIBLE: By smoothly adjusting light output, the 1,500,000:1 contrast ratio combined with a wide color gamut and HDR10 technology provide stunning color with brighter whites and deeper black levels
ADVANCED LASER LIGHT SOURCE: Featuring 3,000 lumens of brightness, the CinemaX P1's laser light source combines state-of-the-art picture and color performance to deliver 30,000 hours of maintenance-free operation
CONVENIENT PLACEMENT: Space-saving design, large 120" image projected from approximately 15 inches away; ultra-short throw projectors allow placement close to the wall
PREMIUM SOUNDBAR BUILT IN: Integrated NuForce soundbar with Dolby 2.0 including two full range speakers, two woofers, ported chambers and 40 watts of power, delivers crisp details with superior dialogue clarity
EASY IMAGE SET-UP: Optoma's SmartFIT auto geometry correction app ensures easy 4-corner alignment set-up with your smartphone; the auto-focus feature provides a crisp, clear image instantly
VOICE ASSISTANT COMPATIBLE: Alexa and Google Assistant compatibility enable intuitive voice control for powering on and off, changing volume, changing input source and controlling the USB media player
Optoma CinemaX P2 Review
Pros
4K resolution
IFTTT compatible
Bright images
Flexible installation
HDR10 support
Cons
The SmartFitt does not always work with the projector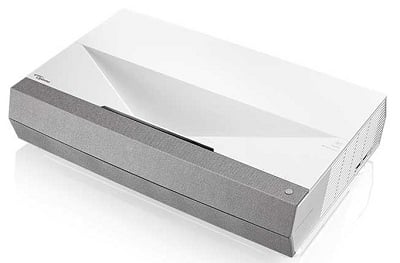 Optoma P2​
The P2 home theater projector comes with the same smart features as other models in the series. You have support for Alexa and Google Assistant. You can also download the SmartFitt app.
The SmartFitt app makes installing the P2 a breeze. It automatically corrects image alignment, after you download the app. If the app isn't working with the projector, you're not out of luck. You can use manual horizontal and vertical keystone correct to align images on the screen. It also comes with digital zoom for fine-tuning image clarity.
You won't complain about image quality with the P2. A 6-segmented color wheel produces realistic colors. Rainbowing can be an occasional issue, but it doesn't detract from image quality. PureMotion technology ensures action frames play smoothly, and a 3,000 lumens light produces bright onscreen images. Pictures are clear and detailed, even with the lights on.
About Optoma P2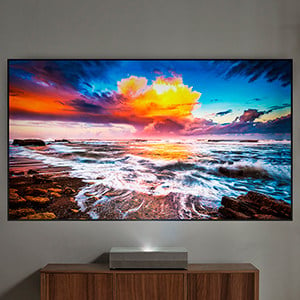 4K UHD + HDR10: Enjoy a high-quality, cinematic home theater experience with 4K Ultra HD, HDR10 technology and an incredible 2,000,000:1 contrast ratio
6-SEGMENT COLOR WHEEL: Experience richer colors and enhanced brightness with the six-segment color wheel; The RGBRGB color wheel brings accurate cinematic color to your home, reproducing movies, TV and games the way the director envisioned it
BRIGHT, RELIABLE LASER: Laser technology delivers outstanding brightness up to 30,000 hours of light source life that maintains stunning image quality throughout its lifespan; 3,000 lumens of brightness enable lights-on viewing in a variety of rooms, any time of day
ULTRA-SHORT THROW: The CinemaX P2's space-saving, ultra-short throw design provides convenient placement for a huge screen experience – up to 120" image from only inches away
EASY IMAGE SETUP: Using Optoma's SmartFIT app, ensure easy place and play using your smartphone; the auto geometry correction system allows hassle-free image alignment; auto focus enables simple setup
VOICE ASSISTANT COMPATIBLE: With the Alexa smart home and custom skills or Google Action, control your CinemaX P2 projector with intuitive voice control using Amazon Echo and Google Home devices
Conclusion
There's a lot to like about the Optoma CinemaX Pro and P2. Both produce exceptional image and audio quality and are also easy to install.
You do get a brighter, more vibrant picture with the CinemaX Pro. The onboard SmartFitt app makes installation and set-up quick and easy. The only downside is the price. The CinemaX Pro is significantly higher than the P2.
Whichever model you decide is the best fit for your home, you won't be disappointed with Optoma's CinemaX line.