If you are considering to buy a new smart TV. There is a good budget, the 55-inch Nokia Smart TV. Before adding it to your shopping cart, you'd better check the Nokia Smart TV Specification and reviews in case of some features that will disappoint you.
55-inch Nokia Smart TV Specifications:
Model Name
: 55CAUHDN
Dimensions:
1234.6 mm x 739 mm x 98 mm without stand
Screen:
55-inch LED, 10 Bit Color Depth, 4K Upscaler, MEMC
Resolusion:
Ultra HD (4K), 3840 x 2160
Contrast Ratio:
1200:1 (Static)
Brightness:
400 nits
View Angle:
178 degrees
Refresh rate
: 60 Hz
Processor:
CA53 Quad Core, 1 GHz
Graphic Processor
: Mali450 Quad Core
Ram Capacity
: 2.25 GB
Storage Memory:
16 GB
Supported App:
Netflix, Youtube, Disney+Hotstar, Prime Video, Google Suite of Apps and others downloadable from Playstore etc
Operating System:
Android
Audio:
2 box speakers, 24 W, JBL, Dolby Audio, DTS Trusurround
Ports:
3 HDMI (2 rear, 1 side), 2 USB,
Connectivity:
WiFi, Bluetooth, Screen Mirroring
Remote Control:
smart remote
Warranty:
1 year
Launch Year:
2019
Price:
Rs 41,999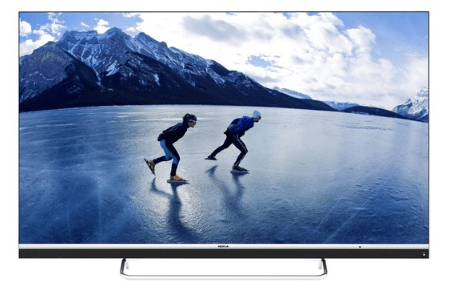 55-inch Nokia Smart TV Advantages:
1. Good picture quality
2. Good sound with JBL speakers and Dolby effect
3. WiFi and Bluetooth headphone connectivity works well.
4. Delivery and Installation: Flipcart delivered the Product in less than 24 hrs
5. Value for money
6. App support: Netflix, Youtube, Pprime, Hotstar are convenient to use.
55-inch Nokia Smart TV Disadvantages:
1. HD upscaling is absent. SD channel is very bad. Screen bleeding slightly.
2. Only tweeters are front firing, speakers are down firing. So stereo affect is not too wide.
3. Screen mirroring lags. Sometime it's not decting hard drive and you need to restart it.
4. After wall mount it is very difficult to access back port.
5. No zoom options and default player do not support some audio format like webm. However mx player can both issues.
6. You need to switch to HDMI mode to customise video settings. ie if you are in Android home or in any apps like you tube, customise option not available.
The
43-inch Nokia smart TV
will come soon. If you want to buy a smaller size model, you can wait for a while.