I just received my second technical screen from the famous brand Vividstorm , the model: (attention take a long breath and open the ban!) " Electric Tension Floor screen with Obsidian Long Throw Ambient Light Rejecting screen material " (close the ban!) .
*This article is first published by Grégory in French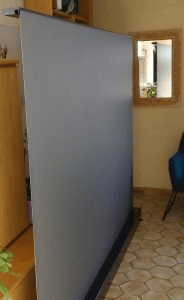 It is always a screen that is placed on the ground and which is motorized to deploy automatically from its box. A tensioning system by cables and articulated arms allows to keep a smooth screen without deformations.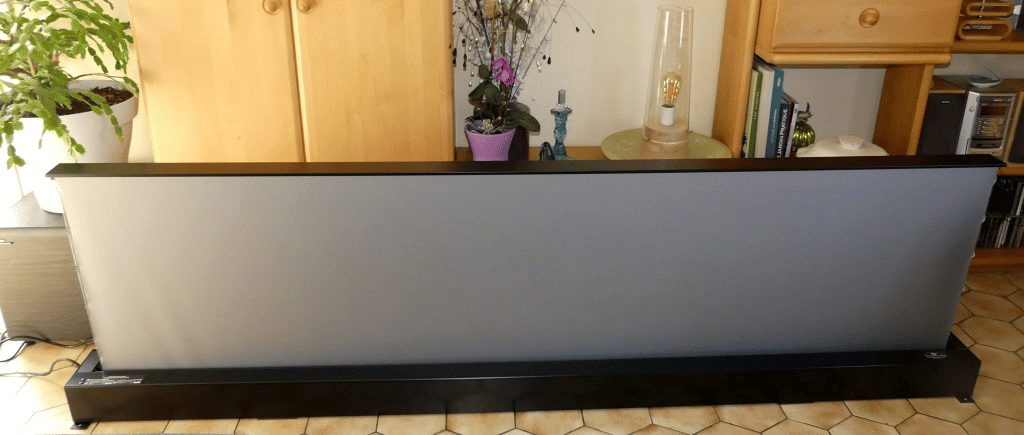 Vividstorm screen during deployment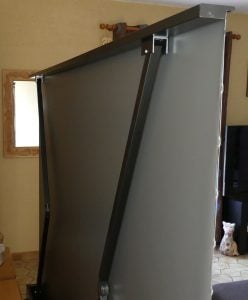 Tension by articulated arms​
As with the UST model, the new Vividstorm is accompanied by two remote controls: an infrared and an RF. Personally I only use the second option which allows much greater freedom of movement without the need to aim the infrared sensor.
Here are for the similarities but now let's look at the differences. The shell is already modified compared to the UST version. The rounded edges of the first model have given way to angles.

New Vividstorm screen​
But it is mainly the screen that differs, with the installation of an ALR (Ambient Light Rejecting) technical screen that could be translated into French by anti-pollution of ambient light device. This canvas is intended for classic or short throw projectors. Here are its main features:

Vividstorm 0.8 screen specifications
​
The angle of view is slightly narrower than that of the UST model.
You can compare live versions 0.8 (conventional projectors) and 0.6 (ultra short focal length), using the two attached tables.

Vividstorm 0.6 screen specifications
​
I will quickly get to work so that I can offer you a complete test bench for the " Electric Tension Floor screen with Obsidian Long Throw Ambient Light Rejecting screen mate " or " Electric tension floor screen with obsidian screen for rejection of long-range ambient light. " We have already made it shorter as a reference!