Amazon is back in the spotlight as tech blogger Janko Roettgers recently uncovered that the company has received FCC approval for two new-generation Fire TV Stick devices. While Amazon's FCC submissions referred to these devices as "digital media receivers," it's evident from their characteristics that they are, indeed, the highly anticipated Fire TV Sticks.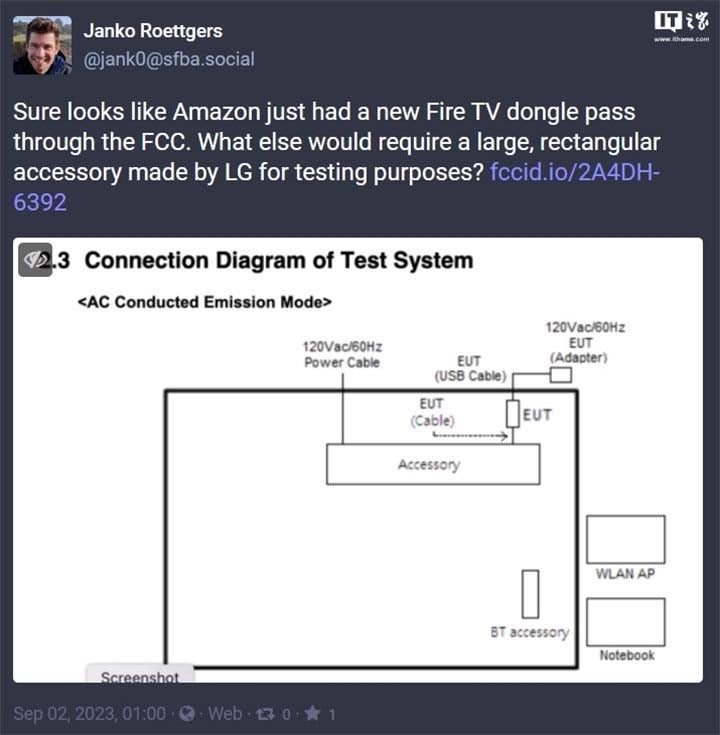 These two devices appear to be variations of each other, suggesting that they could either be a standard version and a Lite version or a standard version and a Max version. These new devices are likely to be the 2023 Fire TV Sticks, with one device sporting an FCC ID of 2A4DH-6392 and the model number M3N6RA, while the other has an FCC ID of 2A4DH-6387 and the model number K3R6AT.
Amazon has previously used the term "digital media receiver" for its Fire TV products, and the FCC documentation also mentions their connection to "accessories" manufactured by LG during testing. These accessories are presumed to be LG TVs or monitors and are used in conjunction with Bluetooth peripherals.
One key difference revealed in the FCC documents between these two devices is that the M3N6RA supports WiFi 6, while the K3R6AT supports WiFi 6E. Furthermore, there is speculation that one of them might support 4K resolution.

The approval of these devices by the FCC has sparked excitement among consumers and tech enthusiasts. While the specifics of their features and capabilities are yet to be officially confirmed by Amazon, the mere fact that new Fire TV Stick models are on the horizon suggests that Amazon is continuing to invest in enhancing the streaming experience for its customers.
As with any new product release, it's expected that Amazon will reveal more about these Fire TV Stick devices in the coming months, including their pricing, availability, and the unique features that will set them apart in the competitive streaming media market. For now, consumers will have to wait in anticipation for the official unveiling of these devices and the enhanced entertainment experiences they may offer.