Joe had
two husband
(and a husband died of AIDS years ago in 2001, the documentary did not mention), in which her husband John Finlay later confessed to him that he has been consorting with the Secretary of the zoo for many years, and now she pregnant so to run away, and Finlay after the end of the movie Exotic jail, went to a tattoo of a bulldog lover years ago covering the pattern name Joe Exotic,
do not need to commemorate
, he says. And another husband, Travis, committed suicide in 2017. It is said that he had a headshot, and it was not clear whether he was fed up with the life that was deeper and deeper, unbearable and unable to escape, or was it caused by unconsciousness due to the high drug accident. In the film, Joe was very sad about Travis 'death. He cried from time to time. He choked a eulogy at the funeral, sang the song written to Travis, and po to show it to everyone.
He looked sad, desperate for two months
. It was not until two months later that he met his new husband Dillon Passage (he also added Passage to his surname). At that time, Xiaoxian was 22 years old and Joe was 54 years old.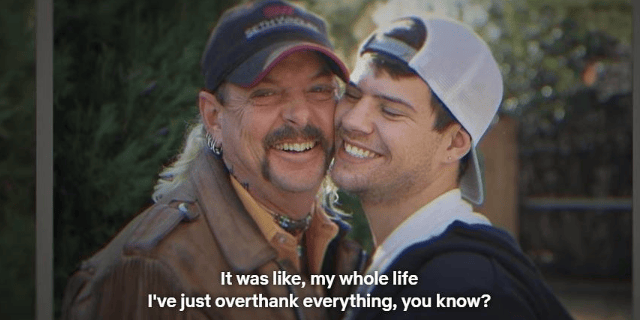 It is worth recalling that the film also interviewed his husband, trying to understand their relationship. One thing in common is that when they met Joe, they were very young. John and Finlay met Joe at the age of 18, and Dillon was 22. You can feel from the film that when John and Finlay knew Joe, they had nothing, they were both addicts, and they both claimed to be straight men. Joe gave them a place to live in his animal kingdom, inexhaustible drugs, guns, trucks, money, gifts, what do you want, but only if you can only stay in mine In the zoo, you are not allowed to leave me, otherwise you will have nothing . Travis left a deep impression on me in the last few fragments of the film. He takes drugs every day, has no work, and has lived in the zoo for a long time. He can only run his kart and spray bullets against the lake. Like those beasts trapped in cages, they die while alive . This perverted bondage relationship reminded me of " Bound Me, Tie Me " by Amodowa (
the hostess finally fell in love with her kidnappers
) . Do you think there is love, and whether there is mental control, I think both Yes . Even after Joe was in prison, he called Dillon, he told Dillon to wait for him to come out, do n't leave him, Dillon said you can rest assured, I wait for you to come out, you just have to keep your head still on your shoulder, phone sobs and tears the other end Joe Dillon's eyes , even so I moved. If Joe really loves his Travis, why should he make the funeral like a show? Why is he so happy again?
Personally, this is more like his deep-rooted thinking pattern for many years. He does n't seem to feel that there is any moral impropriety. He loves his husband, he may not know how to love his wife, how to keep his lover around. , But he needs this emotion, so his way is very insane, selfish, he doesn't care if it hurts others. After John left, he said I still have Travis, and after Travis left, he couldn't wait to find another husband to fill the vacancy.
Speaking of Joe and Carole 's grievances and incidents of phishing law enforcement imprisonment. Many people say that Joe and Carole are Trump and Hillary , and they cannot agree more. The difference between Joe and Trump is that the former has a lot of tigers and the latter has a lot of money . There are too many Drama rounds between Joe and Carole. I once thought that Joe and Carole had secret deals, such as making topics together and making money together.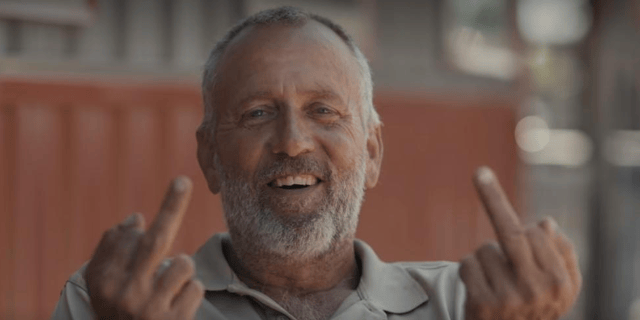 Regarding Joe 's hiring and murder, plus the charges of selling animals for animal cruelty, Joe has been in prison for 22 years . In the case of homicide, Joe seems to be enforced by phishing . First, the FBI used both hard and soft to let the businessman and the scammer who stole the Joe Zoo collect evidence. The so-called killer? ? The scammer is suspected to have framed Joe with his men. The killer said that he had gone to Florida for a while, but not for a while. Is the $ 3,000 severance payment or homicide fee both sides holding their own? ? (Ten thousand dollars a year is not enough.) After the incident, the businessman accused the scammer is a big scammer, saying that when the good zoo is handed over, one person is half. Why do n't you have my share. The scammer used the rented mansion to cheat Joe and cheated the next one. Come here. You pay for it and contribute. Let's open another biggest zoo together?
Looking at this paragraph, I think these people, businessmen, scammers, partners, killers, are really funny, they are covering up in front of the camera, talking nonsense, shirking each other, contradictory , "Do you think I will say in front of the camera "? ? Their interests in the face of an alliance, but also because the interests dogfight, but they can get out, the big deal is less money Well, you see how I would assess the situation, bowing annual Bitchs's yours. In this matter, the media, the official, the FBI, the US Fish and Wildlife Service, they are just a little bit of water in the documentary, and their participation in the entire event, you taste, carefully taste, think carefully. . . I do think he wants to kill people, he abuses animals, he violates the law, he should go to jail, he should be put on trial, he is selfish, greedy, mean, even stupid, crazy. However, only he pays for the whole process of falling into the traps designed by others, and others want him to make mistakes, destroy him by any means, and then happily eat his blood, and no one will admit that he is immoral. Yes, yes, the fruit is yours, and justice is yours. I suddenly felt that Joe was sad, too sad, he fantasized about being the protagonist, but he was just a tool.