Green Eggs and Ham
is very suitable for children to watch, My kid is glued to this show. It's actually beautifully animated and pretty funny for adults as well. I love the storyline and voice acting. And
Green Eggs and Ham
is also the best for older friends to watch for 1) Using English subtitles; 2) Finding eastern eggs.
Eastern Eggs in the film:
Repertoire of a musical
A movie
Part of church fresco
Political color
For me, I have learned a lot of English:
Describe sounds such as bird screeches, cat growls, engine revs, horn blares, horse neighs, lock rattles, man slurping, goat bleat, glass shatters, siren wails, stomach rumbling, tires squeal, thunder crashing, page rustle, etc.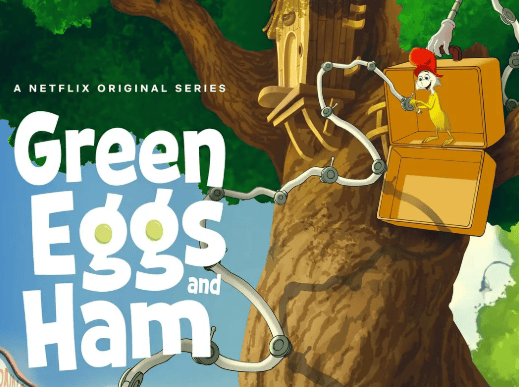 Simple expressions, such as: time has not been kind (long time is not forgiving), long story (one word is hard to say), one's life was a breeze (xxx was carefree), park and ride (park and ride) etc.
...
The play is full of imagination, vivid animations, and simple and interesting plot. Looking forward to the second season
PS: If you are watching with Netflix, it is recommended to use Language Learning with Netflix plugin (Chrome)