On June 28th, the media wccftech reported that Twitter user @Jioriku exposed relevant news of the new generation of Apple TV 6. It is reported that
Apple TV6 is expected to be released in September, equipped with A12X chip,
and has a better cooling system and larger storage space.

Breaking news @ Jioriku revealed that Apple plans to release a new generation of
Apple TV6
in September while releasing a new Apple TV6. The processor will be equipped with A12X bionic processor,
which has the same performance as the 2018 iPad Pro,
which provides a higher performance gaming experience. The appearance is not much changed from the previous generation, but it will enhance its cooling system.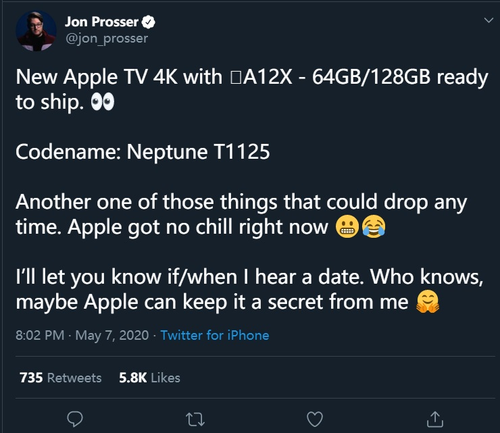 Earlier, Twitter blogger @Jon Prosser broke the news that the new generation of Apple TV will have 64GB/128GB storage space and support 4K video in addition to the A12X bionic processor. In addition, the new Apple TV is likely to also use the new tvOS system, so that Apple TV6 has a better gaming advantage.
For Apple, the positioning of Apple TV is the next-generation set-top box, which not only assumes the function of a game console, but also has video streaming and online music playback functions. In terms of games,
Apple TV is a cheap alternative to Sony PS4 and Microsoft Xbox One.
At the press conference in the 2015s, Cook called App the future of TV, and Apple TV was a revolution, which represented "the future of TV." Since then, Apple announced that Apple TV supports Xbox and Playstation gamepads respectively.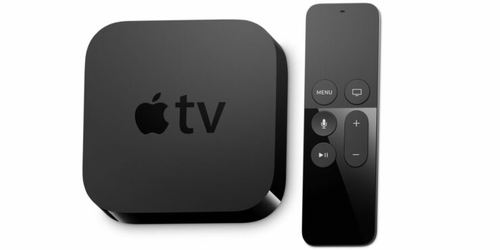 The news about the iPhone 12 series of new machines is still continuous. Last week, Bloomberg reported that Apple will launch new HomePod and Apple TV this year. The news of Apple TV6 has been exposed recently, and there may be news about HomePod in the future. It seems that Apple is planning a very large press conference, which is exciting.