Creating a home theater is always a wonderful dream for the family. The best way to achieve it is to buy a projector provided with a theater-like big screen. Luckily, projector brands Auking and Emotn have launched their new projectors in 2021 on a favorable budget for home entertainment optWions, Auking 2021 projector W29 and Emotn C1. So which one is better for home? Let's compare side-by-side.
​
Spec

Auking W29 Projector​

Emotn C1 Projector​

Picture

Size(mm)

170x135x74mm​

225 x 186 x 109mm​

Weight(kg)

0.51KG​

1.69KG​

Light source

LED​

LED​

Brightness

4500lumen​

Resolution

support 1080p​

native720p, support up to 4k

​

Contrast Ratio

/​

Screen Mirroring

Wired​

Bluetooth

/​

Focus

Manual​

Manual​

Keystone

No​

CPU

/​

Trumpet

/​

5W x1, Customized BOX x1

​

4K Decoding

No​

VGA

No​

USB

1​

HDMI

1​

AV

1​

1​

Earphone

1​

1​

TF card

No​
1. Appearance
Auking W29 mini projector looks lovely in appearance. It adopts white and egg yellow as the whole color in the body. It is a rectangular parallelepiped overall in shape, but each edge is designed as an arc, which can protect from harming hand, and it looks like a children's toy with egg yellow.

As a new projector positioning in innovation and creativity, Emotn C1 has a bold and more recognizable design in appearance, especially the "roof" shape and the embellishment color of fluorescent yellow, which is rare on the market now. The silicone groove is carved out in the middle of the top for remote controls or mobile phones when projection, which free hands from grasping and burden.
What's more, when considering the size, Auking W29 is smaller and lighter than Emotn C1. From the material quality of these two projectors, Emotn C1 is much superior to Auking W29.
Comparing these two projectors, Auking W29 is cute and Emotn C1 is fashionable in appearance.
2. Image Performance
When talking about a projector, the big screen and image performance is the most important factor to consider with. Both Auking and Emotn C1 is LCD projector with a light source of LED. Auking W29 projector only has a brightness of 4500 lumens, while Emotn C1 has a higher brightness of 8500 lumens and a contrast ratio of 5500:1.

In addition, Auking W29 mini projetor only supports 1080p videos. Emotn C1 projector has a native resolution of 720p and it not only supports 1080p but also supports 4k video decoding. A bigger screen needs better performance in technology. Therefore, Emotn C1 is much superior to Auking W29 in images.
3. Audio Performance
Emotn C1 and Auking W28 have built-in speakers. But Emotn C1 has a 5W speaker and a BOX sound cavity structure design. So while you watching movies or listening to music, the sound is more pleasant. What's more, when switching to Bluetooth speaker mode, the optical machine of Emotn C1 will be closed and equipped dual-fan cooling system, which will reduce fan noise by 85%, lower than 30db. Compare to the Auking W29, Emotn C1 produces a clear and purer sound.

4. Connection Ports
Auking W29 mini projector is equipped with HDMI, USB, and AV interfaces. However, compare to Emotn C1, it loses in lacking VGA and TF card ports. What's worse, extra lightning to HDMI adapter or wireless HDMI dongle is needed when connected with a phone, and it is incompatible with Netflix and Hulu.
​

Emotn C1 projector supports most media devices connection with various ports, such as VGA, USB, HDMI, AV, Earphone and TF card ports. It is the perfect solution for a wide variety of inputs source including but not limited to TV Stick/Box, Game Consoles, PCs, Smartphones, Tablets, Laptops, DVD players, TF cards and USB Sticks.
What's more, Emotn C1 has two USB ports and two HDMI ports. one of the USB is for transmission and the other is for charging the media device when projecting. And these two HDMI ports can connect streaming media equipment, such as fire TV, Apple TV, Roku, and Chromecast.
5. Projection Method
Auking mini projector supports wired connection with media devices while the Emotn C1 supports both wired and wireless connection because it is equipped with its own 5G WIFI hotspot, which ensures wireless screen projection can be used directly even in a place without or with a poor WIFI signal. Therefore, Emotn C1 is more compatible with more media devices and it has more fun.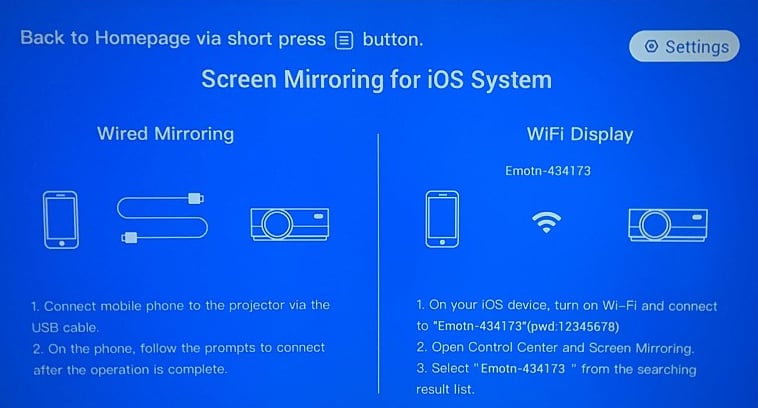 Summary
When looking for home entertainment equipment, good-looking design and excellent performance are the most considerable factors to family. After all, nobody wants to have a useless projector at home. Obviously, the Emotn C1 performs better in innovative design, image and audio quality, and wireless connection. When considering buying a home entertainment projector, Emotn C1 is really a good option.
Last edited: