BenQ has made a specialty of efficient Home Cinema projectors at affordable prices. This BenQ HT3550 continues on this line and ensures a beautiful 4K HDR image while remaining affordable. With this model, DLP chip, 4K resolution, HDR compatibility, motion compensation and ease of installation are on the program. Enough to have fun in your living room by projecting a great cinema image.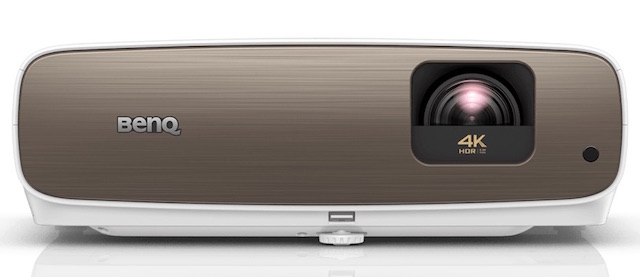 Will 2019 be the year of the democratization of 4K video projection in your living room? Many models are now on the market, offering more or less happy performance. The JVC and Sony hold the upper hand in terms of high-end with devices at thousands of dollars.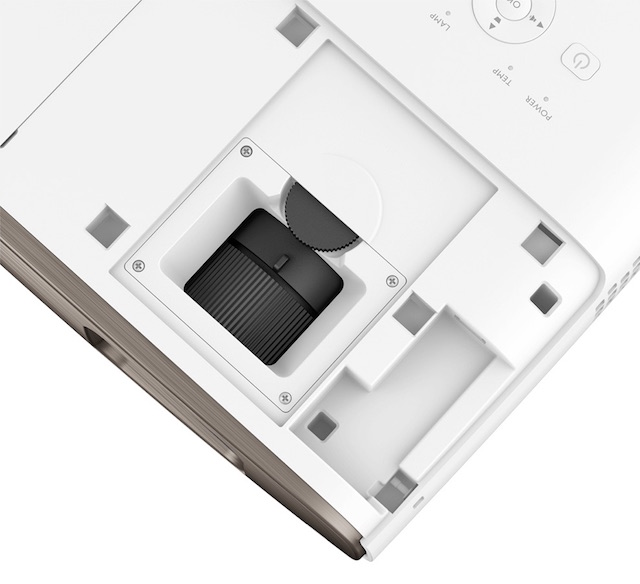 Many other brands market wiser price projector. BenQ has built a good reputation in this segment and launching the model -the BenQ HT3550. BenQ HT3550 we are testing is more versatile and does not require a specific room to express yourself. It can be placed in a living room where there is not total darkness and to face the signals of the DVB, games and of course 4K video in almost all of its forms. It received theEISA award for the Best Buy Projector 2019/2020.
Full connectivity and 4K HDR wobulation
Continuing the owner's tour, we arrive at the rear connector well supplied with
two HDMI 2.0a (HDCP 2.2) inputs compatible UHD-4K HDR up to 60 Hz, a USB 3.0 for multimedia,
a USB for power supply '' a device such as a
ChromeCast Ultra, an RS-232C port
, a trigger socket, an optical digital audio output and an analog audio mini-jack output.

This BenQ HT3550 projector contains the new
0.47 inch DLP chip,
its native resolution is
Full HD,
that is to say
1920 x 1080 pixels.
However, the BenQ is indeed a
4K UHD device,
the screen display is 3840 x 2160p. How is it possible ? By a technological feat called wobulation. This consists in switching very quickly the micro-mirrors of the DLP chip which "flash" at a frequency of 240 Hz to display successively for each of the micro-mirrors of the DLP matrix 1920 x 1080 four pixels in order to quadruple the resolution and achieve UHD 4K. This is done several thousand times per second. Thanks to the phenomenon of retinal persistence, the human eyes and brain perceive the entire 4K signal, ie 8.3 million pixels in total.
Among other processes that are very useful for the dissemination of the image, the Taiwanese brand has introduced a piloted UHP lamp in order to send more light to the six-color RVBRVB color wheel as soon as the red is in action. To improve HDR, a filter has been added to increase the color palette.
BenQ HT3550 claims 95% of the DCI-P3 color space and 100% of the Rec.709 standard.
A factory color calibration certificate is also issued with each device.
Very good picture modes and good basic stereo audio system
The CinematicColor process is visible from the start-up and offers very accurate Image presets in Cinema or Standard mode. It is possible to go further by overriding the six basic settings, ISF calibration is possible. You can also correct most parameters such as contrast, brightness, gamut or gain and Bias.
The
BenQ HT3550
dynamic iris brings more contrast and it is preferable to activate it in all circumstances. This BenQ HT3550 is also equipped with an audio system composed of two speakers for stereo sound of 2 x 5 watts. Needless to say, we do not reach the sensations of a home cinema installation, but we must recognize that the sound provided is well transcribed without distortion and with a good medium register and therefore very clear dialogues.
BenQ HT3550 projector displays a gray frameless image, unlike the previous generation and that changes everything in terms of perception. The eye is totally absorbed by the film and despite the rare rainbow effects inherent in DLP technology, perceptible by those who are sensitive to it, one is quickly immersed in the show. You should not force too much on the screen size, because beyond three meters base, you lose light intensity and contrast, especially in HDR.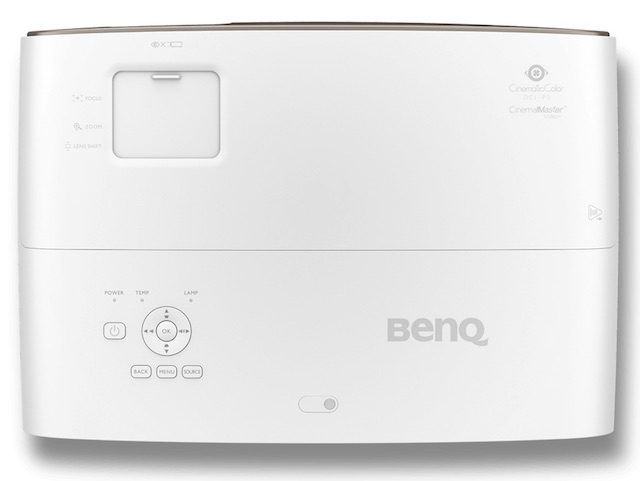 A 4K HDR image in automatic mode
We tested BenQ HT3550 with various and varied sources ranging from DTT to Netflix through Blu-ray and Blu-Ray 4K. The HD SDR sources stand out well resized, the Standard mode is very efficient, it is detailed with a colorimetry without excess and a beautiful modeling of the faces. 4K upscalling provides a very clean result without artifacts, with fluidity in movements and well-researched dark scenes thanks to dynamic iris. It is very pleasant although a little wise in terms of dive, but in terms of the price, it is really remarkable!
If we go to UHD 4K HDR sources like
"Mad Max: Fury"
or
"Fantastic Beasts"
and test videos, we are in the presence of a first on a video projector of this type, the HDR is palpable. Switching to HDR is automatic thanks to auto mapping, you can adjust the brightness on 5 levels. The BenQ HT3550 4K HDR encoding is recognized and the device goes into the best configuration in order to produce the right brightness, it is the gamma EOTF mode. It works perfectly without having to mess around with the settings. On
"Mad Max"
, the image produced is rich in details with deep blacks and matter, the brightness is reduced compared to a film only 4K (non HDR) but the result is convincing with beautiful bright bursts on the bodywork and a very sharp cinema. The colors are well respected, in particular the reds and blues even if this is lacking at times of liveliness on the other tones. The movements are fluid, it is necessary to leave the anti-jerking process at the lowest to avoid adding digital noise.
Excellent value for money
This BenQ HT3550 is very pleasant to live in, its interface remains average but its backlit remote control allows you to control it with confidence. The operating noise is audible even in eco mode (28 dB) but it is average and we quickly forget this detail when faced with the big picture. The manufacturer has improved many points on this model and this is noticeable from the first minutes; moreover, the automatic switch to HDR is an unparalleled plus. In the end, we highly recommend this BenQ HT3550 which, despite limitations in terms of brightness and contrast, offers excellent value for money and allows you to immerse yourself in the 4K HDR ocean with pleasure.