Now more and more people choose to buy a projector, because the projector can not only replace the TV as an entertainment device but also suitable for many occasions, such as business meetings. So how to choose the right projector? BenQ MS536 and Emotn C1 are two popular projectors on the market now, let's have a side-by-side comparison and see which one is more worth buying.
Spec

BenQ MS536 Projector​

Emotn C1 Projector​

Picture

​

Price

$379​

Size(mm)

332x241x99mm​

225 x 186 x 109mm​

Weight(kg)

2.38KG​

1.69KG​

Display Type

LED​

Brightness

4000lumen​

8500 lumen​

Resolution

SVGA (800x600)​

Contrast Ratio

20000:1​

5500:1​

Screen Mirroring

Wired​

Bluetooth

/​

Focus

Manual​

Manual​

Keystone

Manual±15°​

CPU

/​

Trumpet

2W​

5W with BOX sound cavity structure

​

4K Decoding

No​

VGA

1​

USB

2​

2​

HDMI

2​

2​

AV

1​

1​

Audio

1​

TF card

No​
Appearance
From the appearance point of view, the BenQ MS536 projector and Emotion C1 projector are mainly white. The difference is that the top and sides of the Emotn C1 fuselage are embellished with fluorescent yellow, making it look more stylish and recognizable.

In addition to the different embellishment colors, the shapes of the two projectors are also somewhat different. Although the BenQ MS536 projector is a rectangular parallelepiped, each edge has been curved, making it more safe for hands. In contrast, the Emotn C1 body is a rectangular parallelepiped, but the top of the projector is designed with a "roof" shape, which makes it more unique in appearance. In addition, there is a silicone groove on the top for placing the remote control or mobile phone during projection. This ingenious design provides a lot of convenience for users.
2. Image Performance
Image quality is an important factor for choosing projectors. BenQ MS536 projector has SVGA resolution of 800x600, combined with a contrast ratio of 20000:1. Emotn C1 comes with a resolution of native 1280x720p supporting 4K video decoding and a contrast ratio of 5500:1, which shows picture in details. BenQ MS536 projector has a brightness of 4000 lumens, while the Emotn C1 has a higher brightness of 8500 lumens, providing users the most realistic picture possible.
Due to the different types of display technologies of the two projectors, their image display focuses on different aspects. BenQ MS536 projector can show better picture contrast, while EmotnC1 can provide better brightness and picture details.
3. Audio Performance
Both BenQ MS536 projector and Emotn C1 projector have built-in speakers. The difference is that BenQ MS536 projector is equipped with a only 2W trumpet, while the Emotn C1 has a 5W speaker with a BOX sound cavity structure design that provides better acoustic fidelity and higher voice volume. Another feature of the EmotnC1 projector is that when switched to the Bluetooth speaker mode, the optical machine will be turned off and the dual fan cooling system will reduces fan noise by 85% to less than 30db.

4. Connectivity
Both the BenQ MS536 projector and Emotn C1 projector support USB, HDMI, AV, VGA connections because they are equipped with corresponding interfaces. The difference is that Emotn C1 has a TF interface while BenQ MS536 doesn't. The TF interface can directly read the content of the data card, which also provides a more diverse device connection.

In addition, BenQ MS536 projector supports wired connection and without phone screen mirroring while the Emotn C1 supports both wired and wireless connections because it is equipped with its own 5G WIFI hotspot, which ensures wireless screen projection can be used directly even in a place without or with a poor WIFI signal.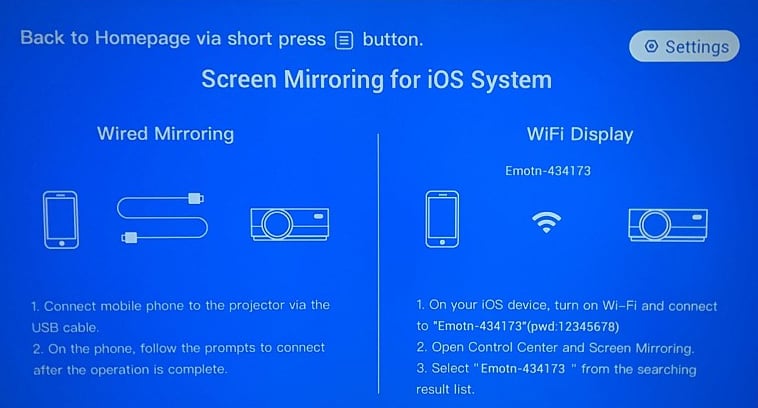 5. Summary
In general, both BenQ MS536 projector and Emotn C1 projector are worth buying, but their strength is in different aspects. BenQ MS536 projector has better picture contrast and various connections ports that are suitable for meeting and presentation, and it also costs much. Emotn C1 performs better in images and audio and costs less, which is more suitable for home entertainment. Choose the right one according to your needs!