1.Best 4k OLED Gaming TV: LG B9 OLED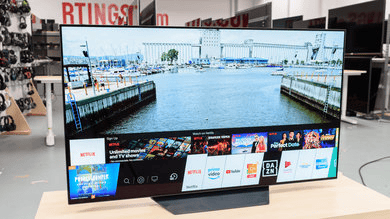 9.4
Video Games
Type OLED
Sub-Type
WRGB
Resolution 4k
Sizes : 55"
The best 4k TV for gaming is the LG B9 OLED. It encompasses the latest technological advances and is a future-proof model that supports HDMI 2.1, eARC, and HDMI Forum's variable refresh rate for nearly tear-free gaming experiences with devices that support it. It has a remarkably low input lag that'll even attract competitive gamers. Motion handling is excellent thanks to the nearly instantaneous response time that delivers fast-moving content with no noticeable blur.
Unfortunately, all OLED TVs have the risk of temporary image retention or even permanent burn-in. This can be the result of cumulative prolonged exposure to static content like the static elements of most games or the static aspects of a PC's interface. We don't expect this to be an issue for most people that watch normal, varied content.
Many of this TV's advanced features aren't supported on the current generation of game consoles, and PC manufacturers are just starting to incorporate these technologies into their graphics cards. However, when the time comes, this exceptional TV won't let you down and is certainly the best OLED for gaming.
2.CHEAPER ALTERNATIVE: LG B8 OLED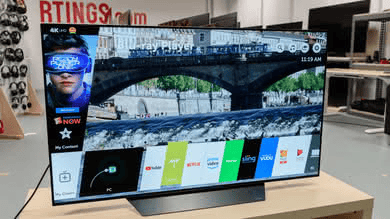 Type OLED
Sub-Type
WRGB
Resolution 4k
Sizes : 55"
If you don't care about future-proofing your purchase and you want to save some cash, get the LG B8 while you can still find it. You won't get the HDMI 2.1 support or the HDMI Forum variable refresh rate found on the LG B9 OLED, but the image quality and performance of this TV is practically identical. It has the same perfect blacks, wide viewing angles, HDR performance, and instantaneous motion handling. When it comes to gaming, the input lag is exceptionally low and the TV offers responsive gaming experiences even for competitive gamers.
If you want the best OLED for gaming that'll also future-proof your purchase, go for the B9, but if you want to save a bit of money and still get outstanding picture quality and gaming performance, get the B8.
3.Best 4k LED Gaming TV: Vizio P Series Quantum X 2019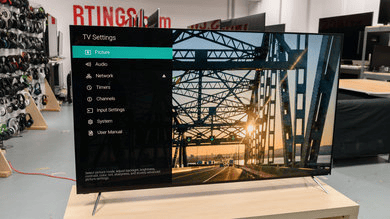 8.9
Video Games
Type LED
Sub-Type
VA
Resolution 4k
Sizes : 65"
If you want an outstanding 4k gaming TV but are too concerned about the possibility of burn-in, get the Vizio P Series Quantum X 2019, as it's the best 4k LED gaming TV that we've tested to date. It's one of the brightest TVs that we've ever tested, as well as having one of the widest color gamuts we've ever seen, meaning HDR content pops, making it a great companion to your PS4 Pro or Xbox One X.
It has very deep and rich blacks thanks to its excellent contrast ratio and great local dimming feature. While it doesn't support any advanced gaming features, like FreeSync, it has an excellent low input lag and delivers very smooth motion with minimal blur behind fast-moving objects. Thanks to its very high peak brightness, it can easily battle glare in even the most heavily-lit rooms.
Unfortunately, like most TVs with a VA panel, the image degrades drastically when viewed at an angle, so it's best suited if you sit directly in front of your TV while gaming, and may not be the best for an 8-person Super Smash Bros. competition. Its gray uniformity is also only decent, and you may notice some slight vignetting in the corners of the screen, though this may not be too noticeable in regular usage. Overall, this is an outstanding 4k gaming TV that offers fantastic image quality and motion handling at an incredibly competitive price point.
4.CHEAPER ALTERNATIVE: VIZIO P SERIES QUANTUM 2019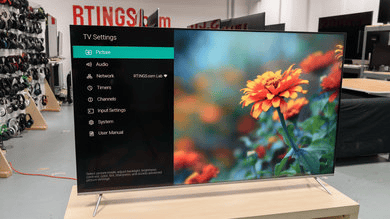 Type LED
Sub-Type
VA
Resolution 4k
Sizes : 65"
If you want a great 4k gaming TV but don't want to spend quite as much, get the Vizio P Series Quantum 2019. It can't get nearly as bright as the Vizio P Series Quantum X 2019, and it doesn't handle reflections as well, but it offers similar performance for considerably cheaper. Its motion handling is just as good, with an even faster response time. It has the same excellent low input lag and even has a dedicated gaming HDMI port that offers slightly lower input lag. It also does an excellent job of upscaling 1080p content, which is great as not all games are native 4k.
If you want the best 4k LED gaming TV you can get, go for the Quantum X 2019, but if you want something that performs almost as well, but is quite a bit cheaper, get the Quantum 2019.
Last edited: