Here I picked out 3 best-seller home cinema projectors worth buying. They costs less than $100 and all have more than 2400 customer ratings. Let's take a look.
TOPVISION Projector:

with Synchronize Smart Phone Screen, Mini Projector, Upgrade to 3600Lux, 1080P Supported, 176" Display, 50,000 Hours Led, Compatible with Fire Stick,HDMI,VGA,USB,TV,Box,Laptop,DVD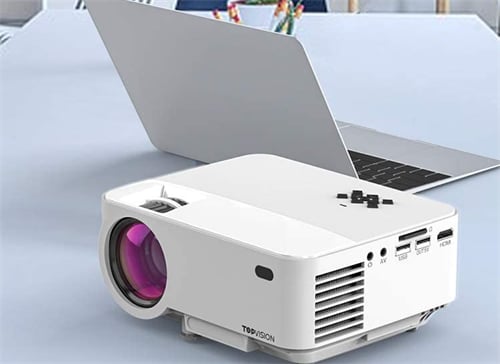 ​
You can connect TOPVISION movie projector to smartphone, or laptop by USB cable directly, without HDMI adapter or Wi-Fi environment. Compatible with Amazon Fire TV Stick/smartphones/tablets/TV/laptop/USB sticks/TF cards (max 32GB)/DVD players.
Amazon 3,416 ratings, 4.2 out of 5 stars; 63% marked 5 stars.
Price $95.99
Sold By TOPVISION Direct
Connectivity Technology HDMI, VGA, USB
Display Technology LCD
Contrast Ratio 2000:1
Item Dimensions 7.36 x 5.87 x 3.07 inches
Item Weight 2.76 pounds
Resolution Full HD 1080p
QKK [2020 Upgrade 4200Lux] Potable Mini Projector [with Tripod] LED Projector Full HD 1080P Supported, 170" Display for TV Stick, Video Game DVD Player, Smartphone Home Theater, Dual USB Port
Amazon 2,787 ratings 4.4 out of 5 stars; 70% marked 5 stars.
Price $79.99
Sold By QKK Direct
Connectivity Technology TV BOX, HDMI, VGA, USB, AV, SD (1080P Supported)
Display Technology LCD
Brightness 2200.0 lumen
Contrast Ratio 2000:1
Item Weight 3.09 pounds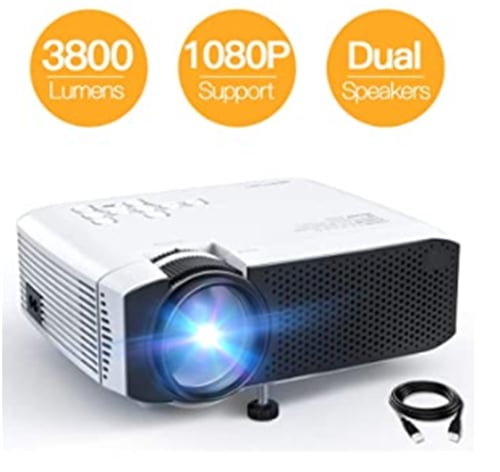 ​
Mini Projector, APEMAN 3800L Brightness Projector, Support 1080P 180" Display, Portable Movie Projector, 45,000Hrs LED Life and Compatible with TV Stick, PS4, HDMI, TF, AV, USB for Home Entertainment
Amazon 2,436 ratings 4.5 out of 5 stars; 74% marked 5 stars.
4.5 out of 5 stars
Price $75.99
Sold By Rui US
Connectivity Technology HDMI, VGA, USB, AV, TF, TV Box(1080P Supported)
Display Technology LCD
Brightness 3800 lumen
Contrast Ratio 2000:1
Item Dimensions 7.70 x 6.50 x 2.30 inches
Item Weight 2.16 pounds
Resolution support 1080p
Last edited: