VANKYO Leisure 3 Projector or DR. J Professional Projector? Many users are considering upgrading their bedroom or kidsroom by adding a projector with good budget in 2020. After checking the sales list, we would found that VANKYO Leisure 3 and DR. J Professional HI-04 are most recommended. How to choose between VANKYO Leisure 3 and DR. J Professional HI-04 Projector? Here we made a quick comparison: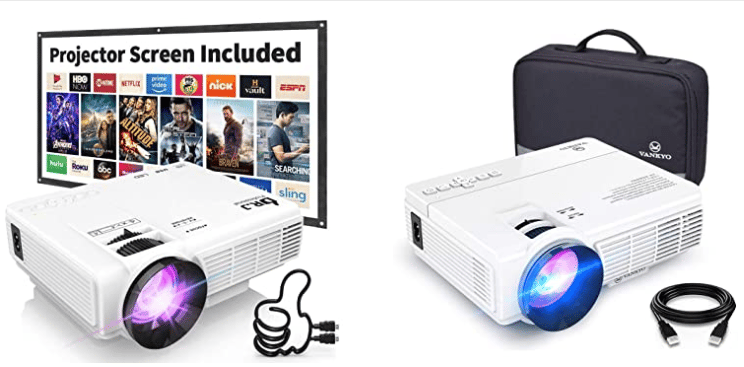 DR. J Professional HI-04 (left) and VANKYO Leisure 3 Projector (right)
​
1. DR. J Professional HI-04 Projector Key Specifications:
Display: LCD
Light Source: LED
Contrast Ratio: 3800:1
Native Resolution: 1280 x 720
Supported Resolution: 1920 x 1080
Projection Display: 32"-170"
Power Supply AC IN: 100V-240V 50/60HZ
Surprising: 100" Portable Projector Screen Included
2. VANKYO Leisure 3 Projector Key Specifications:
Contrast Ratio: 2000:1
Keystone: ±15 degree
Lamp Life: 40000 hrs
Aspect Ratio: 4:3\16:9\auto
Projection Size: 33-170 inches
Supported Resolution: 1920*1080
Native Resolution: 800*480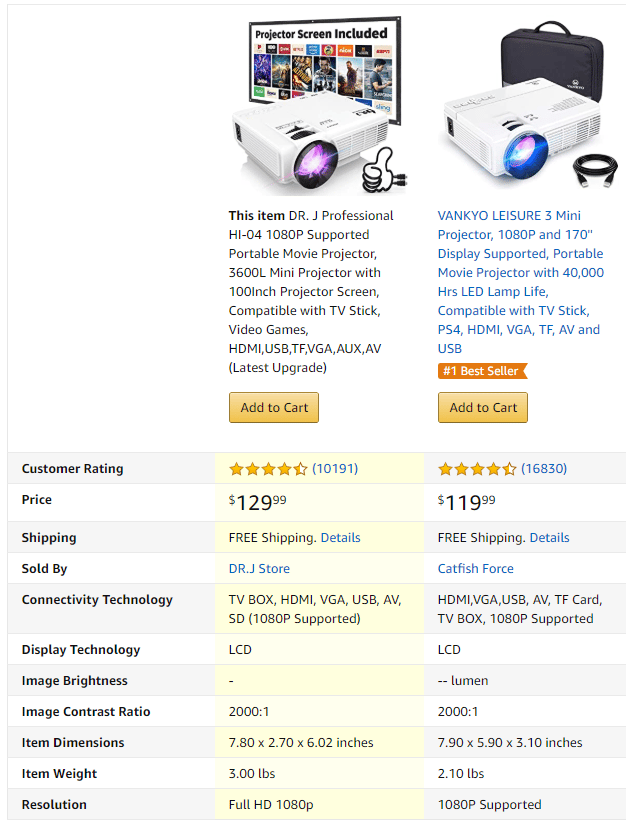 ​
3. Quick Comparison
As is shown in the above figure,
DR. J Professional Projector is slightly brighter and with higher resolusion in comparison of VANKYO Leisure 3 projector
. DR. J Professional HI-04 is a 720p model while the Vankyo leisure 3 is only 480p. Howener, DR. J Professional is more expensive and a little larger in size than VANKYO Leisure 3.
4. VANKYO and DR. J Professional
Review Summary
VANKYO Leisure 3 Projector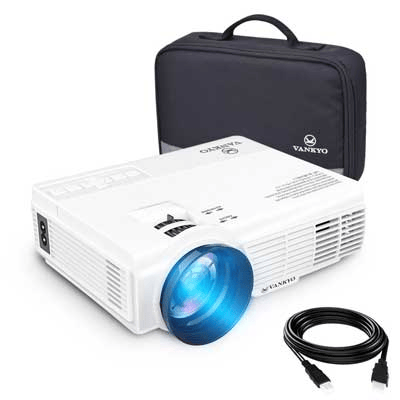 Pros
" ... Picture is pretty good for the price! ... "
" ... I bought this projector and was pleasantly surprised by the quality of the picture at this price point. ... "
" ... Easy to work and a lot of different options to connect to the projector. ... "
" ... Extremely easy to use, with the quick start instructions it made setting the projector a piece of cake . ... "
" ... My children are very happy to watch movies with this projector in the shelter in home condition! ... "
Cons
" ... If you're planning on using your iPhone to stream, don't buy this. ... "
" ... BUT the sound was Terrible, I was at the max and had to sit about 20inch max the unit to be barely able to understand the dialogs. ... "
" ... The image is blurry around all ends of the screen and the controls are limited to try to resolve this issue. ... "
" ... The only minor issue would be the sound quality. ... It's too quiet for watching tv, especially if you have a fan or air conditioner or anything in the vicinity that kicks on or off or makes white noise. ... It will make the audio extremely hard to hear, and the sound distorts as you turn up the volume, so I will likely have to get an external audio device to help with sound and clarity. ... "
" ... Fan is extra loud and picture color is impossible to get right. ... "
DR. J Professional HI-04 Projector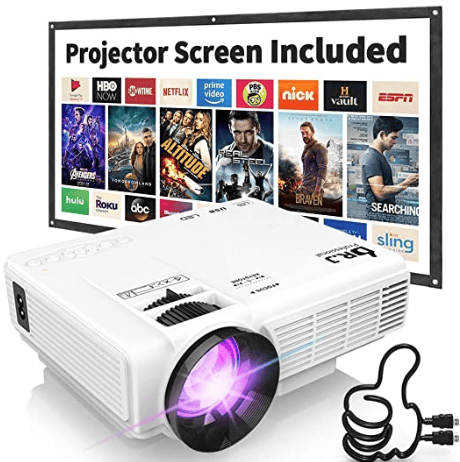 Pros
" ... We've tried it out twice now, and the picture quality in our movies was excellent when we hooked it up to my laptop to stream movies online. ... "
" ... The picture qaultiy is awesome!!!! ... "
" ... The quality to price ratio is off the charts. ... At a little over $100 it's a steal. ... "
" ... The image is very clear and it was super easy to install. ... "
" ... Great size for moving around with ease. ... "
" ... After researching lot of projectors for good image quality, bright and which supports both 110 and 220v, finally I purchased this, this projector did not disappoint me. ... "
Cons
" ... There were also complaints about the noise of the fan. ... you don't hear it unless you're listening for it. ... "
" ... With multiple windows and a weak lamp it was all but rendered useless. ... "
" ... I originally bought this to project artwork but then my kids wanted to watch an outdoor movie. ... "
" ... I didn't have the correct HDMI cord, so we connected it to the laptop, however the port was loose and we I had to hold the cord until the video presentation was over. ... I tried aging later last week and the same loose port issues, on top of that there were lines all through the screen. ... "