People's requirements for the quality of life are getting higher and higher, and high-end projectors are also generally entering the user's home. At present, the most popular high-end projectors on the market are Dangbei F5. After the launch of this projector, it has become a hot seller with high brightness and high configuration. So what are the differences between it and the other two major brands, XGIMI Play X HOME and JMGO V20? Let's take a look at the detailed comparison of the three products.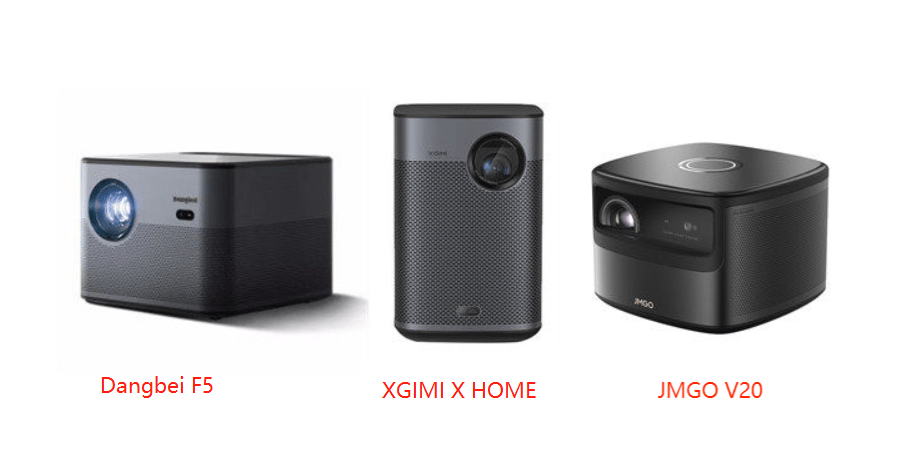 1. Brightness​
In terms of brightness, when Bei F5 reaches the highest value, it is 2800 ANSI lumens, followed by JMGO V20. The official page shows that the value is 6000 lumens, which is converted into a standard value of 1500 ANSI lumens. Finally, there is the XGIMI Play X HOME, which has a brightness of 900ANSI lumens. The higher the brightness, the clearer the projected picture, and it is not easy to be interfered by strong light. The three Lidangbei F5 have absolute advantages in terms of brightness.
2. Sound and picture effect​
In terms of picture quality, Dangbei F5 has a built-in 4K AI color engine Pro, which supports HDR10+ display technology. XGIMI Play X HOME has a built-in X-VUE image quality engine that supports HDR10 and HLG decoding. The JMGO V20 does not have a built-in image quality engine, and supports dynamic noise reduction algorithms and global MEMC.
In terms of sound effects, both Dangbei F5 and XGIMI Play X HOME support Dolby and DTS dual decoding, and have built-in two 10W high-performance full-range speakers and Harman Kardon speakers respectively. The JMGO V20 is equipped with two 8W high-fidelity neodymium magnetic speakers, and the sound effect is tuned by Dynaudio.
3. Screen Correction​
All three projectors support automatic focusing and automatic keystone correction. Among them, Dangbei F5 and JMGO V20 support automatic screen entry and automatic obstacle avoidance. The above two functions are not supported by XGIMI Play X HOME.
4. Product configuration​
Both Dangbei and Nut are equipped with MediaTek MT9669 chip with a running storage space of 4+64GB. XGIMI is equipped with a Morningstar Mstar 848 processor with a running storage space of 2+16GB. In game mode, the HDMI delays of the three projectors are 16ms, 30ms, and 5ms, respectively.
5. Features​
Dangbei F5 has passed the German Rheinland low blue light certification, and the light is softer and more eye-friendly when used. Equipped with the Dangbei OS system, it supports functions such as far-field voice, remote control retrieval, side shortcut focus keys, elder/child mode, online video search, and live wallpaper.
XGIMI supports the GIMI touch function. Put the phone in the sensing area and tap it to turn the projection into a Bluetooth speaker to support near-field voice. Equipped with INUI intelligent system, it supports dual theme switching.
The JMGO V20 is equipped with the LUNA OS system, supports far-field voice, has dual modes of companionship and classic, and can switch a variety of wall themes in the companionship mode.
6. Summary​
Overall, among the three projectors, Dangbei F5 has a more comprehensive and detailed configuration, high brightness, strong performance, large memory, and complete convenience and functions.
The overall function of the JMGO V20 is slightly inferior, but the price is higher, and the price is more than 1,000 higher than that of the Dangbei F5. The configuration performance advantage of XGIMI Play X HOME in the three projectors is not outstanding, but the price is lower than the other two. Users can choose according to their own needs.