Source: h t t p s://w w w. touying. com/t-41486-1.html
"CTTO"
Translated From Chinese
1
Appearance display of Dangbei K1 projector
Dangbei K1 can see the master-level performance from the appearance, the body color is mainly dark gray, the surface is made of fireproof plastic material, and the whole frame of the whole machine is made of metal material. In terms of materials and craftsmanship, it reflects the nobility of 4K Master Ultra HD. The size of the bare metal is 253*204*141mm and the weight reaches 3.2kg.
The front face, a 4K resolution lens, is composed of nine special glass lenses to ensure excellent light transmittance; next to the lens is a dual TOF laser + CMOS camera module, and Dangbei's logo. There is a row of honeycomb openings at the bottom of the front face, and a 4K icon is attached.
Dangbei K1 projector sideways
The back is divided into interfaces and heat dissipation. The interfaces are mainly LAN network interface, S/PDIF optical interface, 3.5mm audio interface, two USB interfaces, two HDMI interfaces and the final power interface.
The top is designed with a physical push switch button, the red light indicates the standby state, and the white indicates the power-on state; the four touch buttons, namely the volume plus and minus key, the Bluetooth switch key and the pause key, all use white lights Light up.
2
When K1 projector system experience
when K1 built as shell OS, based on the depth of customization Android8.0. The processor uses the TV flagship chip Mstar848, Mali-G51 GPU, RAM is 3GB DDR4, ROM is 64G eMMC, high configuration brings extremely fast control experience, and can easily decode high-definition video.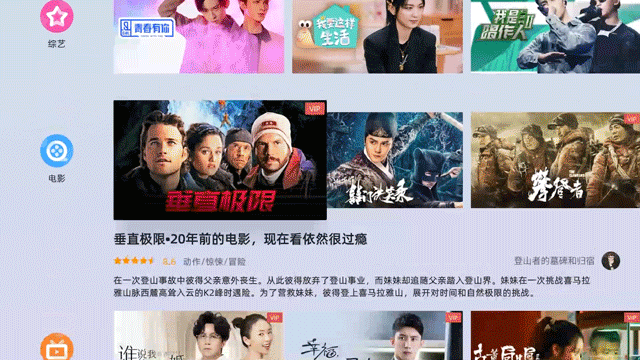 Dangbei OS
covers the full resources of Mango TV, iQiyi, Tencent, Youku, etc., with more than 7 million hours of film and television resources; mainstream video platforms can support it, and it can fully meet users' viewing needs. Abundant resources are the advantage of Dangbei OS, and its characteristic functions are another advantage. Dangbei OS supports free viewing (similar to "Tik Tok", swiping the large screen), picture-in-picture (floating window playback), movie preview, desktop DIY, sports event customization, remote housekeeping and other functions. Viper will also be launched one after another Sound effects and other functions.