on it's 10th year anniversary, Dangbei has showcased the Dangbei X5 Ultra using the latest ALPD5.0 laser
Hopefully an international version of this would be released.
Translated:
Introduction
How about the Dangbei X5Ultra projector:

1. Super light source:
ALPD5.0 super panchromatic laser technology + 2500CVIA super high brightness + 4K resolution + super high color accuracy
Dangbei X5Ultra adopts the new ALPD5.0 super panchromatic laser technology, has 2500CVIA lumens high brightness, reaching 4K standard resolution, the projected picture is brighter and clearer, and the brightness ceiling of the projector within 10,000 yuan makes the projection during the day stress-free!
In terms of color, it has an ultra-wide color gamut and high color accuracy. It has been certified by TÜV SÜD for professional color accuracy. △E is approximately equal to 1. It can restore the color of the picture at a high level, provide rich and natural pictures, and bring users cinematic enjoyment.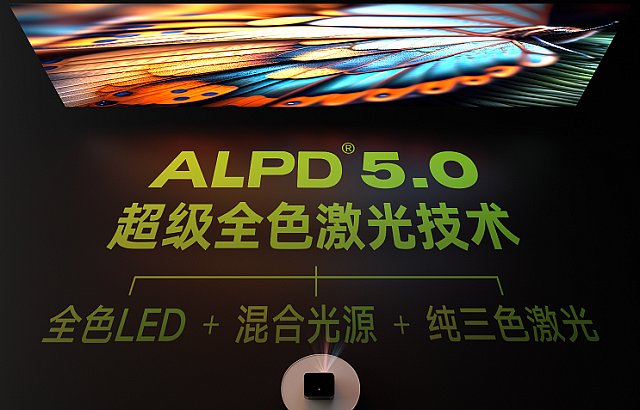 2. Super picture quality: AI Ruihua engine, XSuper super resolution, HDR10+HLG high dynamic dual decoding, global MEMC motion compensation
Dangbei X5Ultra adopts AI Ruihua engine, which can complete intelligent color optimization and solve the online video resource frame It solves problems such as high resolution, large noise, and light colors, showing rich color transitions, textures, and details, highly restoring the color of the picture, and making the picture more realistic and natural.
At the same time, it uses hardware-level XSuper super-resolution technology and the self-developed AI PIXEL algorithm, which can intelligently distinguish different video types and reshape the image quality frame by frame to make details sharper and clearer. Whether it is a nostalgic old movie, a childhood classic, or a galaxy of stars and natural vientiane, every detail is clearly visible.
Dangbei X5Ultra supports HDR10+HLG high dynamic dual decoding technology, which makes the details of the light and shade of the picture clearer, supplemented by global MEMC motion compensation, to avoid smearing and stuttering of the video picture, making the picture smoother, and the immersive experience can be called first-class Absolutely!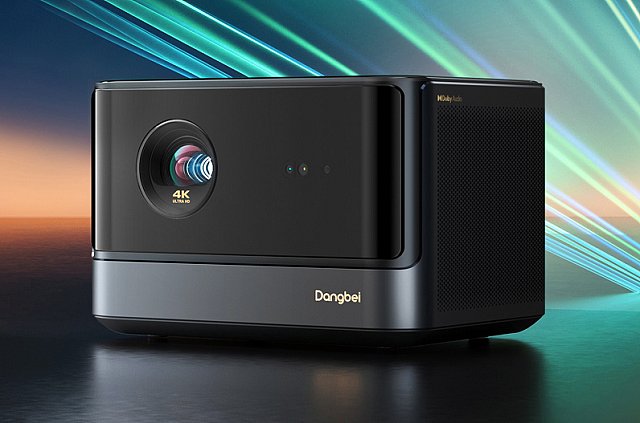 3. Super configuration: MT9679 latest flagship master-level processing chip, 6G+128G mass storage, Dangbei OS4.0 system, true WIFI6, Bluetooth 5.2.
Dangbei X5Ultra adopts the industry's latest and most high-end flagship master-level processing chip MT9679. On this basis It is equipped with 6G+128G mass storage and built-in Dangbei OS4.0, which is enough to ensure that users can download and store 4K video sources as they like, and run smoothly.
In terms of Bluetooth, Dangbei X5Ultra supports BT5.2, which provides faster Bluetooth transmission speed and longer Bluetooth connection distance, making the device more practical; in terms of network, it supports true WIFI6, making the network connection smoother. Reject the Caton problem.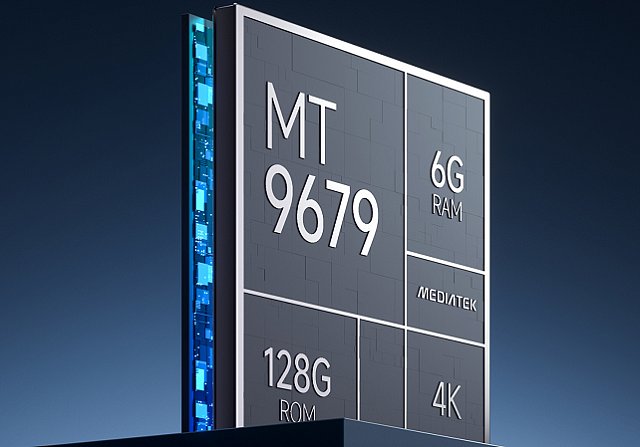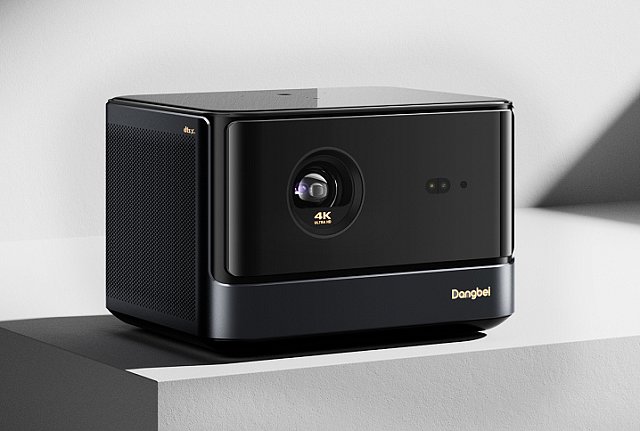 4. Exquisite appearance:
2.5D glass upper cover, IML suspended front panel, touch buttons, aviation aluminum heat dissipation middle frame.
Dangbei X5Ultra continues the high-end design of the X series, equipped with a 2.5D nano-coated glass cover and an IML suspended glass panel. , the ultimate skin-like touch experience, and the body is made of aviation aluminum, making the entire projector body appear low-key, luxurious and textured.
5. Powerful functions:
10,000-point 3D ToF module, global autofocus and automatic keystone correction, automatic screen entry, screen obstacle avoidance and other rich functions.
Dangbei X5Ultra is equipped with 10,000-point 3D ToF laser lens and CMOS camera module, supporting global sensorless automatic Focus and automatic trapezoidal correction functions provide millisecond-level correction speeds to keep the picture square and clear, providing users with the best viewing experience. It also supports functions such as automatic screen entry and screen obstacle avoidance, making equipment installation more convenient. In addition, it also supports functions such as remote control retrieval, screen splitting, and far-field voice, making the device more practical.
6. Rich interfaces:
equipped with HDMI2.1, USB3.0, S/PDIF and other mainstream interfaces.
Dangbei X5Ultra has a rich and diverse interface, equipped with HDMI2.1, HDMI2.0, USB3.0, USB2.0, S/PDIF, The audio and network cable interfaces greatly improve the scalability of the device. HDMI2.1 provides low latency and makes playing games smoother. USB3.0 provides greater bandwidth and makes data transmission faster.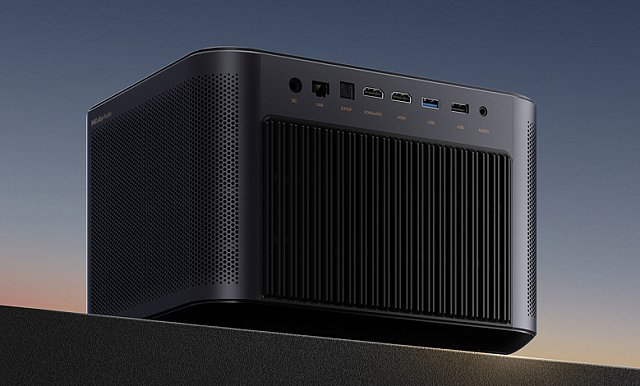 To sum up, what is the whole content of Dangbei X5Ultra projector? From the configuration of various parameters, it can be found that the performance configuration of Dangbei X5Ultra is better than that of Dangbei X5, providing higher brightness, high resolution and rich and natural Colorful picture, equipped with powerful configuration and rich functions, it is a projector worth buying that can meet all the needs of building a home theater.
**

01/ Appearance of Dangbei X5 Ultra
Dangbei X5 Ultra follows the family design of Dangbei "X" series, and uses a similar design to the "brother" Dangbei X5. Dangbei X5 Ultra adopts pure black color matching and 2.5D nano-coated glass The top cover + wrapped in aviation aluminum material, full of texture.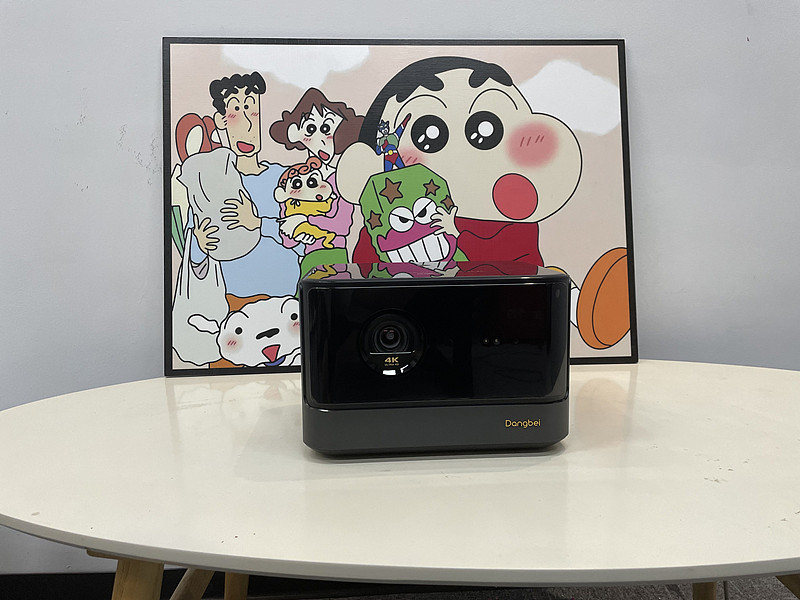 The front of the fuselage is a suspended glass panel, which consists of two parts. The right side is the flight sensor ToF+CMOS camera module, which is used to implement global real-time focusing, keystone correction and other functions. The left side is the projection lens. There is even a 4K logo.
There is a touch-type power button on the top of the fuselage, and the four small holes around it are 4 silicon wheat pickup matrix, which is used for far-field voice recognition. There is also an environmental sensor hidden in the glass panel below, which is mainly used to recognize changes in ambient light, and can automatically adjust the brightness of the projector to make viewing more comfortable.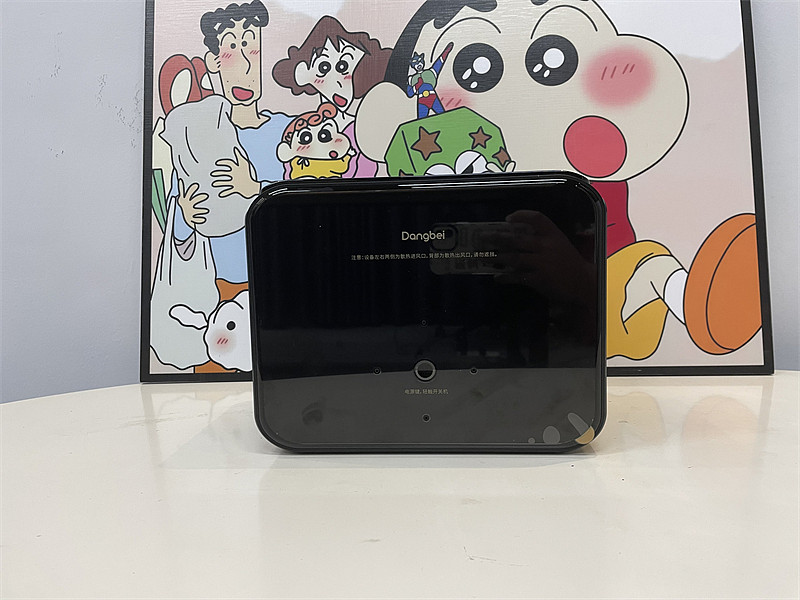 The side of the fuselage is hollowed out for heat dissipation, and the symmetrical heat dissipation design makes it easier to ensure internal heat dissipation and ventilation to a greater extent.

02/Dangbei X5 Ultra system
In terms of system, Dangbei X5 Ultra uses the new Dangbei OS4.0 system. The UI interface has a refreshing design style and is light, fast and free. It is known as a large-screen IOS system. In addition, Dangbei OS4.0 also supports features such as Findme remote control retrieval and dual screens.
Of course, as the main software business, Dangbei has advantages in built-in resources and application ecology. The content resources cover the full resources of many video platforms such as Mango TV, iQiyi, Tencent Video, and Youku. Dangbei X5 Ultra supports far-field voice function. You can directly download third-party application software in Dangbei market through voice. The far-field voice function is also very sensitive and can be easily awakened by "Hello, Dangbei". At the same time, it is also equipped with children's mode and elder mode.
In terms of configuration, Dangbei X5 Ultra uses the MT9679 chip, a high-end projection product, which supports Dolby and DTS; the system memory is 6GB and the storage capacity is 128GB, which can support expansion of USB flash drives and mobile hard drives; it can fully meet the needs of daily home viewing.

03/Dangbei X5 Ultra image
quality In terms of picture quality, Dangbei X5 Ultra uses high-end ALPD5.0 technology, with an actual brightness of up to 2500 CVIA lumens and a standard resolution of up to 4K, ensuring that the picture is bright and clear. Here is the actual measured picture of Dangbei X5 Ultra. , to see how the picture quality of Dangbei X5 Ultra is: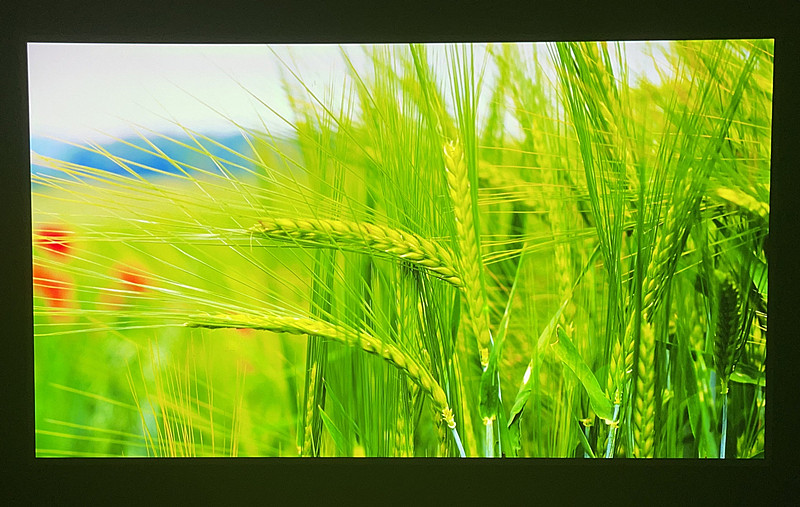 It can be seen from the picture that Dangbei X5 Ultra has bright and rich colors, and the color rendering is very accurate. The details in the image are more delicate, especially in the details of wheat ears, where the details can be clearly distinguished.

04/Summary of Dangbei X5 Ultra evaluation
In summary, it can be found that the overall performance of Dangbei X5 Ultra is quite excellent. It not only provides excellent picture performance, but also has powerful performance configurations and rich and diverse functions.
In the actual viewing experience, Dangbei X5 Ultra fully meets the needs of daily life, especially Dangbei OS brings a variety of scene experiences. After the overall evaluation was completed, Dangbei X5 Ultra really gave me enough surprises. If you need an all-round projector, then Dangbei X5 Ultra is definitely the benchmark for laser projectors and is the most suitable choice.