Recently, Emotn projector released a new multimedia projector, Emotn C1, at a price of $179 on the official website, which has aroused much attention on the market. Many users bought it and some are still comparing it to the same range of products on the market and wondering if it is worth buying. One of the hot sell projectors, TMY V28 wifi projector, is the comparator of Emotn C1, since they are both LCD projectors at a relatively low budget. When Emotn C1 projector VS TMY V28 projector, which is better? How to choose a multimedia LCD projector for home entertainment? Let's compare the review and judge.

| | | |
| --- | --- | --- |
| Spec | Emotn C1 Projector | TMY V28 Projector |
| Size(mm) | 225 x 186 x 109mm | 261.11x257.04x150.87mm |
| Weight(kg) | 1.69KG | 1.95KG |
| Light source | LED | LED |
| Brightness | 8500 lumen | 7500lumen |
| Resolution | 720p(native) | 720p |
| Projection screen size | 120 inch | 100 inch |
| Contrast Ratio | 5500:1 | 4000:1 |
| Projection Distance | Recommended 1-3m | 1.5m |
| Screen Mirroring | USB and Wifi | USB and Wifi |
| Bluetooth | BT5.1 | / |
| Focus | Manual | Manual |
| Keystone correction | Manual±15° | Manual |
| Remote control | Infrared | Infrared |
| CPU | Mstar TSUMV53RUU | / |
| Trumpet | 5W x1,BOX x1 | / |
| 4K Video | Support some H.265 | No |
| VGA | 1*VGA IN | 1*VGA IN |
| USB | 2*USB | 1*USB |
| HDMI | 2*HDMI | 1*HDMI |
| AV | 1*AV | 1*AV |
| Earphone | 1 | 1 |
| TF | 1 | 1 |
1. Appearance
At the first sight of these two projectors, they are both in white generally. Differently, besides the pure white, the Emotn C1 is embellished with fluorescent yellow on the top and two sides of the projector. Compared to pure white as the whole color, this harmonious colors matching looks brighter and more energetic.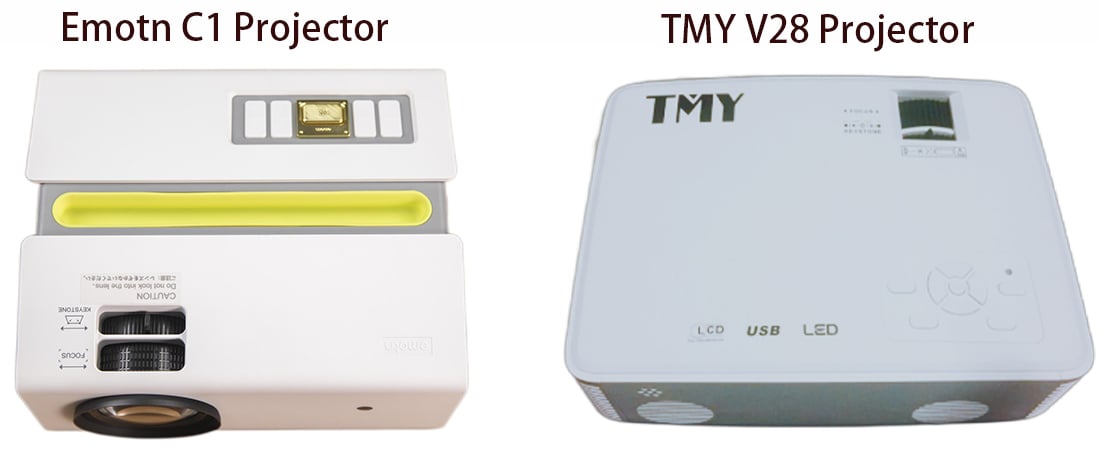 In addition to the different color combinations, the shapes of the two projectors are also different. TMY V28 Projector adopts the most conventional appearance on the market, which makes not much difference from the other projectors. While Emotn C1 projector has a more recognizable design of "roof" shape at the top. What's more, the fluorescent yellow silicone groove that is used to place the phone or other media devices when projecting is a really thoughtful design, which is not available from TMY V28 projector.
2. Image
Emotn C1 projector has a brightness of 8500 lumens, a contrast ratio of 5500: 1, and a resolution of native 720p. The projection screen size is up to 120 inches with a recommended projection distance of 1-3m. So Emotn multimedia projector can provide sharp and detailed images indoor and outdoor.

TMY V28 projector has 7000 lumens and a 4000:1 contrast ratio and a resolution of 720p. It provides a 100 inches and projection distance of 1.5m. Compare these two projectors, the Emotn C1 is super on a bigger screen, better contrast ratio, and longer projection distance.
3.
Screen Mirroring
Both Emotn C1 and TMY V28 projectors support wired and wireless screen mirroring. The difference is that Emotn C1 is equipped with its own 5G WIFI hotspot, which ensures wireless screen projection can be used directly even in a place without or with a poor WIFI signal.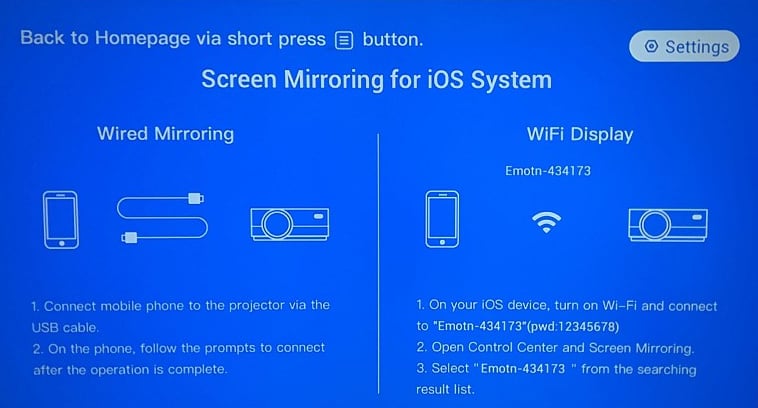 4. Speaker
There is no doubt that Emotn C1 and TMY V28 have built-in speakers. what differs them is that the Emotn C1 is built in a 5W speaker, using BOX sound cavity structure design. So while you watching movies or listening to music, the sound is more pleasant. What's more, when switching to Bluetooth speaker mode, the optical machine of Emotn C1 will be closed and equipped dual-fan cooling system, which will reduce fan noise by 85%, lower than 30db.
5.Connection
Emotn C1 and TMY V28 projector support most media devices connection because they have various connection ports, such as VGA, USB, HDMI, AV, Earphone and TF card ports. The difference is that Emotn C1 has two USB ports and two HDMI ports. one of the USB is for transmission and the other is for charging the media device when projection in an emergency. And these two HDMI ports can connect streaming media equipment, such as fire TV, Apple TV, Roku, and Chromecast.

6. Summary and Judge
To sum up, the Emotn C1 is superior in images, stable screen mirroring, speaker, and connections ports. What's more, the appearance is more innovative and attractive. A good quality entertainment device can bring more happiness and funto a family, especially a big screen for movies when family and friends reunion. To consider these factors, the Emotn C1 projector is a great option for home.
Last edited: