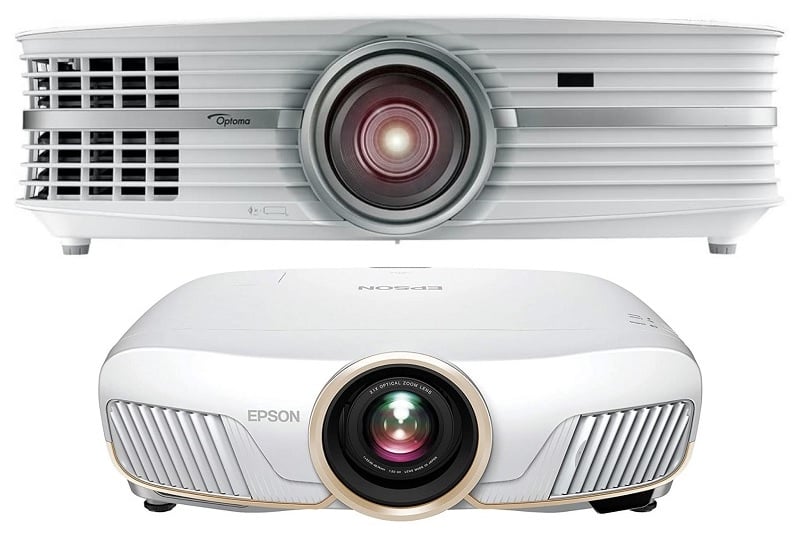 Epson 5050UB vs Optoma UHD60​
With 4K projectors becoming the standard, it's getting harder to compare them. Image quality is the same, you get immersive, detailed images. Brightness can vary, like with the Optoma UHD60 vs the Epson 5050UB, but both projectors produce images movie buffs will love.
Where the differences occur is with their usage. One projector may be a better fit for your home. The Epson 5050UB has a flexible installation when it comes to the throw ratio, but the Optoma UHD60 works better in bright and low light. Colors are more accurate with the 5050UB, and it also has an acceptable input lag without losing resolution.
While the
Epson 5050UB
may seem like the best option, the UHD60 from Optoma has plenty to offer consumers. Before you discount one projector, it helps to take a closer look at what you get with each model.
Optoma UHD60 vs Epson 5050UB Specifications:
Optoma UHD60
Epson 5050UB

Resolution
3840x2160
1920x1080
4K w/pixel shifting
Contrast Ratio
1,000,000:1
1,000,000:1
Brightness (Lumens)
3,000 ANSI
2,600 ANSI
Input lag
56ms
23ms
Throw Distance
4.3' - 30.5'
10.3' - 29.4'
Screen size
26" - 302"
50" - 300"
Internal Speakers
4.0 Watts × 2
No
Both are 4K projectors with dynamic contrast, but there are enough differences to make one a better choice for you than the other.
Image Quality
You get dynamic images with the UHD60 and 5050UB. The combination of 4K resolution and a 1,000,000:1 contrast ratio ensures crisp, detailed images. You get cinematic quality images frame by frame. The difference between the projectors is in brightness and color production.
Colors are more realistic with the 3-chip LCD processing technology in the 5050UB. The technology also eliminates issues like rainbowing and color banding. The UHD60 uses a color wheel instead of chip technology, but it does produce a brighter picture. The 3,000 lumens light source falls into the recommended range for home cinema projectors. You have more options on when and where you use the UHD60.
Better Image Quality: Epson 5050UB
Gaming Quality
There's no comparison between the two projectors on gaming quality. Even casual gamers will have fits with the UHD60. Its lag time is well above acceptable rates, even for single-player games.
Input lag isn't great with the 5050UB, but it's an acceptable 27ms. Add in the fast refresh rate, and most games will play smoothly without any noticeable lag. Best of all, you won't lose 4K resolution. You'll feel like you're living in the game.
Better Gaming Quality: Optoma UHD60
Installation and Set-Up
The UHD60 is noticeably lighter than the 5050UB. At 16lbs, it's not lightweight but the 5050UB is a sturdy 24.7lbs. If you're looking for a projector that also works for outdoor movie nights, the UHD60 is your best option.
Image alignment is similar with both projectors. Digital keystone correction, lens shift, and manual zoom make it easy to center the image on the screen. The 5050UB is a little more flexible with its throw ratio. If you're limited on space, it's something to consider.
Easier Installation and Set-Up: Epson 5050UB
by:
https://hometheaterabc.com/optoma-uhd60-vs-epson-5050ub/#more-1662