The Good
The Epson LS10000 utilizes a laser light engine instead of traditional replaceable lamps. Its outstanding picture quality exhibited deep black levels, superb color accuracy and versatile video processing options. It starts up faster than other projectors, and its feature set is top-notch. Setup options are comprehensive, operation is whisper-quiet, and its styling is sleek and modern.
The Bad
The 4K Enhancement feature doesn't offer a significant improvement. Its black levels are lighter, for worse overall contrast, than JVC's comparable less-expensive D-ILA projectors.
The Bottom Line
A unique laser light engine helps the Epson LS10000 achieve picture quality that rivals the best projectors we've tested.
OVERALL 7.6
DESIGN 9
FEATURES 10
PERFORMANCE 9
VALUE 5
Editors' note:
This projector is known as the "EH-LS10000" in the UK, where it retails for £5,999.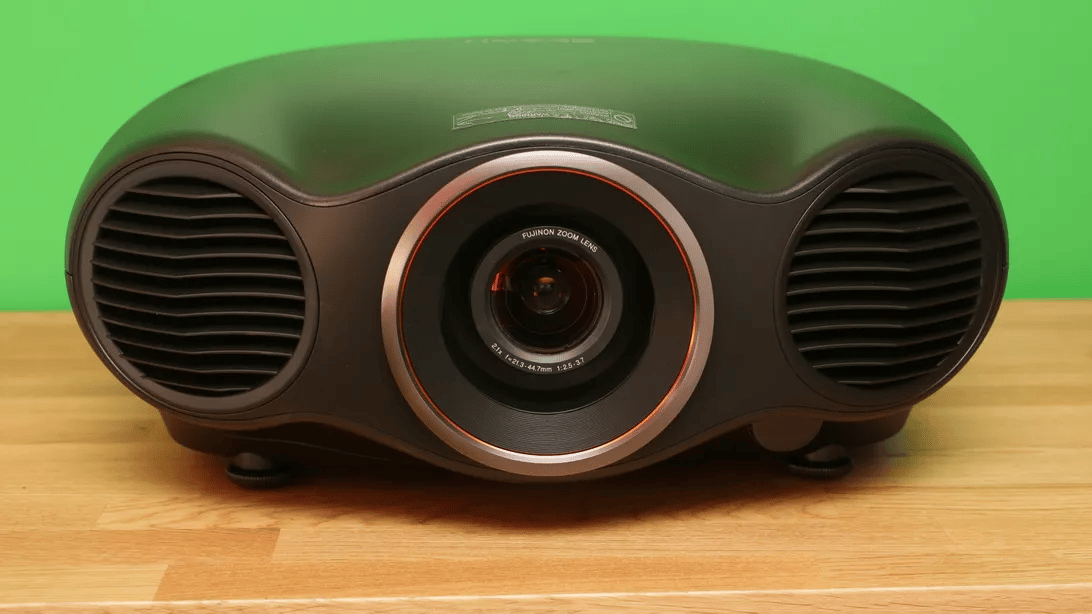 ​
Design
Lasers might obviate the bulb, but the LS10000's body is plenty bulbous anyway. The massive, rounded unit measures 22 inches square and weighs 40 pounds. Its shape puts me in mind of a sci-fi vision: the head of a streamlined combat robot, with a single eye in the center that can retreat behind its motorized cover when powered down.
Matching rounded vents (railgun ports?) appear to either side, and a detachable cover (armor plating?) can conceal the connections around back. Manual overrides are available via a flip-out panel on the side (if you can make it past the exterior defenses).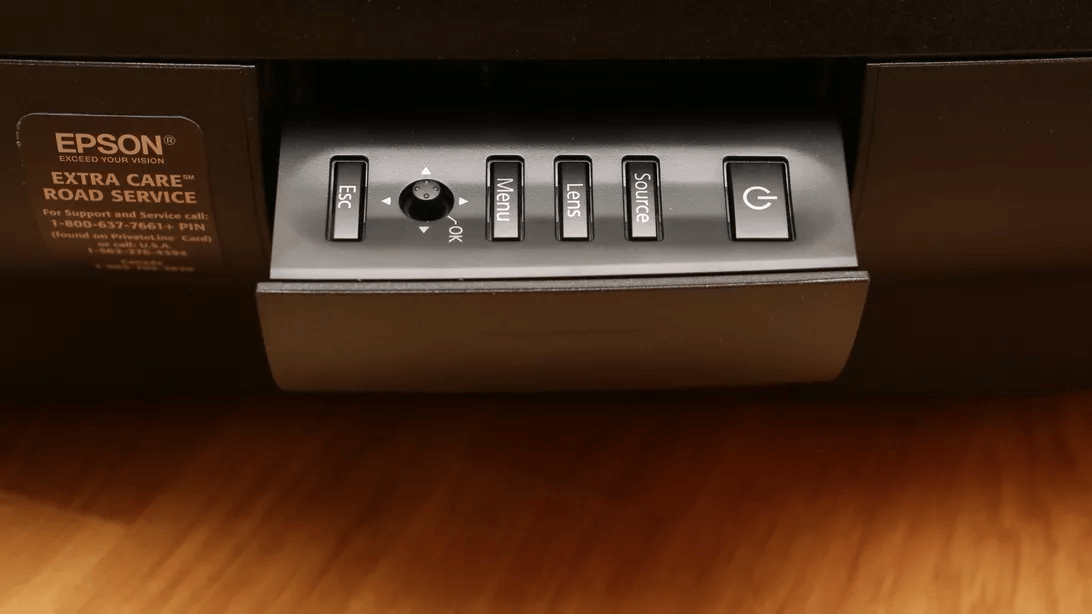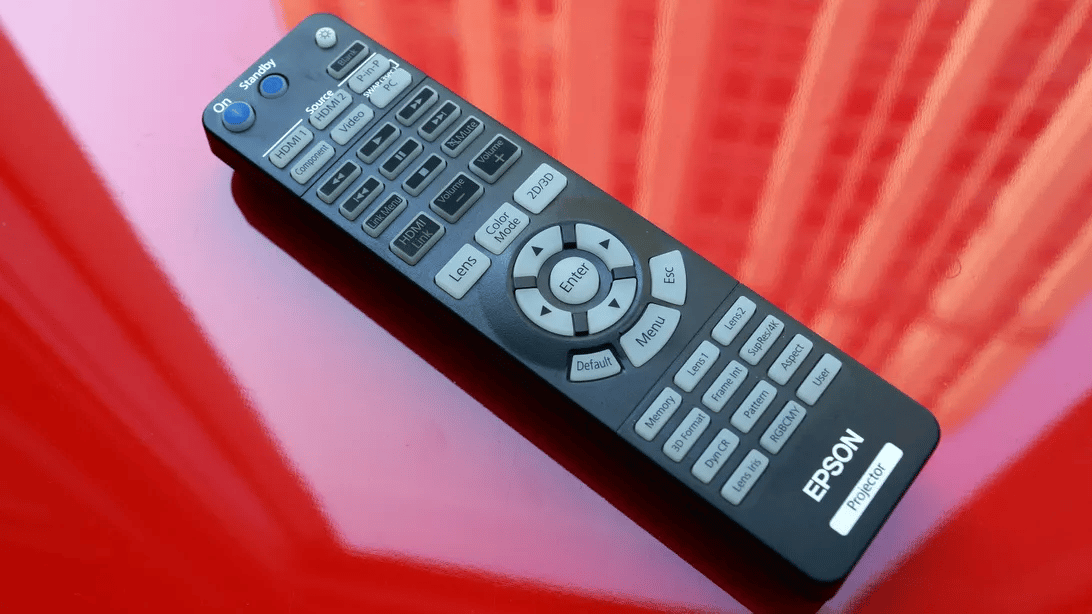 Epson's remote is decidedly less futuristic but presents a formidable face of its own. A big backlit button exists for direct access to seemingly every function. The menu system is nothing fancy either, filled with esoteric adjustments and nested options that are, unfortunately, par for the projector course. I challenge anyone to find Game mode on the first try.
Epson touts the quiet operation of the laser system, and indeed, during operation the LS10000 was basically silent on my ceiling mount in all settings. Fan noise is not an issue with this projector. Then again, the JVC and Sony were also exceedingly quiet in their home-theater settings, so I don't consider this a significant advantage for the Epson.
Startup time was another story. The LS10000 leapt to life, not quite as quickly as a regular TV, but faster than any lamp-based projector I can remember. It took 26 seconds from pressing the power button to projecting a fully bright, watchable image. The Sony took about that long for any image to appear at all, while the JVC took 45 seconds. In both cases, the picture started out dim and discolored and took around 1:20 to achieve full brightness and color. The Epson also restarted (from on to off to on again) in about 20 seconds, while the others had to go through cool-down periods as long as a minute and a half before being ready to turn on again.
​
| | | | | |
| --- | --- | --- | --- | --- |
| Key projector features | | | | |
| Projection technology: | 3LCD Reflective​ | | Native resolution: | 1,920 x 1,080​ |
| Lumens rating | 1,500​ | | Iris control | Static (manual)​ |
| 3D technology | Active​ | | 3D glasses included | Two pair​ |
| Lens shift | Horizontal and vertical​ | | Zoom and focus | Power (remote)​ |
| Lamp lifespan | 30,000 hours​ | | Replacement lamp cost | N/A (lasers)​ |

​
The three main projector types are DLP, LCD, and LCoS, but this Epson is none of the above. Its chips are composed of Liquid Crystal on Quartz, which Epson calls 3LCD Reflective. Of the three ,it comes closest to LCoS (liquid crystal on silicon), and according to Epson offers improved pixel density and improved aperture performance compared to LCD.
Also: frickin' lasers. Most projectors use replaceable bulbs, er, "lamps," that last around 3,000 hours before needing to be replaced. The LS10000 uses two blue lasers that last between 17,000 (in Power Consumption: High mode) and 30,000 hours (in ECO mode) and cannot be replaced. One blue laser creates the blue light, while the other blue laser hits a yellow phosphor, which is then split to create red and green.

In addition to improved lifespan, lasers allow the LS10000 to start up and achieve full brightness faster than lamp-based projectors, stay quieter, and respond faster to changes in brightness than a typical iris. The LS10000 isn't as bright as some lamp-based units but still plenty bright for darkened home theaters.
Epson says the combination of 3LCD Reflective and lasers delivers "unprecedented black levels, displaying zero lumens during full-black scenes." Check out the Picture Quality section for what we say. Ditto for Epson's "4K Enhancement," which shifts each pixel diagonally, and adds various levels of edge enhancement, detail enhancement, interpolation and marketing magic to approximate 4K.
Last edited: