DLP projector with native 1080P resolution. It is equipped with a second generation DMD 0.47 chip with a reduced light frame (reduced does not mean absent). Its LED diodes must offer a brightness of 1500 lumens.
The Fengmi Vogue is therefore a
DLP projector
with
native
1080P resolution
. It is equipped with a second generation
DMD 0.47 chip
with a reduced light frame (reduced does not mean absent). Its LED diodes must offer a brightness of
1500 lumens.
It arrives in the form of a white cube with a weight of
3.51kg
. Its optical unit is protected behind a glass. Its
projection ratio is 1.1
(without physical zoom). It is the position of the projector that will determine the size of your image. To obtain a base of 2.50m in 16 / 9th format it will therefore be necessary to drop by 2.75m. Thanks to its
4-way keystone correction
, it is not mandatory to place it in the central axis of the screen; we can shift it.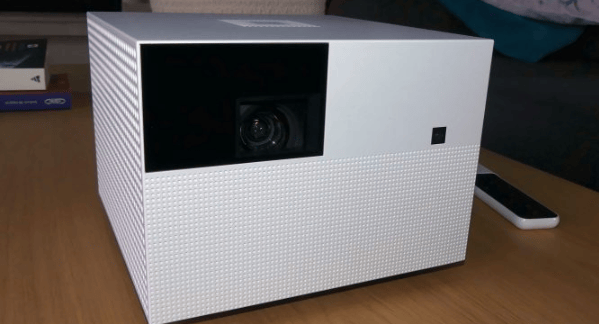 ​
The Fengmi Vogue is part of the category of " Smart Projectors" , these intelligent devices designed as almost autonomous broadcasting vectors, with integrated sound system (the projector can also be used as a Bluetooth speaker). It is equipped with wifi and a LAN plug which allow streaming but also updating the device remotely.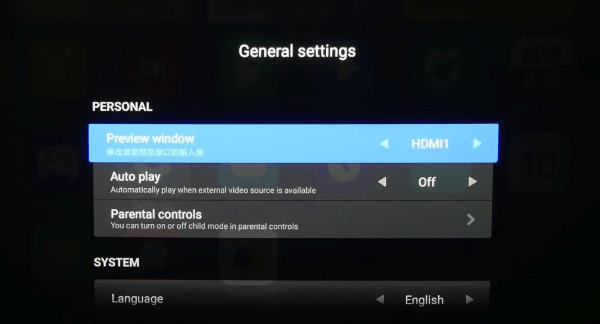 ​
The connections include two HDMI sockets including an ARC, two USB 2.0 sockets, a headphone socket, an S / PDIF socket and a LAN input.
It is important to remember that this is a device designed for the Chinese market, so the MIUI TV interface from Xiaomi will give you access to a lot of applications useless for us Europeans. For the streaming part rather than bothering to find download solutions, I connected my Amazon 4K Stick to be able to benefit from Netflix, Amazon Prime Video and Disney +. Contrary to my habit with this type of projectors I did not try to install VLC or Kodi because the internal media player is excellent.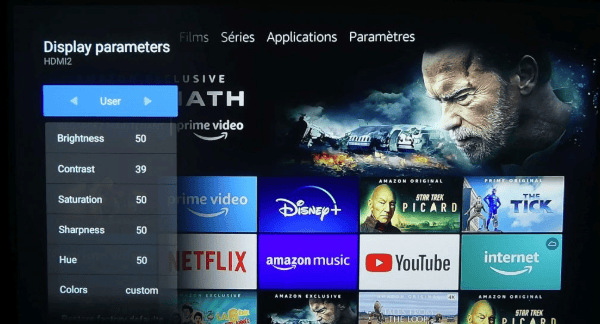 In terms of colorimetry, the projector has the following modes "standard, movie, picture, sport, monitor and Game". As soon as you change an image parameter in these selections, you necessarily fall into the only " user " mode available. This is unfortunate because if you want to make a separate setting for 1080P SDR and 4K HDR signals for example, you only have a backup memory. The only solution, write down your values and enter them each time the source changes. We have known better but this is often the case for these Asian projectors.
I was surprised to discover the ISFccc certification on the Fengmi Vogue and I was impatiently waiting to discover the result out of the box. In this area, nothing new under the sun, Asian LED projectors often demonstrate an excess of blue on the gray scale.
As a reminder, the reference values for 1080P SDR signals are: a color temperature of 6500K, a deltaE deviation less than 3 and a Gamma of 2.2., All this with a color space which corresponds to 100% of the CIE HDTV.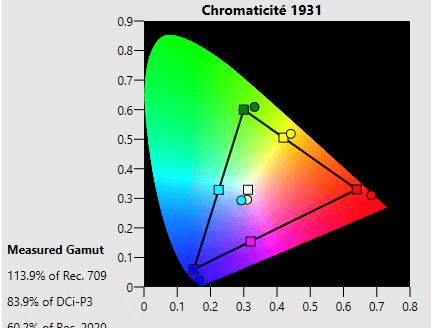 CIE Movie out of the box​
Out of the box I got the best results with the "
movie
" selection , the color temperature of which is 6971K but with a deltaE deviation of 13.89 and a Gamma too high of 2.86.
In these conditions it will be necessary to correct the colors with a calibration using a suitable measurement probe. After corrections I obtained a color temperature of 6579K with a deltaE difference reduced to 2.50 and a linear Gamma to 2.11.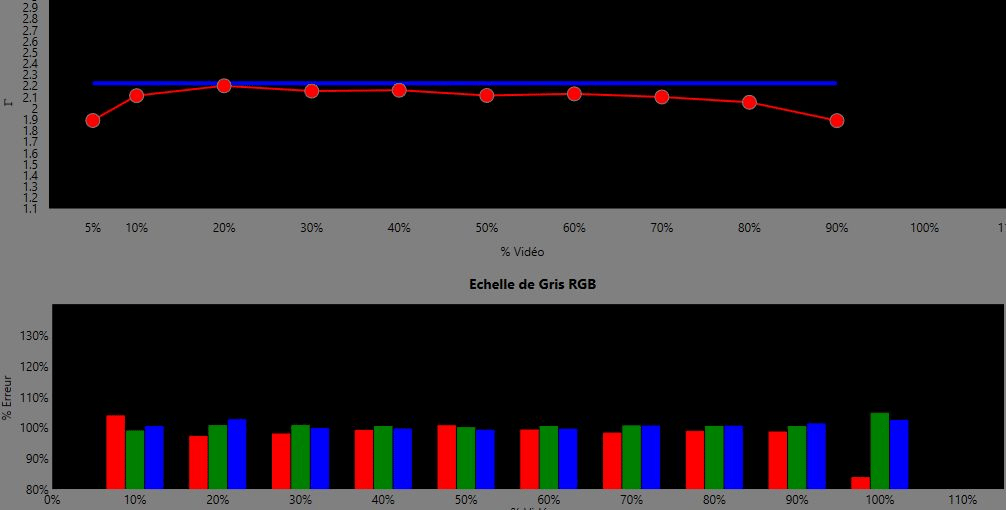 RGB Gamma post calibration​
Fengmi Vogue's Gamut exceeds 100% of Rec. 709 (114%) and reaches 84.1% of DCI-P3 and 60.4% of Rec. 2020. Very good results which will materialize in the image by this visual signature specific to LEDs and very strong colors which exceed in rendering all the classic lamp projectors.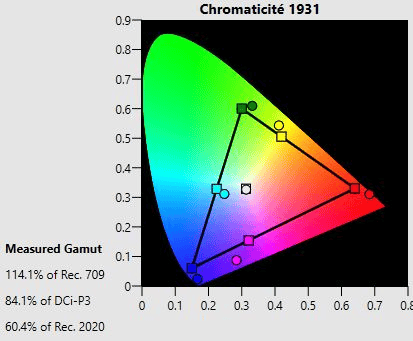 Fengmi Vogue Projector Pros :
-
Operating discretion,

- Image accuracy,
-
No loss of focus,
-
A powerful media player.
Fengmi Vogue Projector Cons :
-
A colorimetry to touch up,
-
I did not find the ISFccc or CMS menus,
-
The weak contrast.
Souce: Grégory