The name of this TV is hisense 8K Pro dual-screen TV U9 and the model is 85U9E. This is the first 8K product of hisense TV and the flagship of hisense TV in 2020. Although hisense's 8K product is a little later than other brands, it is full of innovation in terms of picture quality, appearance and interaction.

First of all, it's design is indeed a very good innovation, the whole TV in two parts, the upper part is the television screen, the lower part is a multi-function TV ark, TV ark is not only used to support the screen, is itself a senior audio system, and the television screen on the back of the sound of an array, empty spirit strong voice, more rich stereo feeling, at the same time, TV ark is also a positive 28 inches smaller screen for intelligent interaction, specialized screen, reduce disturb.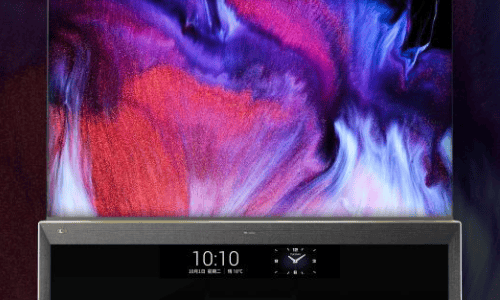 ​

TV screen through multiple interface and multi - function TV cabinet connection, multi - function linkage.

With the rise of the "smart screen" concept, the U9E is also equipped with a high-definition camera and a full-scene voice assistant, enabling rich intelligent functions such as video calling and voice interaction.

But as a flagship 8 k TV image quality is Paramount, U9E in image processing technology is indeed a malicious hands: 85 inch 8 k panel, nita, peak intensity of 2500 and 120 hz screen refresh rate, wide color gamut, quantum dots motion compensation (98% 150% BT. 709 / P3) color gamut, accused of light partition board type (1694 backlight partition), everywhere is really deserve.

But since got this precious 8K TV, see parameter can not, nature is to have a good actual experience, half a month of evaluation, next I will from the appearance design, audio, hardware configuration, intelligent function, picture quality processing technology in turn for evaluation, and say my evaluation results and actual feelings.
designs
Innovative split design, the top half is 85 inches 8K screen, the bottom half of the multifunctional TV cabinet, screen back is also very humanized design handle, convenient installation and handling, if the direct hand move, it is likely to damage the screen because of hard pressure, high-end TV regardless of size is not recommended to touch the screen when handling.

This multifunctional TV cabinet still has very much to see, in addition to be used to support the basic function of the screen, itself or a large sound system, sound system configuration or pretty force, back to the special.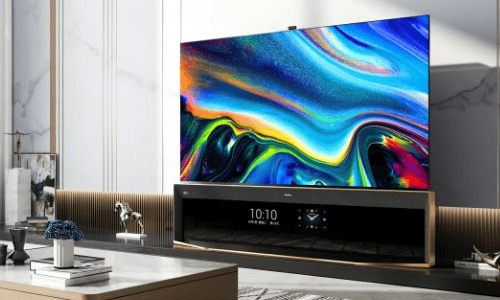 The front of TV cabinet is a 28 inch screen, called "full-time assistant screen", undertake all interactive work, interactive content is displayed on this small screen, the specific function behind.

The upper end of the screen is the two sky sound module, there is a high-definition lifting camera in the middle, the specific function of the camera later.
Sound system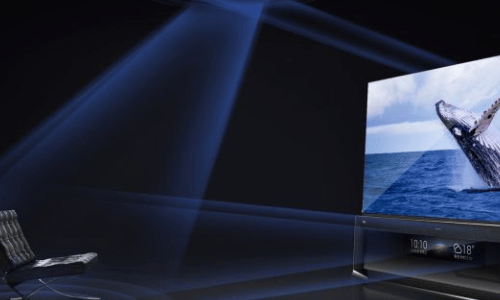 U9E panoramic view support dolby sound, use 4.2.2 multichannel technology, 2 a multichannel the sky at the top of the screen box, with multi-function TV ark before the sound sound, heavy bass speakers, three sides of the three-dimensional packages, 14 speakers on three sides by the three-dimensional interaction parcels that sound and space, create strong stereo surround sound rose descend dolby joint customization, build immersion dolby sound panoramic sound. In terms of hardware, it is true that 110 watts of high output power, 8 channels, 14 loudspeakers, 6.8 liters of large volume cavity, have reached the professional-grade audio configuration and effect.
Hardware configuration
A73 dual-core + A53 dual-core processor, 4 gb of memory, 128 gb of storage space, VIDAA system based on android 9.0 optimization, this system used for a few days, feeling really good, have so high hardware configuration, interface switch silky smooth, no card, remote control response is also, almost feel delay, the experience is very good.

Other hardware configuration has all, and is also high, bluetooth 5.0, 2.4/5ghz dual frequency WiFi, has a USB3.0 port, and even has a gigabit interface interface, oh yes, as an 8K TV, HDMI2.1 port is also essential, support 4K @120hz and 8K @60hz video transmission, and two HDMI2.0 ports, convenient for equipment expansion.

Speaking of HDMI2.1, it's hard not to mention the upcoming SONY PS5 game console, which is said to support the HDMI2.1 port, as well as 4K @120hz games in the future, bringing unparalleled ultra hd graphics. Then TV is not suitable for playing games, there is a key point, input delay, generally 50 milliseconds can meet the requirements, 40 milliseconds is excellent, according to the manufacturer's data, through the hardware level optimization, U9E input delay as low as 30 milliseconds, is enough to meet the needs of console game players.

Access to PS4 Pro, the 4K HDR function can be normally turned on, and the TV will automatically switch signal source after the host starts up, which is convenient and convenient.
Intelligent functions
As a smart TV, the most important and commonly used intelligent function is voice assistant. As a basic function, voice assistant should be reflected in the following aspects:

The accuracy of speech recognition is not high

Voice recognition response speed is not fast

Does not support dialect recognition

Can directly search the song and play

Can you open the application directly

Can you directly change the system Settings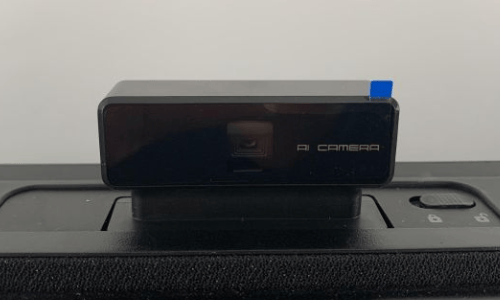 These are very common very convenient features, to experience greater ascension, hisense's side, the voice assistant this still attaches great importance to invest more, U9E on is the latest version of the voice assistant, all of the above function support, and the identification accuracy is very high response speed quickly, the machine is not only to support remote voice assistant, also supports the latest full scene voice assistant function, without using the remote control, direct use "hisense" enjoy to wake up the TV, and television interactions, such as search, listen to music, open the application, etc. There is no problem for the elderly who can't speak mandarin. U9E supports 24 dialects and has no barriers for the elders to use it. Some Internet brands are lagging behind in this respect.

In addition, the U9E also has some social functions, so it has a built-in hd camera. In order to ensure the user's privacy and security, the camera is designed to be scalable, and there is a manual lock to solve the privacy leakage problem from the physical level. At present, the most common function of TV camera is video calling, U9E supports up to six video calling, whether it is chatting with friends and relatives, or video conference, can meet the demand.