Hisense held an online conferance and launched new Laser TV. But a lot of people even don't know what laser TV is. I will give you a brief introduction on what laser tv is and the advantages of laser TV.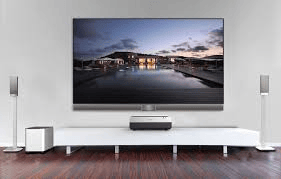 What is laser TV
Laser TV is composed of laser light source projector and projection screen, which adopts reflective ultra-short focus projection technology.
Using semiconductor pumped solid laser working material, its
color gamut coverage theoretically can be as high as 90% of the range of the eye gamut
, color gamut coverage can not only make the whole television picture looks more real, there is a sense of layers, permeability.
At the same time, the sharpness of the picture will be improved greatly with the increase of color saturation.
Advantages
1.More powerful visual experience
2.Ultra-short focal projection within half a meter
3.Flexible screen size
4.Size is not affected by the distance of the projection
5.Ultra narrow frame, like a picture frame delicate aesthetics.
6.High brightness, in the brightness of very light also can show a good picture.
7.The best choice that protects an eye
8.Reflection projection, strong light reflection into the eye, watching comfortable natural not hurt the eye.
9.Compared with the same size TV power consumption, power consumption reduced by 60%.