Every once in a while, your TV will receive software updates to add new features or fix bugs. No matter what TV you have, keeping your software up to date is very important. You can update your TV's software over the internet or using a USB flash drive. Just keep in mind that after a software update your video and audio settings might automatically be reset to defaults.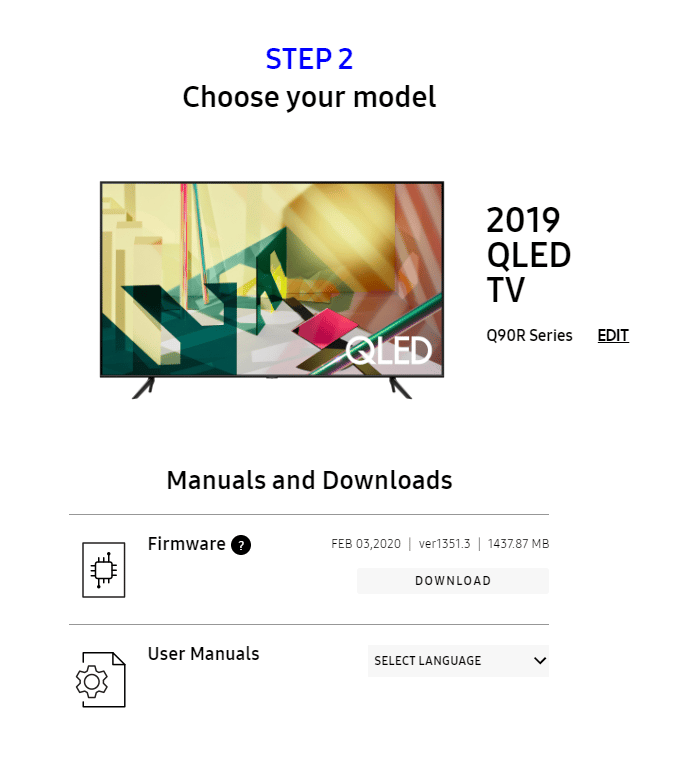 To download the latest software updates, visit the
Samsung Download Center
. You can either select your
Product type
and then search for your
TV
, or select
Enter Model Number
to access the support page for your specific TV model. On the Support page, locate the firmware file for your TV under Downloads. If you find multiple firmware versions, install the newest version. Select
Download
next to the firmware version to download the compressed file.
When the file has finished downloading, locate it and then unzip the file. There should be one folder inside.
Copy or Move the folder to a USB flash drive and do not place it inside any other folders. If you place the software folder inside a folder on the USB drive, the TV will not find it.
Connect the USB drive containing the software upgrade into a USB port on your TV.
Using your TV's remote, navigate to Settings, and select Support. Select Software Update, select Update Now, and then select Yes.
Your TV will search the USB drive for update files. Follow the on-screen instructions to install the updated software. Updates usually take a few minutes; please do not turn off the TV until the update is complete. When the update is finished, the TV will restart automatically.
Last edited by a moderator: