We're all watching more TV than ever while the coronavirus stay-at-home orders are in effect, but even the best TVs have terrible speakers. Investing in a decent audio system makes a lot of sense now that you're stuck at home with plenty of time to enjoy it. Upgrading your TV's sound doesn't have to be difficult or expensive: it can be as easy as plugging in a $150 soundbar.
In this guide we'll look at the different types of home audio systems available, from soundbars to bookshelf speakers to full-blown, surround-sound speaker packages. Here's what you should be looking for to best suit your needs.
Soundbars are a great place to start
The soundbar is the most popular way to improve sound quality beyond your TV's built-in speakers. It's not only convenient -- it usually involves plugging in just a single cable -- but also affordable: decent sound can be had for under $200.
Soundbars fit into three broad types:
Single soundbar (with or without a separate sub)
Full surround with soundbar, wireless subwoofer and separate rear speakers
Sound base -- designed to it flat and hold your TV on top
In general, soundbars are better for wall-mounted
TVs
, while sound bases are better suited for housing smaller TVs while sitting on an AV unit. Of these two, soundbars are overwhelmingly the most popular option, as sound bases can have issues with TVs that have legs at each end rather than in the middle.
Best soundbar for the money
Vizio SB3621n-E8M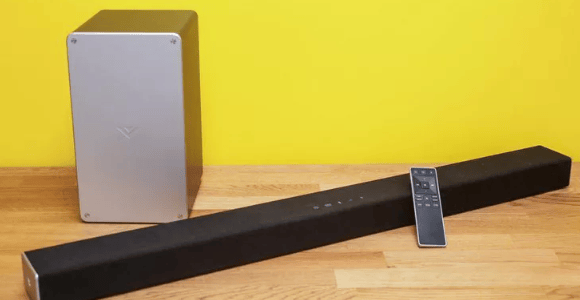 The Vizio SB3621n-E8M sounds great, and it's affordable. It may not offer all of the streaming and HDMI doohickeys of current models, but you don't necessarily need them.
Last edited: