Trolls World Tour (2020) is released recently, you can rent or buy
Trolls World Tour
in 4K Ultra HD or HD on
Prime Video, Vudu, and more
.
Trolls World Tour Netflix
rental release date has not been announced. So we cannot watch it on Netflix for now. Here we'd like to share a review of
Trolls World Tour
which was written by a big fan of the series. However, the review represents a negative point of view: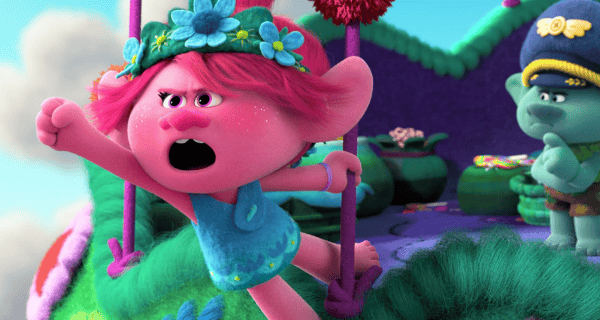 We were big fans of the first film in our house and have watched it numerous times. So when we heard there was going to be a sequel we knew we'd be heading to the cinema. Alas that was not to be, so when it was announced the film would be avaliable to rent via streaming we decided to rent it on Easter Sunday. I'm thankful that I didn't have to trek to the cinema to watch it but annoyed that I paid over £16 to watch it in the comfort of my own house.
The first film had
character
and
charm
,
catchy songs
, and a
decent story
that conveyed an
important message
.
This film has none of the above.
The storyboard consisted of nothing more than someone throwing an obscene amount of glitter at it and then craming as many songs as possible into it. And none of the songs were 'Get Back Up Again' standout.
Clearly the scriptwriters couldn't agree on whether Poppy was right all along or wrong all along as both are confirmed to be true. They then decided to tack a 'music comes from within' message to the end as an afterthought
copying the 'happiness comes from within' one of the first film.
Obviously I don't expect an Oscar worthy movie from a Trolls film and there's always an element of copy and pasting the formula of the first film with sequels. But this film just missed the beat everytime. For example they reused the character pooping confectionary from the first film but completely omit the Bergen which is criminal.
If I could give a minus score I would.