If brightness is the main factor that affects your choice of projector, please consider Epson LS500. It produces images up to 120 inches in size and has a recommended peak brightness of 4000 lumens. The Epson LS500 projector also has a dynamic contrast ratio of 2,000,000:1.
Three HDMI 2.0 ports mean there is enough space to accommodate external sound devices, streaming media devices and game consoles. If you choose to pair the Epson LS500 projector with a game console, it can produce a 60Hz display with an input delay time of 16.7ms.
The Epson LS500 projector has native 1080p and 2160p at 24 frames per second. In terms of color accuracy, this projector uses a 3-chip LCD technology that can display the Rec.709 color space.
Epson LS500 projector is equipped with a high-resolution screen designed to reduce the impact of ambient light. Anyone who does not want to use HDMI ports or USB ports for streaming media devices can use the built-in Android TV operating system. For anyone who wants to replace an 85-inch TV with a comparable ultra-short throw projector, the Epson LS500 projector is a good choice.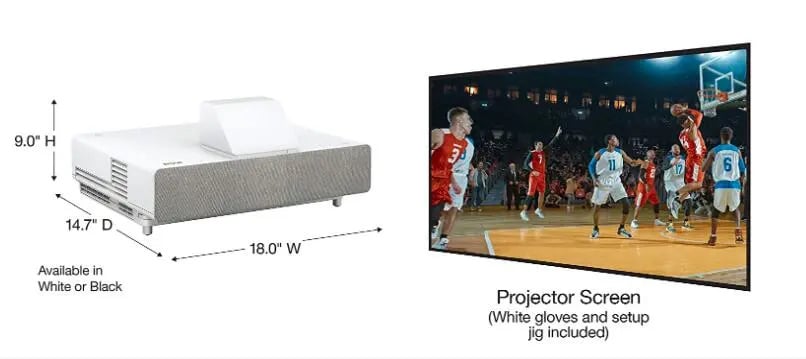 To put it simply, the Epson LS500 projector has the following features:
4,000 ANSI lumens
Up to 120 inches image
Game display -60Hz, 16.7ms input delay
Comes with Android TV HDMI Dongle
3-chip LCD technology, using Pro-UHD pixel shift technology
With screen
The disadvantage is that the projector needs 15 inches from the wall to display a 100-inch screen.