Huawei recently held its summer product launch event, where they showcased the Huawei Vision Smart Screen 3. This latest addition to their smart screen lineup boasts impressive features, including 240Hz Honghu image quality, support for up to 4K super casting, a 4K flagship chip, an AI visual chip, and an AI super-sensing camera. The Huawei Vision Smart Screen 3 comes in two sizes, with the 65-inch model priced at 4499 yuan and the 75-inch model at 5999 yuan.
Superior Visual Experience with Honghu Image Quality​
The Huawei Vision Smart Screen 3 excels in visual performance with its 240Hz high refresh rate and Honghu image quality. Huawei's Chief Operating Officer of the Consumer Business Group, He Gang, explained that the Honghu image quality is achieved through deep learning and intelligent recognition of 11 different picture scenes, allowing for dynamic color and contrast management. The flagship model of the Huawei Vision Smart Screen 3, the Qiguang Xuancai Master Edition, undergoes meticulous calibration to achieve color accuracy at a DeltaE≤1.5 level, meeting the standards of professional-grade display devices.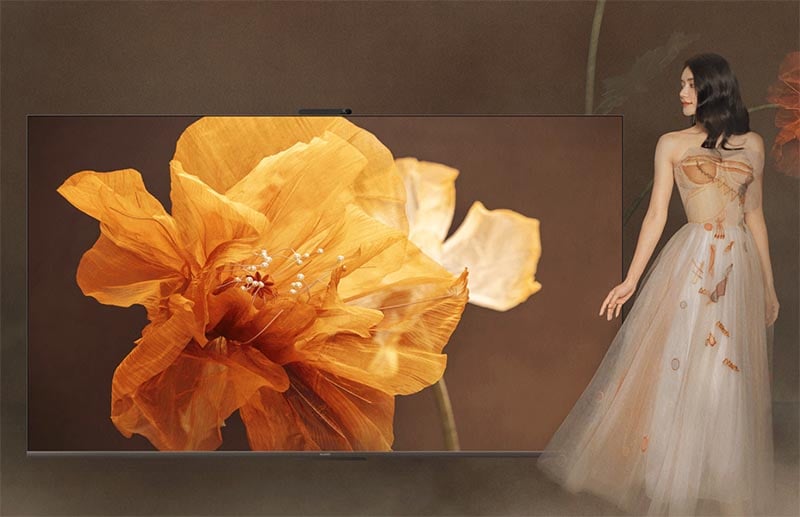 Powerful Core Configuration​
Equipped with a 4K flagship main chip and an AI visual chip, the Huawei Vision Smart Screen 3 provides a smooth user experience for applications and video playback. The combination of these two chips enhances the overall performance of the smart screen.
Intelligent Features​
The Huawei Vision Smart Screen 3 features an AI super-sensing camera with a 115° wide-angle range and a 12 million-pixel sensor. It is accompanied by a dedicated AI visual chip with 1.0T AI computing power, enabling features such as portrait tracking, skeletal joint recognition, posture and distance detection. Additionally, the smart screen supports super casting, allowing users to effortlessly cast 4K content from their mobile devices after purchasing the corresponding membership. It offers a wide range of entertainment functions, including movie viewing, karaoke, fitness, and gaming.
Sleek and Stylish Design​
The Huawei Vision Smart Screen 3 boasts an impressive screen-to-body ratio of 98% and features a slim 1.5mm bezel and a stylish starry gray design, appealing to the younger and more fashionable audience.
Product Line Updates​
In addition to the Huawei Vision Smart Screen series, Huawei also introduced updates to its product lineup, including notebooks, tablets, inkjet printers, smart wearables, and whole-home smart devices.
Conclusion​
The Huawei Vision Smart Screen 3 is a remarkable addition to Huawei's smart screen lineup, offering a superior visual experience with its Honghu image quality, powerful core configuration, and intelligent features. With its sleek design and competitive pricing, the Huawei Vision Smart Screen 3 is sure to appeal to consumers seeking a high-quality and immersive entertainment experience.