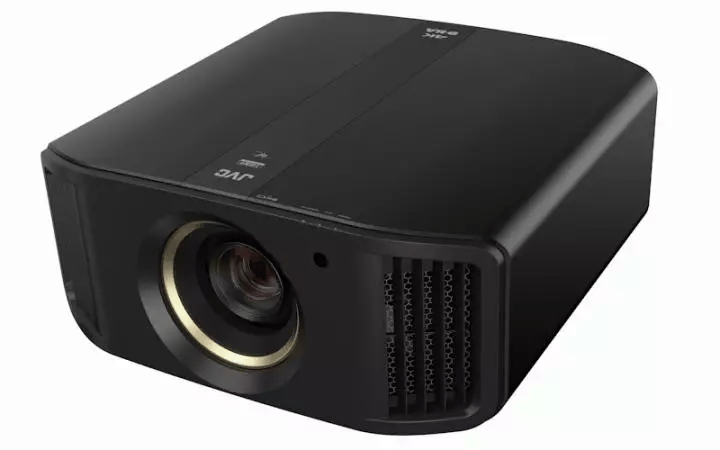 The RS2000 (also sold as the DLA-NX7, depending on the market) uses JVC's
new third-generation native 4K D-ILA panels.
The company claims advancements in planarization help reduce light scatter and light diffraction to increase contrast performance over the previous generation 4K panels found in their flagship RS4500 laser projector. Additionally, JVC is using a brand-new light engine design with higher performing wire-grid polarizers and tighter quality control over the lens. The net result is a more efficient projector producing a sharper image with more contrast and light output.
One focus point JVC had this year was
improving HDR10 performance.
This is a sore topic for projector owners, since even with a
claimed 1900 lumens on tap
, the RS2000 falls drastically behind most flat panel TVs when it comes to image brightness. Even on a modestly sized projection screen, most users won't see more than 200 nits of peak brightness. This is a far cry from flat panels
reaching over 1000 nits.
The fix is JVC's new auto tone mapping software. This new software can automatically adjust the dynamic range of HDR10 content to better suit the brightness capabilities of the image on screen. This new feature aims to bring the already stellar SDR performance JVC projectors are known for to HDR content.
The Hookup
The RS2000 is a relatively large projector,
measuring 19.8 inches by 19.5 inches by 9.3 inches, with a weight of 44 pounds.
This makes the RS2000 over 30 percent larger in volume and more than 9 pounds heavier than JVC's previous generation lamp-based models. JVC claims this new larger chassis design helps for better airflow and less audible fan noise. The RS2000 employs the same fully motorized lens from previous years, offering 2x zoom, a 1.4 to 2.8 throw ratio, and a generous 80 percent vertical and 34 percent horizontal lens shift. JVC claims 1900 lumens of light output, >100 percent P3 color gamut support, an 80,000:1 native contrast ratio, and an 800,000:1 dynamic contrast ratio.
The 265-watt UHP lamp is rated for 4,500 hours.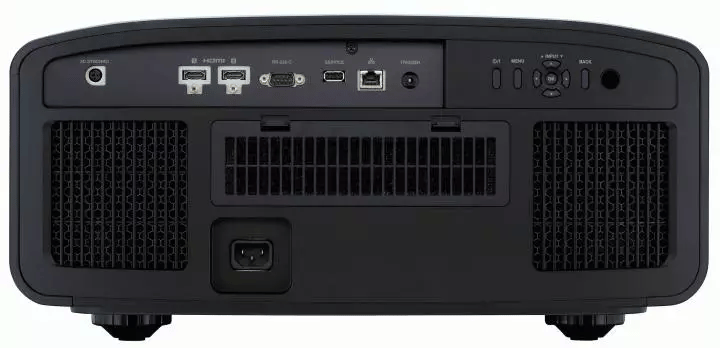 On the back of the projector you'll find two 18 Gbps HDMI 2.0b ports, a 3D emitter sync port, a USB port for firmware updates, a 12-volt trigger port, an RS-232 port for legacy system control, and a LAN port for IP system control.
Performance
Out of the box, the RS2000 offers several picture modes that require little to no adjust to get a near reference image. With SDR content, choosing either Natural or one of the custom User modes, while opting for the REC709, D65, and 2.2 gamma preset options, offers respectable out-of-the-box performance. Deficiencies in accuracy remained under five dE in Natural mode. After a quick calibration using the built-in controls, the RS2000 tracked well under three dE, the threshold for perceptible errors, offering a truly reference image.

After calibration, the RS2000 allows up to 1600 lumens of light output. This number can change depending on a number of setup factors, including lamp mode, manual iris position, and the amount of zoom you're using on the lens. Unless you have a massive screen, for 2D SDR content you may want to consider using the manual iris control. Not only will this lower your peak lumen output, as 1,600 lumens may be too bright, but you'll gain an exponential increase in native contrast as you engage the iris more.
Pulling up some test patterns revealed that the RS2000 does most things correct with the default out-of-the-box settings. The RS2000 does proper 1:1 pixel mapping with no overscan issues. For SDR content, leaving the brightness and contrast settings at their default positions, the RS2000 clips and crushes video appropriately.
This is where the RS2000's class-leading contrast performance shines. I was treated to inky blacks, thanks in part to the dynamic iris adding a boost of contrast in these scenes, but also brilliant highlights in these scenes that gave me the impression of a lot of dynamic range.
Colors looked well-saturated and natural
due in part to the RS2000's accuracy in greyscale and color. The image was also tack sharp thanks to the RS2000's excellent lens. Colors looked well-saturated and natural due in part to the RS2000's accuracy in greyscale and color. The image was also tack sharp thanks to the RS2000's excellent lens.
The Downside
While the RS2000 measures and performs well, it is not without flaws. As detailed above,
upscaling quality on the RS2000 is middle of the road. I
often witnessed issues with aliasing if I let the projector scale 1080p content to UHD. As this is partly a
software issue
, this might be something JVC can fix with a firmware update. However, as it stands, I would recommend owners use something else to scale their video.
The RS2000's dynamic iris also has some issues that I haven't seen before from previous JVC projectors. I witnessed gamma shifts during some movie scene transitions and clipped whites on certain dark movie content that had brighter elements on screen simultaneously. This is another problem that is based in software, and JVC informed us that a fix is in the works, adding that the gamma shift only happens on certain transition scenes when using the auto iris. Overall, in my opinion, the dynamic iris still works well enough to be left on at all times. Just be aware, in its current state, you may notice it working on occasion.
It's also worth noting that the specified throw range of the lens is a little deceiving. Consumer video content adheres to a 16:9 standard, which 1080p Blu-ray, UHD Blu-ray, and broadcast HDTV follows. The issue is that the
RS2000 uses true 4K 4096 by 2160 panels, not UHD 3840 by 2160 panels, making the native image 1.89:1.
This means that any consumer video format played through the RS2000 will show black bars on the sides. So, the throw ratio is really 6.5 percent less if you are watching video encoded in a 16:9 aspect ratio.
Lastly, as with previous JVC projectors, the RS2000
has issues with bright corners.
This issue shows itself as black field nonuniformity and is typically only visible to the eye when the entire image is black, in which case the corners will appear slightly brighter. As this type of content is rare, I didn't encounter many instances of this issue being visible, but it's still something worth noting.
Conclusion
With the RS2000 (aka DLA-NX7), we now have a high-performance home video projector that delivers native 4K resolution, high contrast, and high brightness for under $10,000. It's not perfect, nor the best fit for everyone, but for the most part, the RS2000 lives up to the hype. It shines best with HD or UHD movie or TV show content, while still offering good performance for those who want to game or view sports. It also only requires minor adjustments to get a reference image. For those looking for one of the best performing projectors in the under $10,000 market, you owe it to yourself to check out the RS2000.