Connecting a projector with a multimedia device to obtain a large-screen experience has become an increasingly popular entertainment for young people, because they can get cinema-level enjoyment at home with very little money. So how to choose a cost-effective projector? LG PF50KA and Emotn C1 are two hot sale projectors recently, let's compare side-by-side to help you choose the more affordable one.
1. Appearance
Although LG PF50KA and Emotn C1 are mainly white in appearance, they still have obvious differences. LG PF50KA is almost a flat white cube with the lens in front of it, and the four corners are arc-shaped, which is a traditional design overall. Emotn C1 is different from most projectors on the market in appearance, not only because it applies a fashionable and vibrant fluorescent yellow color as an embellishment, but also innovatively adopts a roof-shaped design in shape. The groove on the roof can be used to place remote controls or mobile phones and other equipment during projection, which provides users with unexpected convenience.

2. Image
Speaking of image, Emotn C1 has a wider projection size range than LG PF50KALG. LG PF50KA has a brightness of 600 ANSI lumens, 1080p resolution, and Emotn C1 has a brightness of 8500 lumens, 720p resolution. Therefore, LG PF50KA has a better picture display than Emotn C1. But Emotn C1 supports 4K decoding while LG PF50KA doesn't. Emotn C1 is more suitable for viewing at night when the lights are turned off.

3. Audio
Both LG PF50KA and Emotn C1 have built-in speakers and Bluetooth. But Emotn C1 provides a better Bluetooth of 5.1 and a better speaker 5w with BOX while LG PF50KA speaker is only 1w. What's more, when switching to Bluetooth speaker mode, the optical machine of Emotn C1 will be closed and equipped dual-fan cooling system, which will reduce fan noise by 85%, lower than 30db.

4. Ports and Connection
Both LG PF50KA and Emotn C1 have HDMI, USB, VGA, and earphone ports. What differs from them is that LG PF50KA has a LAN port while Emotn C1 doesn't, LG PF50KA lacks VGA and AV ports while Emotn has both. What's more, Emotn C1 has a TF/SD card port and two USB ports while LG PF50KA doesn't. One of the USB is for transmission and the other is for charging the media device when projecting. And these two HDMI ports can connect streaming media equipment, such as fire TV, Apple TV, Roku, and Chromecast.

Both LG PF50KA and Emotn C1 support both wired and wireless connections, what is different is that Emotn C1 is equipped with its own 5G WIFI hotspot, which ensures wireless screen projection can be used directly even in a place without or with a poor WIFI signal.
5. Summary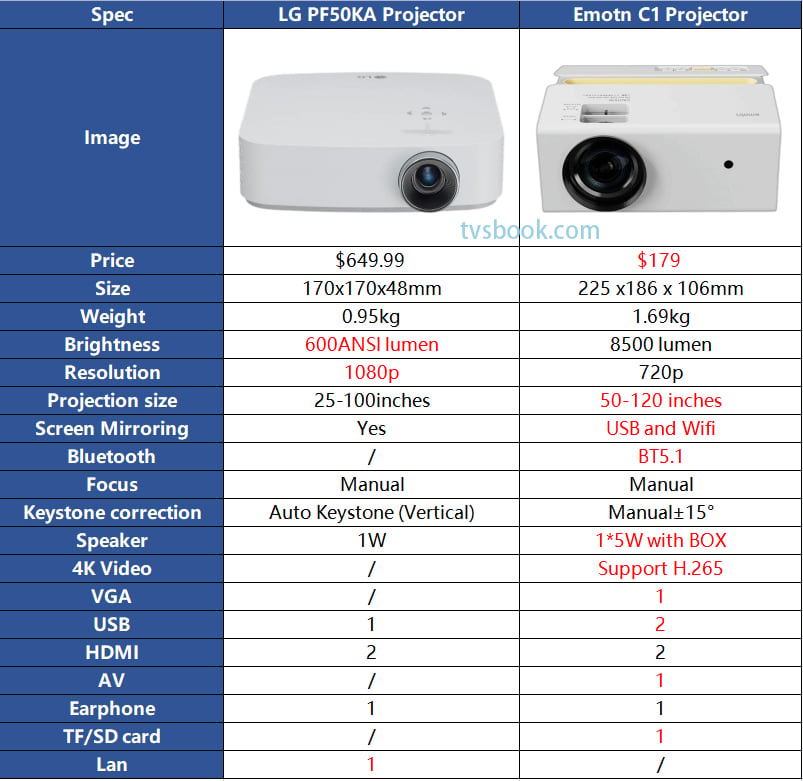 In general, both LG PF50KA and Emotn C1 can be used as multimedia projectors to connect mobile phones and other devices. But in terms of price, Emotn C1 is obviously more affordable than LG PF50KA while it also provides a very good performance. If buy it as an entry-level projector, Emotn C1 is really an excellent choice for large-screen enthusiasts with a small budget.