The sheer number of scripted television shows being produced each year -- a whopping 532 series aired across all networks, cable, and streaming services in 2019 -- is staggering. But while the percentage of quality shows has fallen over the past decade as a result, there's never been more to love or a wider variety of programming to watch. We're into it.
What notable new and returning shows are on tap for 2020? Just bookmark this curated list of the most promising new TV series and returning favorites coming to a small screen near you.
The Midnight Gospel
Netflix, April 20
Adventure Time
fans, assemble. It's time to embark on another adventure in the form of another animated show from the series' creator Pendlton Ward.
The Midnight Gospel
is an imaginative series about a "spacecaster" who sets on a journey across the universe to interview various characters who live in worlds that are dying. TBD if that means he will be visiting Earth.
We're Here
HBO, April 23
HBO's getting into reality TV. This series recruits small town performers and for the opportunity to be mentored by famous drag stars (Bob the Drag Queen, Eureka O'Hara and Shangela Laquifa Wadley) to put together a special one-night drag performance -- so basically it sounds fabulous.
Ghost in the Shell: SAC_2045
Netfflix, April 23
A followup to the popular anime Ghost in the Shell debuts this April, sporting a new CG look, and is set in 2045 amid what's known as the "Sustainable War." For major anime fans, this one's a pretty big deal.
Defending Jacob
Apple TV+, April 24
This limited series stars Captain America himself (Chris Evans) in an adaptation of William Landay's crime novel of the same name. Michelle Dockery and Jaeden Martell are set to co-star for the eight-episode run.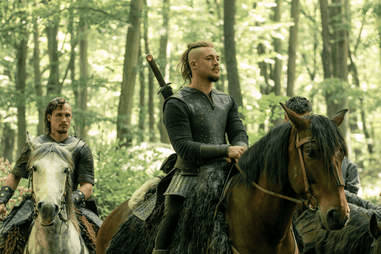 The Last Kingdom
Netflix, April 26
Huzzah, the Dark Ages drama based on Bernard Cornwell's
The Saxon Stories
books is back for Season 4.
Penny Dreadful: City of Angels
Showtime, April 26
Penny Dreadful
fans praise Satan because a spin-off series is premiering this April. It's a period piece like the original, except it takes place in LA during the '30s era Golden Age of Hollywood and focuses on Mexican-American folklore and political tensions at the time.
Vida
Starz, April 26
This understated drama about two Mexican-American sisters in LA is unfortunately coming to a end with its third and final season this spring. While sisters Emma and Lyn finally have their bar up and running, they're confronted with a wild family secret to wrap up the series with a bang. Drama!
Never Have I Ever
Netflix, April 27
Mindy Kaling created this coming-of-age series inspired by her own adolescence, growing up as an Indian-American teenager. As we all know, growing up is hard to do, so prepare for a lot of cringe-worthy but sweet moments.
Normal People
Hulu, April 29
Based on the book of the same name by the queen of the millennial narrative, Sally Rooney (who adapted the book for Hulu with the playwright Alice Birch), this miniseries captures the intense intimacy that develops between Marianne (Daisy Edgar-Jones) and Connell (Paul Mescal), which twists and shatters as their social standings change.
-- Esther Zuckerman