NVIDIA Shield TV
Honestly, this isn't even a fair fight.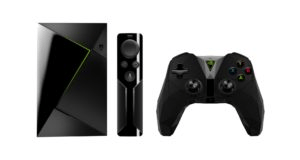 ​
NVIDIA, the graphics powerhouse behind most of the world's top performing PC gaming systems, stormed on to the scene in May 2015 with the NVIDIA Shield Android TV console. Unlike the Razer Forge TV, which never really caught on, the Shield has a devoted following of Kodi enthusiasts, developers and causal gamers that have made it extremely popular.
Now redesigned for 2020, the Shield TV is aimed at the user who want more power and storage from their streaming device than a Roku or Fire TV can give, but don't need to go into the super high-end streaming devices like the Cyrus Stream Xa or Naim ND5 Xs. It has the high-end Tegra X1 CPU, 3GB of RAM and a graphic processor with a whopping 256 cores!
The Shield user interface is one of the slickest I've seen. Google's official Android TV interface runs on top of Android 8.0 Oreo – the only device on this list to use the latest version of Android.
Last edited: