Which is the best projector under $500? In fact, it is not easy to find a perfect cheap model at that price, however, if we raise the budget a little bit, we would get a nice choice. Optoma HD146X has been rating as the best projector in 2020 at the price range of under $600. But is the Optoma HD146X Projector really worth this praise? What are Optoma HD146X Projector's pros and cons? Here we can take a quick look of what the customers say:

Optoma HD146X Projector Configuration
| | Optoma HD146X |
| --- | --- |
| Highlights | Big screen home entertainment ideal for gaming & TV/Movie Streaming in 1080p. Easy on/off with HDMI-CEC. |
| Resolution & Contrast Ratio | 1080p resolution 25,000:1 contrast ratio |
| Color | HDTV color quality with REC.709 |
| Gaming | Enhanced Gaming mode with 16ms input lag. Game Display Mode for boosted shadows and dark scens for greater visibility. |
| Brightness | 3600 lumens |
| Throw Distance | 120" image from approximately 13–14 feet away |
| Lamp Life | Up to 15,000 hours |
| Installation Flexibility | 1.1x zoom, ±40° vertical keystone correction |
| Connectivity | HDMI 1.4, Audio-Out, USB-A (Power) |
Optoma HD146X Projector Review: things to be considered
1. warning of a serious design flaw
I set it up and it is definitely a nice bright picture. Everything was great until I realized that the picture that shows the mounting options - it is literal. The bottom of your screen is exactly horizontal with the top of the table that you set your projector on. The manual states very clearly:
Do not operate the projector in any orientation other that table top or ceiling mount. The projector should be horizontal and not tilted either forwards/backwards or left/right.
Any other orientation will invalidate the warranty and may shorten the lifetime of the projector lamp or the projector itself. For none standard installation advise please contact Optoma.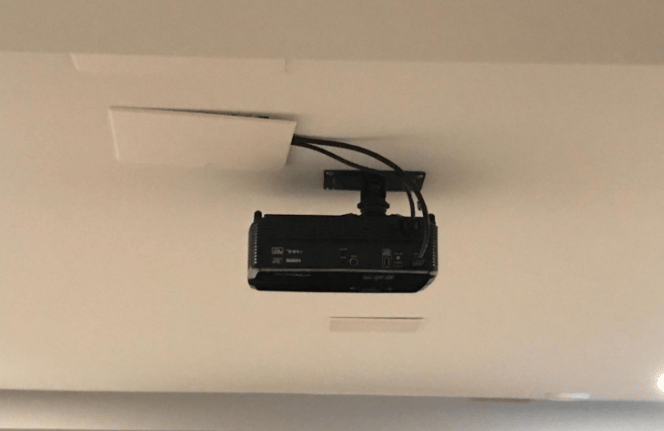 For us, to get to 120", the project must be 13' from the screen, which is fine except that there is a couch in front. We can not ceiling mount and so this means that NO ONE can sit on the couch in front of the projector. I am used to projectors throwing center so you can raise the projector to any arbitrary height. Not this one. The only other option is for us to put the project in front of the couch, which means a much smaller projection.
This is
a serious design flaw in my opinion.
I have tempted to send it back.
2. only 1 hdmi spot, no wifi or Bluetooth connectivity and the stock sound is really bad.
Picture is beautiful and for its price, it is almost perfect.
Its pretty bulky so make sure you have space for it.
The downside really is that there is only 1 hdmi spot, no wifi or Bluetooth connectivity and the stock sound is really bad. The picture quality makes up for it all but the minor tweaks would really take it to the next level.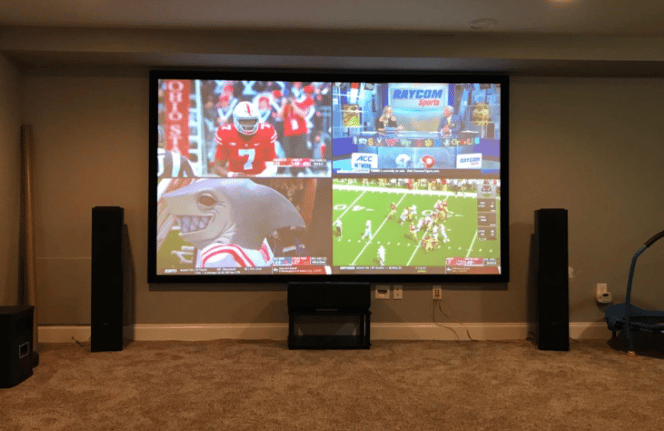 I know that there are 4k projectors out there but not worth almost double in price.
3. The fan constantly turns on and off and is NOT quiet
The brightness is great! It has a very good 3D picture.The color is decent for being a DLP projector. The remote has a hard time finding the projector half the time and YES, I took the plastic off the sensor!
The fan constantly turns on and off and is NOT quiet and is highly irritating on low volume scenes with an amp level of 60 on the receiver no less.
My last projector was much quieter, Panasonic PT-AE7000U, you couldn't hear the fan at all.
The most IRRITATING thing on this projector is the corrupted screen (see picture)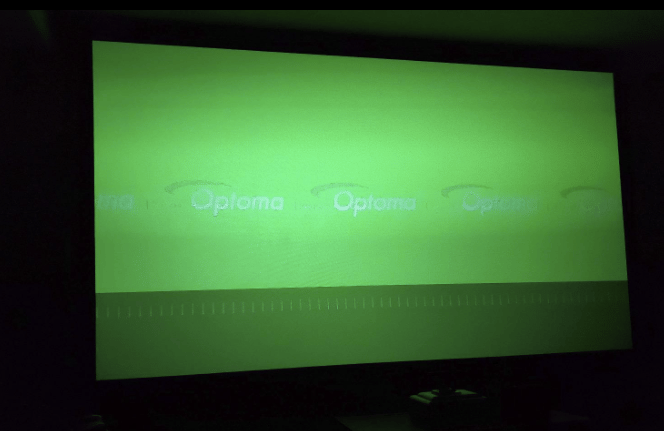 I get EVERY TIME I go to view a 3D movie. I have done every imaginable step you could think of with turning units off and on and changing modes on the projector etc. If you proceeded to watch a 3D movie anyway, the whole decoding of the signal is corrupted and you get partial 3D junk.
I found that the ONLY way to get it to work is to pause the movie at the very beginning then turn off the projector wait 10sec then turn the projector back on then continue playing the movie. YOU CAN'T even switch to another 3D movie after the first one is done. AGAIN need to pause the movie, turn off the projector and on again!!!!! Very IRRITATING! It ruins the moment every time!
Oh, I filled out a tech form in detail online and heard nothing. I have tried a number of times calling tech to no avail.