A study by Digital TV Research found that global online TV program and movie revenue reached US$83 billion in 2019, higher than US$67 billion in 2018 and US$50 billion in 2017. Even before the current surge in online viewership, the industry was already very attractive.
Among the 138 countries/regions covered by the OTT TV and video database, OTT's additional revenue in 2019 was US$16 billion, and subscription video-on-demand services contributed US$12 billion. The share of SVOD in OTT revenue has increased from 41% in 2015 to 58% in 2019. The industry's revenue in 2019 was US$48 billion.
By 2019, the top five countries in the report accounted for 72% of global revenue. In 2019, 13 countries had excess income exceeding US$1 billion.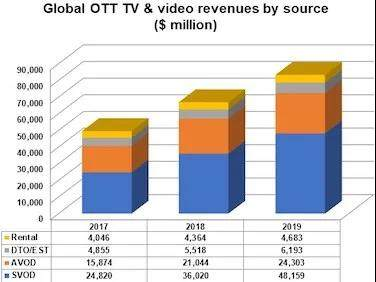 OTT TV and video database also found that the United States increased its revenue by 8 billion U.S. dollars in 2019, accounting for half of the global new revenue, of which China increased by 1 billion U.S. dollars.