OLED TVs are one of the most popular types of TVs in 2022. The Panasonic LZ2000 and Sony A95K OLED TVs are the top OLED 4K TVs of 2022: they both offer great images, immersive sound, and amazing gaming features. When Panasonic LZ2000 vs Sony A95K, which TV will win more votes?
Panasonic LZ2000 and Sony A95K OLED TV Overall Verdict​
Simply put, these two TVs are excellent and distinctive in their own right, and neither one will disappoint you. The Sony A95K is more expensive for the same TV size, but it has been significantly reduced since its launch to gain more opportunities.
Model
Panasonic LZ2000
Sony A95K
Model Year
2022
2022
Sizes& Price
55": £2199
65": £2900
77": £4300
55'': $2999.99/2499.99
65'': $3499.99/2999.99
Display technology
OLED
OLED
Panel type
WOLED
QD-OLED
Resolution
4K
4K
Processor
HCX Pro AI
Cognitive Processor XR
HDMI
4 (2x HDMI 2.1)
HDMI VRR / FreeSync /HFR 4K120 HDR10
HDMI ARC/ eARC
4(2x HDMI 2.1)
HDMI VRR/ HFR (4K120 HDR10)
HDMI ARC/eARC
ALLM
YES
YES
Filmmaker Mode
YES
No
Speakers
5.1.2ch 160W 360 Soundscape Pro
2.2 60W Acoustic Surface Audio+
HDR10/HDR10+/HLG
YES/YES(HDR10+ Adaptive)/YES
YES/No/YES
Dolby Audio
Dolby Atmos
Dolby Digital (AC-3)
Dolby Digital Plus (E-AC-3)
Dolby AC-4
Dolby Vision IQ
Dolby Atmos
Dolby Digital (AC-3)
Dolby Digital Plus (E-AC-3)
Dolby AC-4
Dolby Vision
DTS Audio
No
DTS Digital Surround
SoC / system chip
MediaTek MT5816
MediaTek MT5895 (MT9950)
TV Platform Features
My Home Screen 7.0
Google Assistant, Alexa
Google TV 10, Support OS update
Chromecast, AirPlay 2, HomeKit
Google Assistant, Alexa
Smart TV Streaming
Amazon Prime Video, Apple TV app, Disney+, Netflix, YouTube
Amazon Prime Video, Apple TV app, Disney+, HBO Max, Hulu , Netflix, YouTube
Panasonic LZ2000 TV vs Sony A95K: Pros and Cons​
Panasonic LZ2000 is the flagship TV in Panasonic's 2022 OLED lineup, featuring a WOLED panel and HCX Pro AI processor to deliver outstanding images, perfect sound, and an excellent gaming experience. It offers rich image modes and promising motion processing with gaming-friendly performance such as ALLM, VSR, and FreeSync.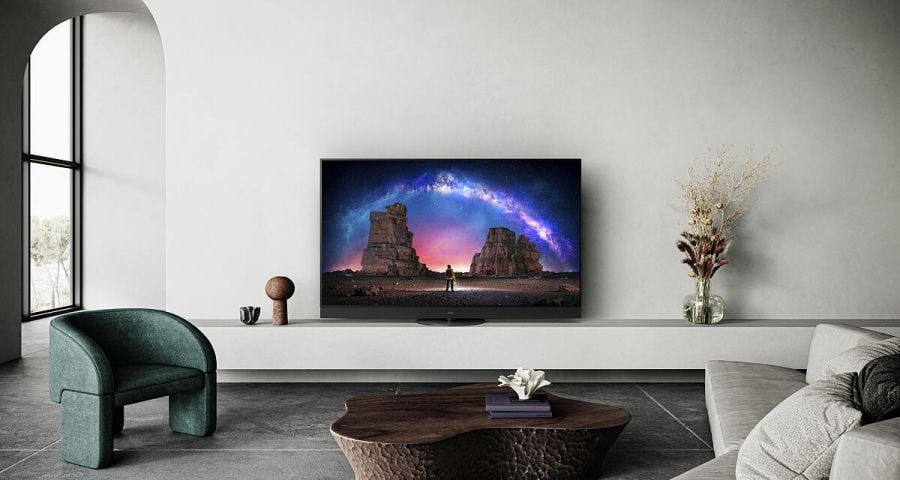 Panasonic LZ2000 TV Pros
Superb Image Accuracy
Bright, Impactful HDR
Excellent Sound Quality
Panasonic LZ2000 TV Cons
Cluttered Remote Lacks Backlight
No OS Update
Won't Come Cheap
The Sony A95K is a high-end TV with a QD-OLED panel from Sony 2022. It improves on traditional OLED TVs while featuring perfect black levels and a wide range of bright colors. It is perfect for gaming with HDMI 2.1 transmission, ALLM, VRR, etc. and comes with a BRAVIA webcam and added some new features.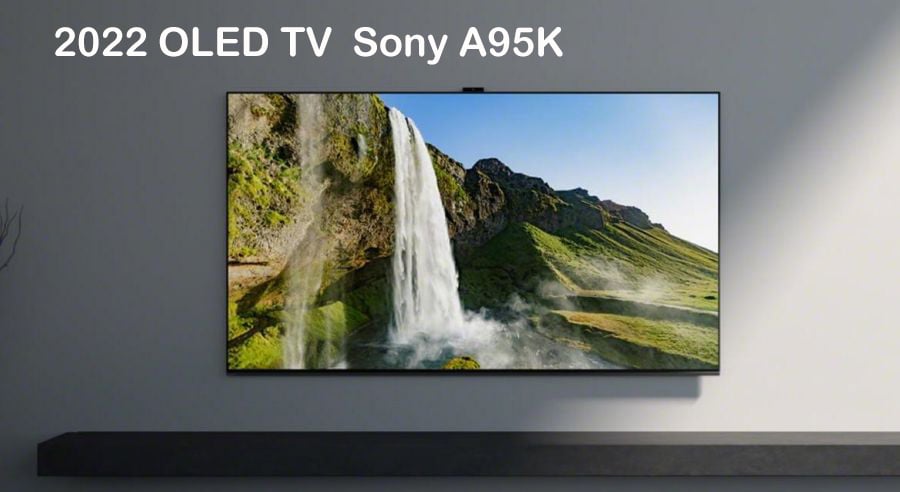 Sony A95K TV Pros
Bright Highlights and Vivid Colors
Premium Design
Wide Viewing Angle
Sony A95K TV Cons
Some Preset Need Work
Relatively High Price
Average Audio Quality
Panasonic LZ2000 TV vs Sony A95K: Appearance Design​
Judging from the design, I personally think Panasonic LZ2000 is a little old-style and Sony A95K is more modern and premium.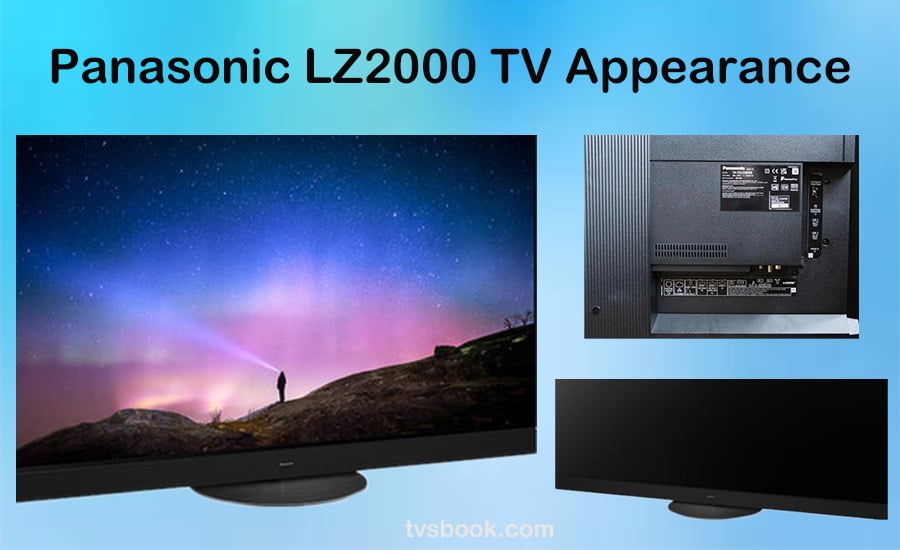 The Panasonic LZ2000 has a round central base and the TV is very close to the table so it can't hold the soundbar. The TV is thin, with a frameless design on three sides, but wide at the bottom, which makes it look not very sleek and simple. On the back are the audio outputs and interface inputs, and you can see that the interfaces are spread out on the sides and bottom, with no cable management.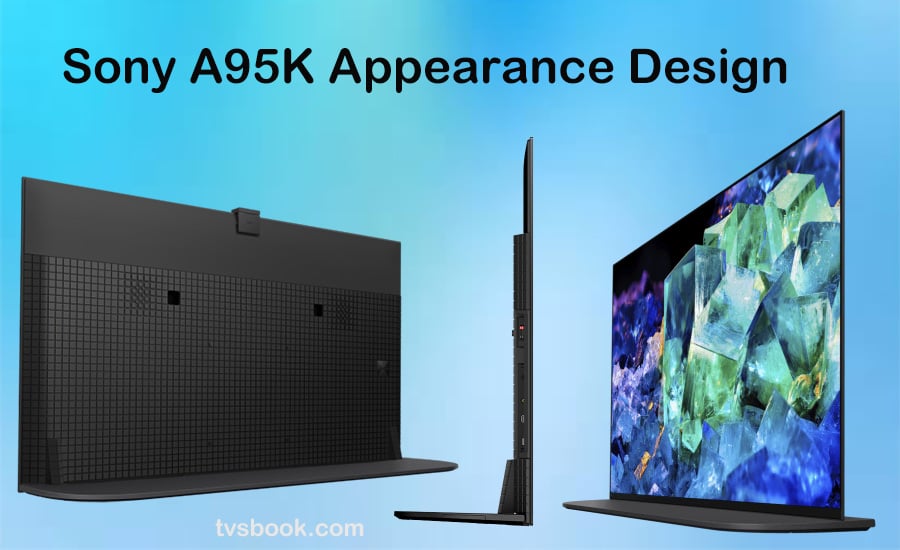 The Sony A95K TV features a bezel-less design, a very thin TV, and a completely invisible base stand. As a result, the Sony A95K fits perfectly on the table and is not suitable for placing the bar in front of the TV. It has a checkerboard grid design on the back, with ports on the sides and underneath, and an input cover for cable management. So whether you place the Sony A95K on your desktop or on the wall, you can keep your space neat and tidy.
Panasonic LZ2000 vs Sony A95K: Display Performance​
The Panasonic LZ2000 and Sony A95K reflect their respective characteristics on the basis of OLED TVs. Overall, the QD-OLED colors used in the Sony A95K are superior. WOLED (White OLED) refers to an OLED display panel that emits white light, and WOLED TVs have a more limited amount of color, causing colors to lose saturation at high brightness levels, but the Master OLED Pro panel from Japanese will enhance brightness and contrast to offer stunning picture display.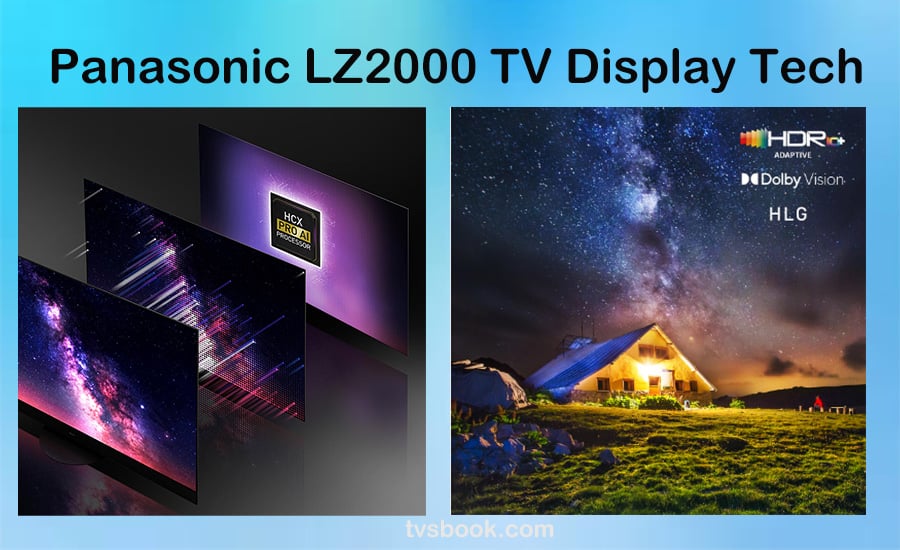 The Panasonic LZ2000 is equipped with the HCX Pro AI processor, which instantly analyzes images to deliver exquisite color accuracy, contrast and sharpness. In addition, the Panasonic LZ2000 supports all high dynamic range formats such as Dolby Vision and Dolby Vision IQ, HDR10, HDR10+ and HLG, so you can enjoy the best performance from your TV sources.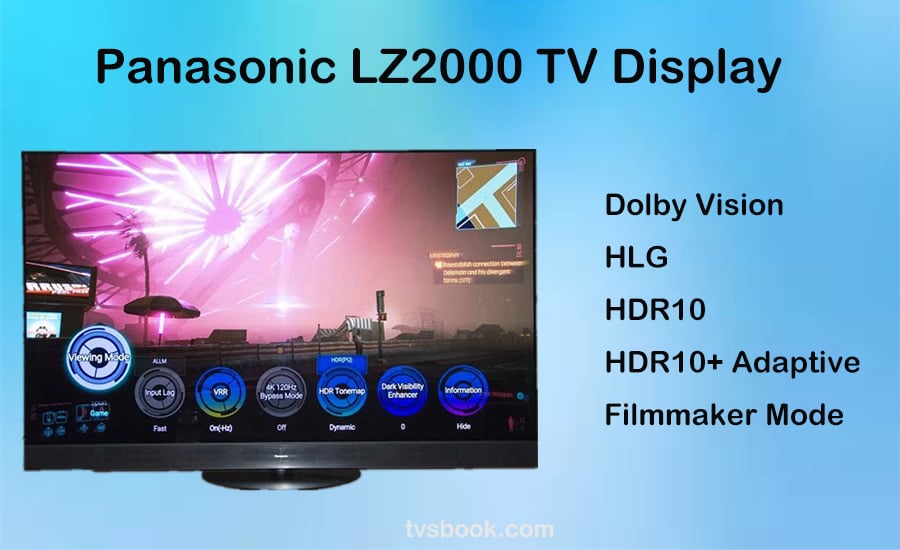 You can enjoy even adjusted images with AI auto-analysis of the input signal and enjoy tailor-made sports, live music, and movie scenes. Most importantly, the Panasonic LZ2000 has features that are superior to the Sony A95K: Filmmaker Mode and HDR10+ Adaptive. There is no doubt that Panasonic LZ2000 will not let you down when it comes to picture quality.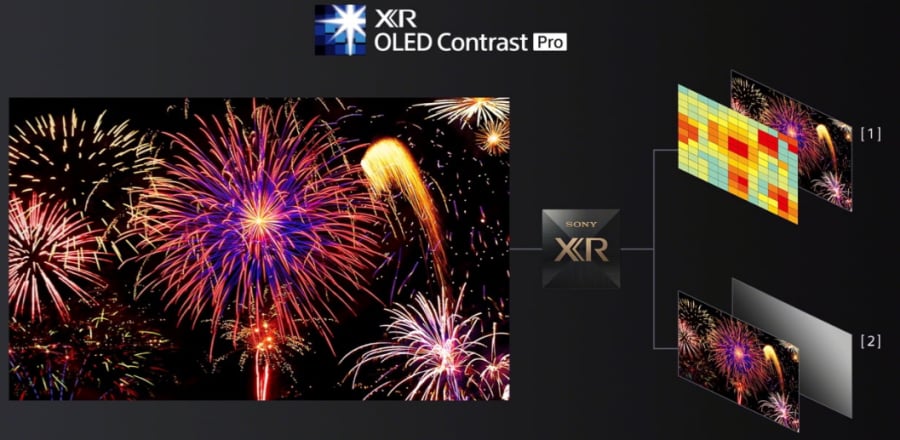 Equipped with Sony's exclusive Cognitive Processor XR and QD-OLED panel, the Sony A95K features excellent peak brightness and near-infinite contrast to render perfect blacks. It shows excellent ability in gradient color processing, such as in sunset where you can feel the true state of the image in a smooth gradient. The Sony A95K has been made the brightest, widest range of OLED color TVs Sony has ever made. It reproduces the most beautiful natural tones and states of people with the help of the processor.
Compared to Panasonic LZ2000, Sony A95K lacks Filmmaker Mode and HDR10+ Adaptive, so consider whether they are the factors that you value.
Panasonic LZ2000 vs Sony A95K: Audio effect​
In terms of sound experience, these two TVs exceed the average. But the Panasonic LZ2000 has 160W of audio output, so it's amazingly loud. Plus, it has 360 Soundscape Pro, which allows you to feel immersive in any corner of your living room. Sony A95K TV with 60W audio output and Acoustic Surface Audio+ effect. Both the Panasonic LZ2000 and Sony A95K TVs support Dolby Audio, but the Sony A95K also supports DTS Digital Surround while the Panasonic LZ2000 does not.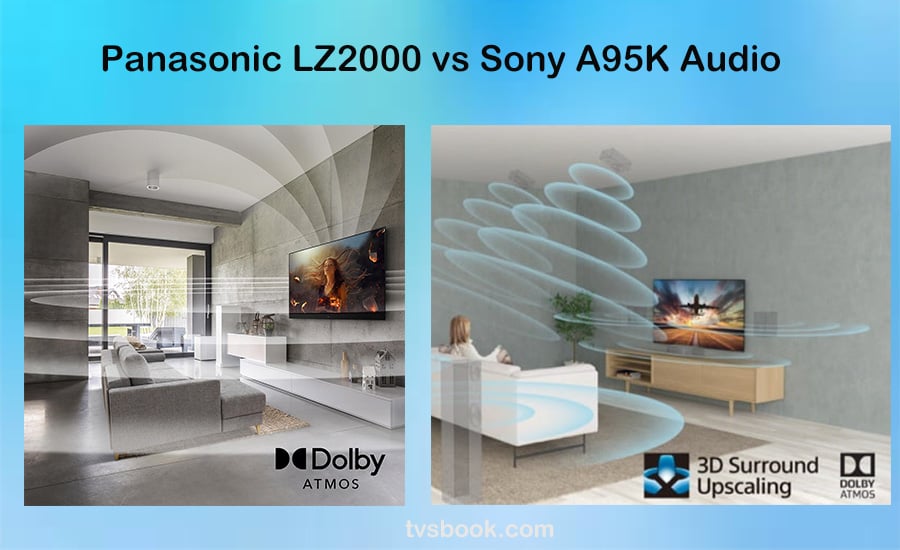 Panasonic LZ2000 vs Sony A95K: Game Experience​
There is no doubt that if you are a fan of big-screen TV gaming, both the Panasonic LZ2000 and Sony A95K can be your choice.
The Panasonic LZ2000 features Game Mode Extreme, support for HDMI 2.1 with High Frame Rate (HFR), 120Hz Variable Refresh Rate (VRR) for faster action at amazing resolutions. And it also features AMD FreeSync Premium for easy PC connectivity, which means the Panasonic LZ2000 is suitable for playing top games. In addition, you can also use Panasonic's Game Control Board to enjoy an easier and more intuitive game setup.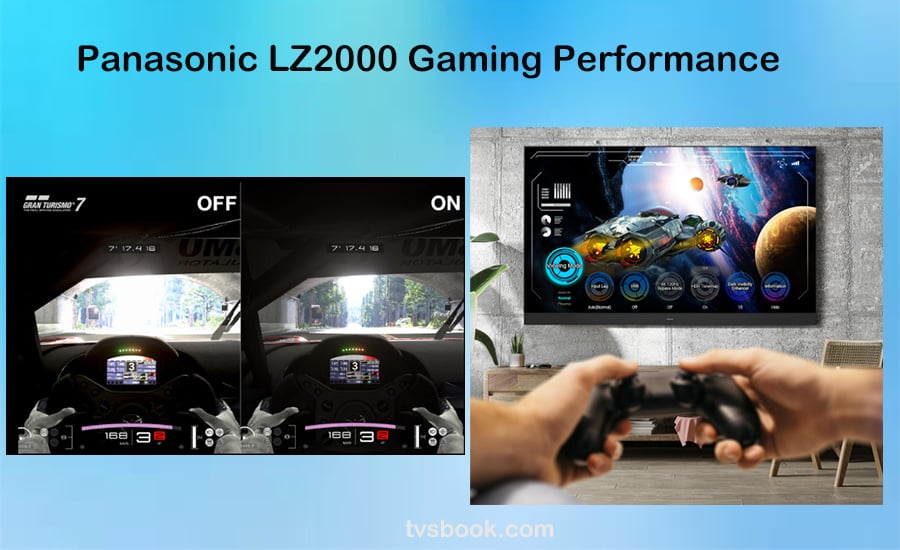 The Sony A95K is the perfect TV for the PlayStation 5, and you can pair it with the PlayStation 5 console for a fantastic gaming experience. Auto Type Picture Mode BRAVIA XR automatically switches to Game Mode to minimize input lag and make the action more responsive. Sony A95K has gaming performance including HDMI 2.1, 4K/120fps, variable refresh rate and automatic low latency mode to provide you with smooth and clear gaming action. Unfortunately, with the Panasonic LZ2000, the Sony A95K lacks FreeSync.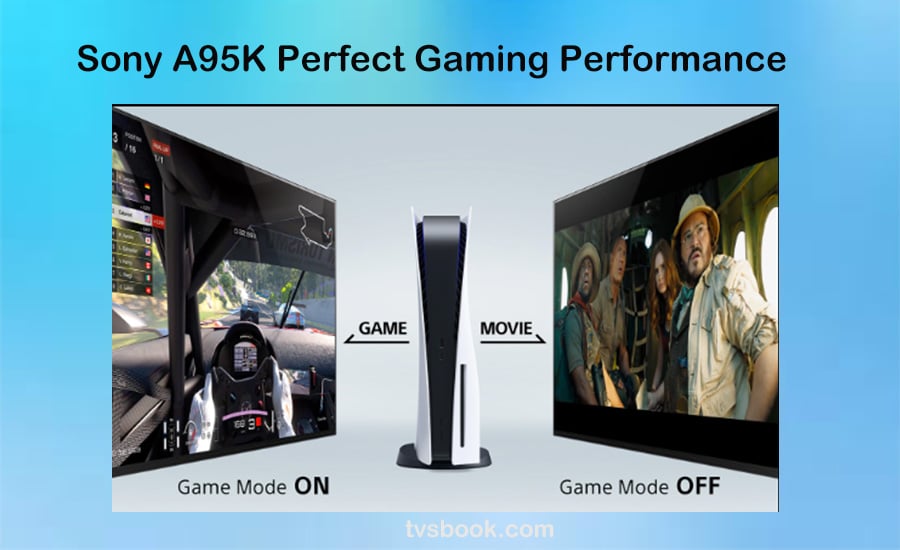 Panasonic LZ2000 vs Sony A95K: Smart Platform​
Panasonic LZ2000 and Sony A95K adopt different systems, so their Home screens present their own features. The Panasonic LZ2000 comes with the exclusive My Home Screen version 7.0, which allows you to easily access streaming platforms such as Amazon Prime Video, Apple TV app, Disney+, Netflix, and YouTube, and use Google Assistant or Alexa to control your TV by voice. The Panasonic LZ2000 does not support automatic system updates, so you may have trouble getting the latest system version later.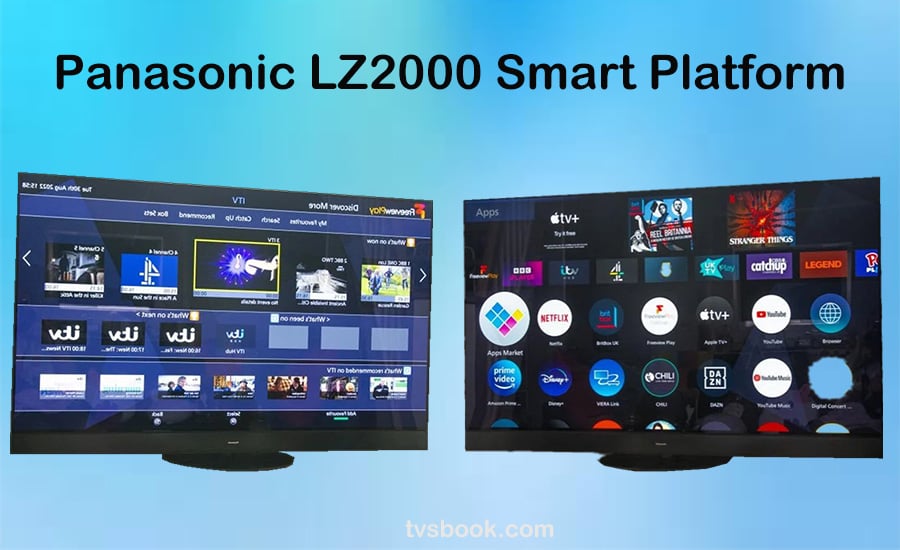 The Sony A95K comes with the more widely used Android system, which uses the Google TV 10 version, and supports system updates. In addition to working with Google Assistant, and Alexa, Sony A95K is also compatible with Chromecast, AirPlay 2, HomeKit, and other features that make it easier to use your TV and other devices. For example, you can mirror your phone to the Sony A95K TV via AirPlay 2.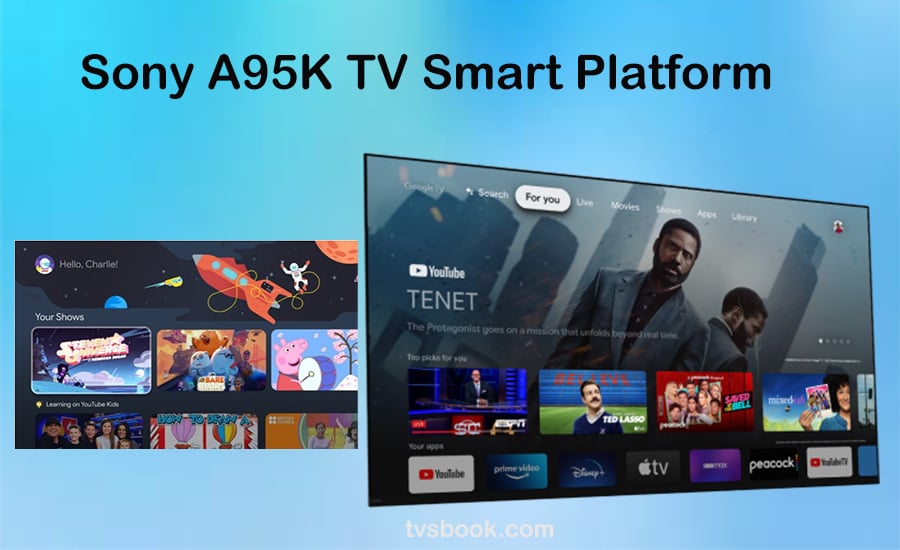 When it comes to smart TV performance, the Sony A95K seems to be the better one. The Sony A95K's Google Play Store comes with more apps, and the open Android system allows you to install third-party apps. But many features of Android TVs require some setup, which can take some time, check the guide on
how to Download Apps on Sony Smart TV
.
Panasonic LZ2000 vs Sony A95K: Final Choice​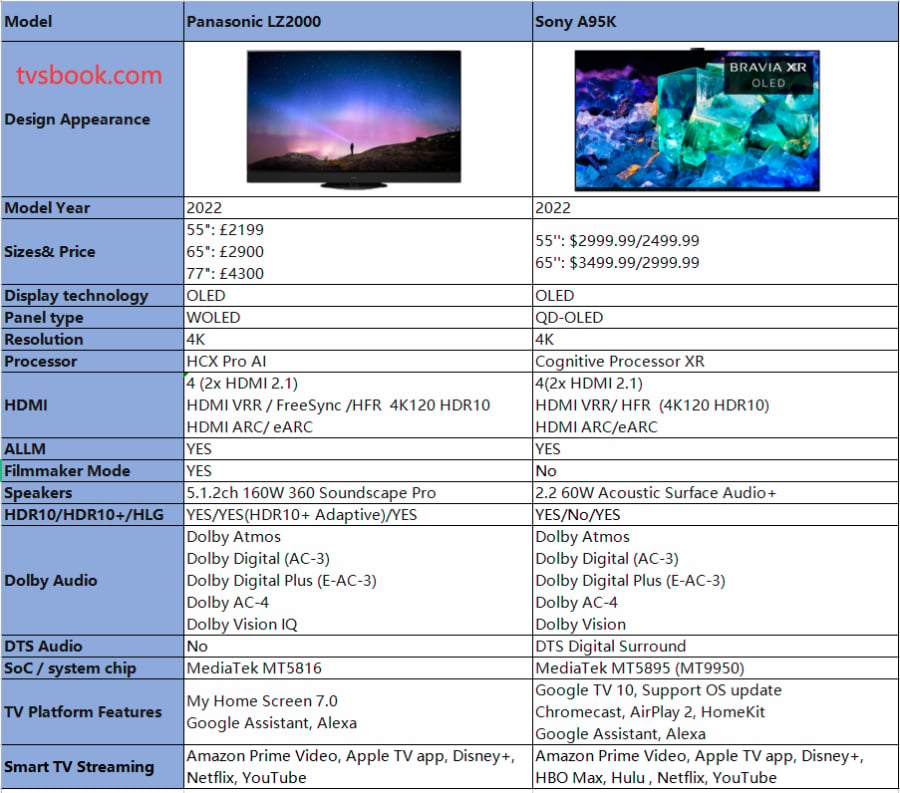 All in all, as we have chosen in the previous article: both TVs have their own characteristics and excellent performance. The Panasonic LZ2000 is better in terms of price, but the Sony A95K offers a discount so it attracts a lot of interested users. The richness of Android TV streaming and Sony's powerful processor and chip make the Sony A95K a strong contender more often than not.
Now, looking back at the Panasonic LZ2000 vs Sony A95K, we see that the Panasonic LZ2000 offers a larger 77 inches, while the Sony A95K's 55 and 65 inches and the Panasonic LZ2000 are not that far apart in price. Now you can make your choice between these two great 2022 OLED TVs on balance.
Last edited: