Hey, guys. Today's post is actually not a book review. Surprise! As fun as writing book reviews are, today, I have something more enjoyable (well, for me) planned. I have been planning this piece of work for a long, long time, and I'm finally doing it now! This is going to be what you'd call a movie review. [Right? Whatever.] What movie? A movie I don't consider exist. We're going to talk about the so-called Percy Jackson movie.
[I just want to mention that at the end of this review (rant, whatever you prefer, there's not much difference for this), I will quote some things that Rick Riordan said about this movie, and they will be in
THIS
color, since Rick Riordan's words are gold. ]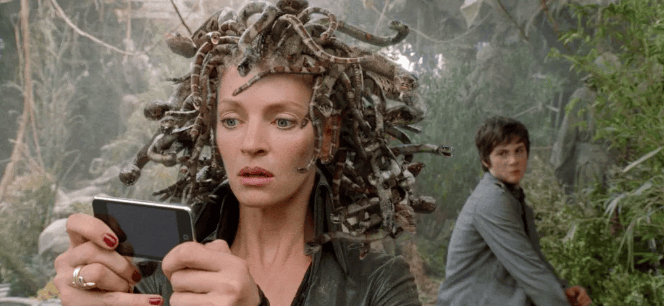 In the Percy Jackson fandom, this would've either caused anger or excitement. For different reasons, of course. But, just like a responsible twelve-going-on-thirteen year old would do, I have to put up a disclaimer. This will be the usual, what-you're-gonna-see-on-YouTube sort of disclaimer, so if you have no problems with my opinion on this movie (or, more likely, you agree with it), you can just skip back to the black part.
Before we actually get into how this movie actually was (if you hear a choking sound, that'll be me choking back my comments for now), I want to tell you guys what made me write this today. Like, why didn't I put it off to tomorrow or next month, or next year. This morning, for me, was the last straw.
I was on my phone this morning, on WeChat. As the Percy Jackson fan I am, I'm proud to say that I looked up some article concerning Percy Jackson and the Olympians. My own article popped up, and I have to admit, I was pretty happy about that. There were some others, though, and I wanted to see what they made of it, so of course, I clicked in. Most of them were okay, they all included the series in their favorites list. Some even claimed that their child read it in third grade, which, I'd have to say, left a sour taste in my mouth, you know, for some weird reason, I don't know why. But then, there were some people who posted about the movies being out and just overall raving about them. People who said they were exciting. So, in general, confused, misguided people. I didn't really look at their comments much, but the few lines I did catch made me want to use the "facepalm" emoji. And that's why we are where we are. But enough about me, or those poor misguided people. Let's get into the reasons the movies (yes, they actually made two) are... the worst book to movie adaptations EVER.
Just get ready for a lot of ranting.