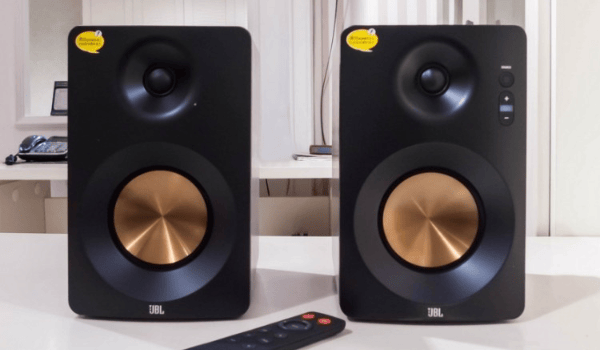 JBL CM220 is a typical 2.0 active listening speaker with a small body, 152mm in width, 243mm in height and 215mm in depth. It will not stand out because it is too high on the table. The overall shape continues the design of the CM series of listening speakers. The difference lies in the rose gold metal diaphragm used in the 4-inch metal reflector of the middle bass and the wireless receiver added in the middle of the volume +- key of the main speaker. Warning signs are posted in the upper left corner. This is because there is no dust shield outside the horn unit of JBL CM220. If it is accidentally touched, it may damage the horn. If there are children at home, please be careful.
The design of JBL CM220 has very distinct JBL features. Compared with JBL CM102 and 202, the workmanship and sound quality have been greatly upgraded. The front face adopted metal diaphragm, rose gold color and fashion combination, more identification, more in line with the modern popular aesthetics. JBL CM220 supports wired AUX access, USB and bluetooth playback, as well as remote control function. Multiple playback modes greatly expand the use space. Flexible and convenient remote control does not need manual adjustment every time, so it is easy to operate.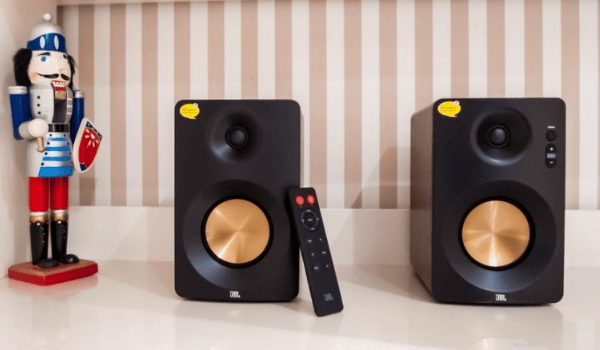 JBL CM220 supports remote control operation, with an effective range of 6 meters, which means that as long as you are in a room, you can play remotely from any direction. The switch button at the top right of the main speaker is equipped with LED lights. Blue is bluetooth mode, red is standby mode, green is AUX mode, and yellow is USB mode.
Mode switching can be done either by pressing the switch button or by remote control. JBL CM220 supports bluetooth 4.2 and has extremely fast connection speed. Once started, the phone can quickly search for signals. Bluetooth 4.2 is a qualitative improvement over the previous transmission speed, which is about 2.5 times of the previous transmission speed. The data volume that the bluetooth smart packet can hold is 10 times of the previous data volume. In other words, it supports high-quality music playback and can guarantee excellent sound quality even when using mobile phones.
JBL CM220 only supports MP3 and WMA music formats in USB mode, which is a little bit less. The advantage is that it can be operated by remote control without connecting to a computer, which greatly expands the use space of JBL CM220.