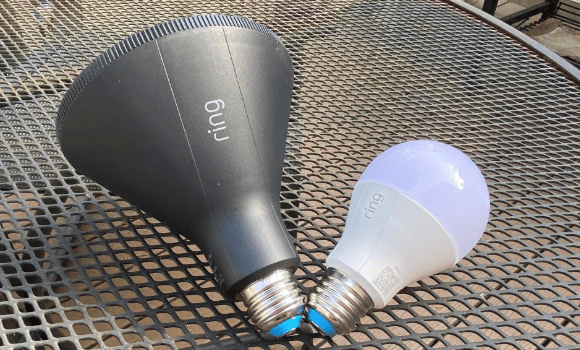 Back in January, Ring announced some expansions for its Smart Lighting line, which followed on the heels of the company's foray into outdoor smart lights last year. This, of course, expanded Ring's product line from just security alarms, cameras and video doorbells into a whole new category.
We're pretty big fans of the Smart Lighting line, and really like how well it integrated with the broader Ring system. Now, Ring is shipping some new outdoor lights and two smart bulbs: a standard A19, which is your typical lightbulb, and a PAR38, which is quite a bit larger. These two bulbs represent the true launch of indoor smart lighting and lower the entry-level cost into the line.
A19 Smart Bulb ($14.99)
PAR38 Smart Bulb ($24.99)
To connect these to your network, you'll need a Ring Bridge, which costs $49.99. We'll touch on this a bit more in a minute, but while there's an upfront cost with the bridge, it sets you up for connecting as many as 50 Ring smart lighting devices.
We've spent a week testing these bulbs to the max, so let's dive into what we found.
These look like lightbulbs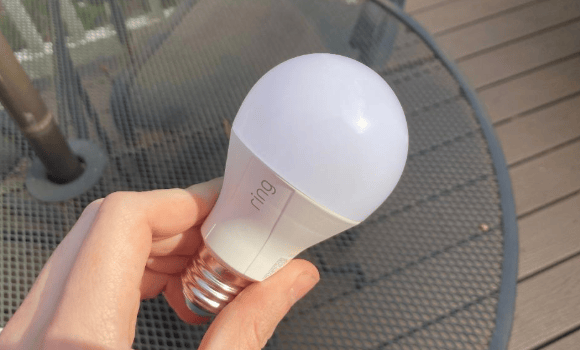 Ring isn't reinventing the wheel when it comes to bulb designs. Both the A19 and PAR38 look like any other standard A19 or PAR38 bulb. That's crucially important, as they need to fit into standard fixtures.
For most people, the A19 is likely the bulb you'll need for most fixtures. The PAR38 is more common in high-hats and other fixtures. It's great for spreading light out farther from a top-down design, versus the A19, which can shine in a 180-degree range.
Ring's take on the A19 is a standard bulb with the screw-like base for connecting to the fixture, topped with a white shell that ends with the bulb on top. It's an LED bulb and tops out at 800 lumens. Ring stamps the barcode for pairing onto the bottom half of the A19 bulb.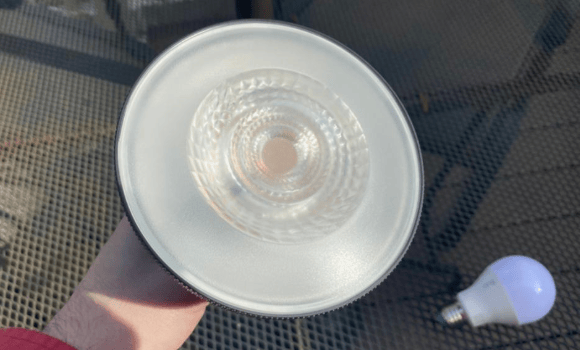 The PAR38 lets you pick between black and white for the housing. Since the LEDs shine right out of the top, which is flat, you can get a little more creative with this design. This gets nearly twice as bright as the A19, with 1,500 lumens. Lastly, there's also a difference with the coating on the PAR38, as it's suitable for wet locations, meaning you can use this outdoors. While testing these, we had a day and night of heavy rain and we encountered no issues. The A19 can also be outside, but needs to be covered. We've been using it in a light above the front door that's open on the bottom (the bulb faces down), and it's been working great.
Setup is smooth and control is easy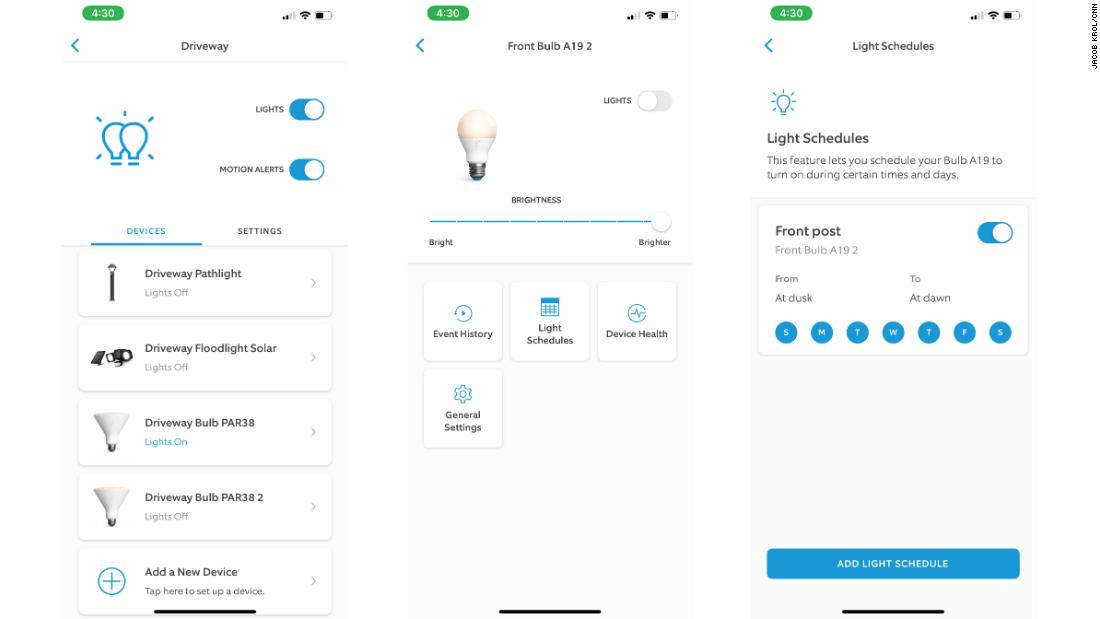 As with previous smart lighting devices from Ring, these bulbs are controlled via the Ring app. You can group them together, but you'll have to set it up one bulb at a time. It's not a deal-breaker, but it does take several minutes each to pair.
The first step with any of these is to make sure you have a Ring Bridge connected. This piece of hardware is similar to a Philips Hue bridge or a SmartThings hub. Essentially it's how these bulbs connect to your Ring system and your wireless network. It costs $49.99 and supports up to 50 lighting devices. Any bulbs beyond that 50 require a second Ring Bridge. It houses the proprietary long-range network, along with Bluetooth.
You'll start by opening up the Ring app on your Android or iOS device, selecting that you want to pair a new product, and then choosing smart lighting. From there, you can scan the barcode on the included sheet of paper in the box or from the barcode stamped on the bulb itself. We lost that sheet of paper pretty quickly, so you could say we're thankful it was stamped on the bulb too.
Once that's scanned, the app will instruct you to screw your lightbulb into the fixture and then give it power. The bulb will cast a network that consists of Bluetooth and a proprietary long-range signal, and the Ring Bridge will pick it up. You're then asked to name it and can even set a schedule. The Ring Bridge casts a wide net. In our testing, we kept it centrally located in the house, and it reaches out to the street for path lights and into the backyard for other connected fixtures.
It's impressive and only took a minute or two to connect for the A19 bulbs. The PAR38s took a bit longer, at closer to three minutes. The timing might vary based on network connectivity.
Once in the app, you can group the lights in various ways. We have sets for the front yard, backyard, first floor and second floor. Depending on how many lights you have, you can even group these by more specific spots, like individual rooms. It's a handy feature. If, say, another Ring device closer to the street detects motion, you can have all the other bulbs turn on. This is good for welcoming visitors, as it lights up the walkway, but it can also scare off unwanted visitors. If you have a Ring Floodlight connected, it can shine a bright light on the path.
We're also really digging the schedule feature, especially for the PAR38 bulbs, which we have housed in a classic outdoor spotlight fixture. Rather than using a traditional mechanical timer hooked up to power, we can now just keep the switch on, and the Ring app intelligently turns the PAR38 lights on at dusk and off at dawn. It has the potential to lower the electric bill and also gives us an easy way to check if the lights are actually on. You can just ask Alexa or check in the Ring app, rather than getting up and looking outside. Furthermore, you can customize these schedules for lights to turn on or off at any time. This can be handy for when you're traveling, as it allows you to give the appearance that you're home.
Last edited: