Samsung and Microsoft, two tech giants, have opened free "gaming zones" at Microsoft Experience Centers in London and New York, allowing users to play Xbox cloud games on Samsung's smart TVs and monitors.
The partnership is not a one-off event, as Samsung became the first TV platform to feature the Xbox app on Smart TVs back in June 2022. With the Samsung Gaming Hub, users can stream over 100 games using the Xbox app with an Xbox Game Pass subscription. And users don't have to download or worry about storage space limitations.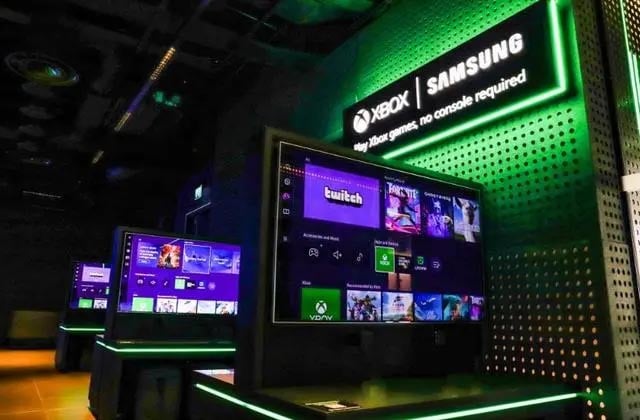 To create a more immersive experience, Samsung has set up three dedicated gaming zones in the Gaming Zone, each with its own features and a range of Samsung's gaming displays. First is the Cloud Gaming Zone, which features a 55-inch Neo QLED Smart TV for cloud gaming via the Samsung Gaming Hub, which allows visitors to play Xbox's cloud games instantly and without downloading.
Next is the living room area with three 98-inch Neo QLED 4K HDR Smart TVs (London) and an 85-inch Neo QLED 8K TV (New York), where users can enjoy high-definition picture quality and stunning sound.
Finally, there is the Tournament Zone with the 24-inch Odyssey G3 gaming monitor (London) and the 27-inch Odyssey G5 gaming monitor (New York), where users can participate in various competitive tournaments and challenges.
In addition to Xbox, Samsung Gaming Hub supports cloud gaming platforms such as Amazon Luna, NVIDIA GeForce NOW, and Utomik. Samsung Gaming Hub is currently available in Brazil, Canada, France, Germany, Italy, Korea, Spain, the United States and the United Kingdom.