Because of the epidemic situation, home work (WFH) has become a daily routine for many people, and many gyms have also successively made some professional teaching of home fitness. However, in fact, the TV in the home is also a very good tool, and jixiong zi One found that this time samsung disclosed several ways to use today's smart TV is very suitable.
1. Watch TV and exercise
Now Smart TV is not a 4 k is 8 k quality quality, the figures show, 4 k of domestic television users has soared to more than 8 into, so as long as the network is enough to force, it can choose a few online fitness channels to watch, but at present such as TCL, hisense, haier TV channel no preset fitness, Samsung Smart TV also noted this block, just click on the movement of the above services, choose to want to do exercise, although go to work or study at home can easily.
Samsung has also launched a new "Samsung Health" service, scheduled for the end of may in the United States, Britain, Canada and Korea, along with the development of more market, it is a combination of free fitness content from the world first-class partners, including the popular application of reflux and obeFitness Fitplan, Echelon, barre3, Jillian Michaels, etc., but these applications only and Samsung smart TV compatible in 2018-2019.
With Samsung Health, users also have full free access to the service's extensive content catalog a year after it was launched.
2. Enjoy free live TV
Samsung have a Samsung TV Plus, a smart TV users can immediately access to more than 100 channels, these channels include news, sports, entertainment content, the focus is on "free" and "don't need to download, just need the attachment to the Internet, you can find suits own program, like an American CBS news, BonAppetit, PlayersTV, comedy, drama, and so on are all free, for people who are interested in art can also get a lot of free content, such as concerts, tourism and exhibition, Users can enjoy high-definition concerts by the Berlin philharmonic orchestra 2 from the comfort of their homes, and the samsung TV Plus, for its part, is mostly pre-installed on all samsung smart TVS from 2016 to 2020, though One thinks more fitness and cooking programs would be better.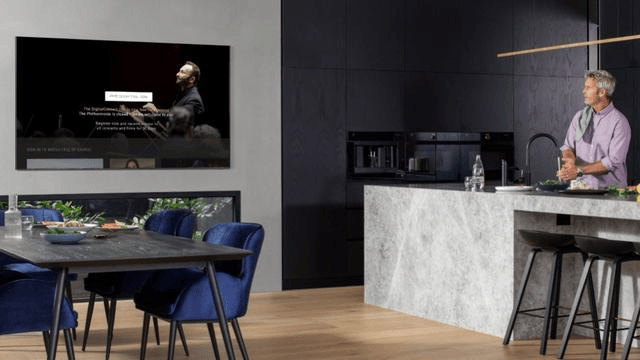 3. Work from home more comfortably
In 2019, samsung introduced its exclusive remote access feature. This remote access provides a variety of cloud-based file services that make it easier for students to continue studying at home. They can even use a web browser to watch online classes and live lectures on the TV's roomy screen, so they won't miss any notes or details. Remote access also comes with wi-fi Direct, which facilitates seamless screen sharing between TVS and desktops, phones and tablets. For existing TVS, the samsung experience is way ahead of the game.