Regardless of the past, present, or future, the TV has always been the center of attention in the living room and the hub of many smart scenes such as home audio-visual entertainment and smart home.
From the perspective of the global market, the demand for high-end TVs has increased in recent years, and new display technologies such as OLED, Mini LED backlight, and Micro LED are entering the fast lane of development.
Samsung Electronics ranked first in the global TV market last year with a 29.7 percent market share, according to Omdia. In this regard, Samsung Electronics explained that the high-end product strategy centered on Neo QLED is effective.
In addition, the report also shows that Samsung will dominate the large-size TV market in 2022, accounting for 36.1% and 42.9% of the 75-inch and 80-inch TV market, respectively. In addition, in the high-end TV market with a price of more than US$2,500, Samsung has a 48.6% market share.
As a well-known international consumer brand manufacturer, in addition to Mini LED, Samsung has also laid out a variety of technology routes such as OLED and Micro LED, and launched a variety of products including 4K and 8K that cover the above technologies.
However, Samsung's technical routes have a relatively high coverage rate of 4K products. Therefore, experts say that Research took Samsung's 4K TV products released in the past two years as an example and observed:
1) Some of Samsung's key high-end 4K TV products adopt Mini LED backlight, OLED and Micro LED technologies respectively;
2) In terms of size, Mini LED backlights cover the most widely, ranging from 43 inches to less than 100 inches, OLEDs are mainly 55 inches, 65 inches, and 77 inches, and Micro LEDs are 110 inches;
3) In terms of price, OLED products are priced between Mini LED backlight products with similar sizes, and Micro LED is positioned at the highest end, which is 10 times the price of 98-inch Mini LED backlight TVs.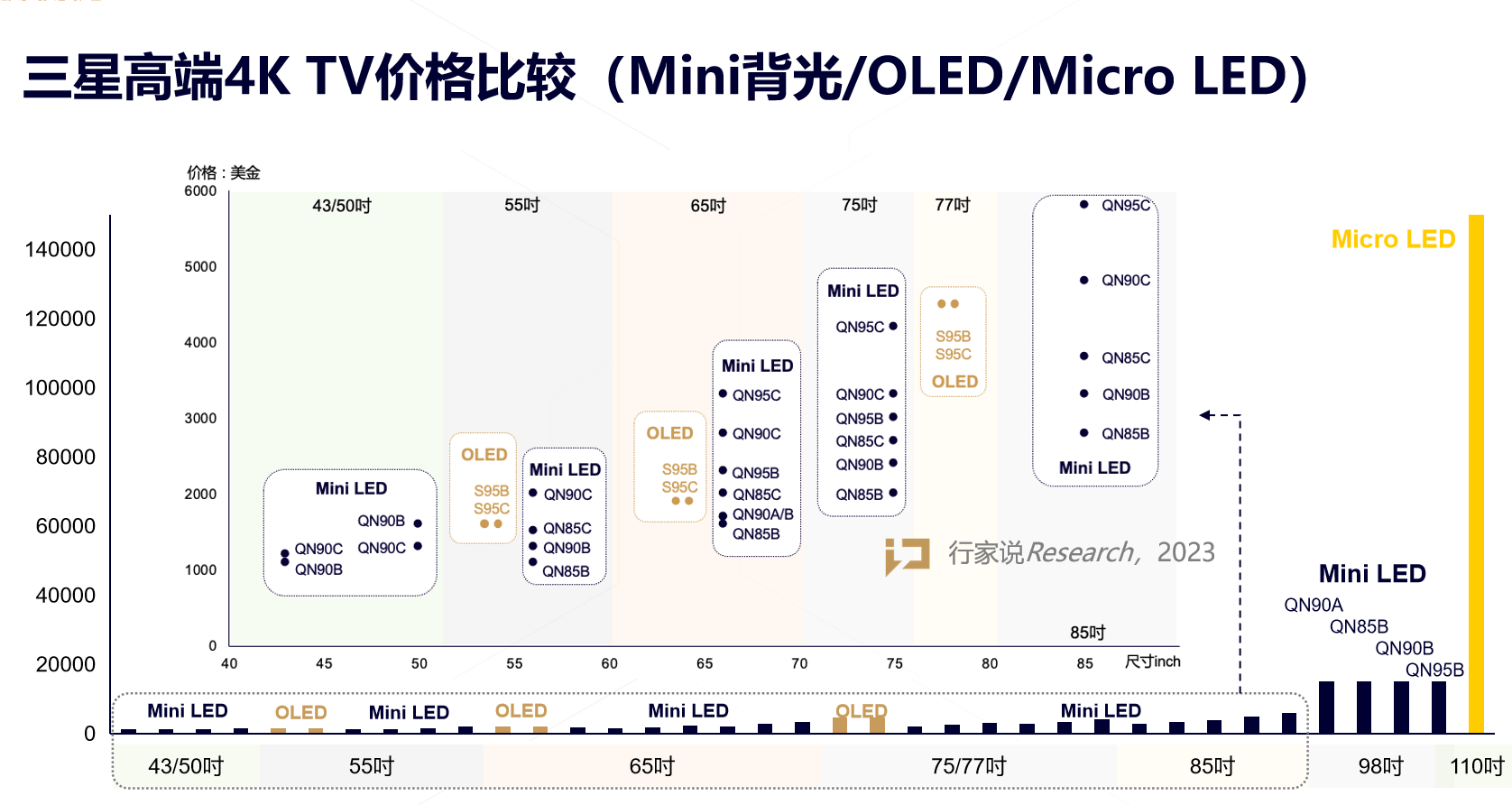 And judging from the TV product lineup announced by Samsung recently, it focuses on Mini LED.
The above information also shows that this is one of Samsung's strategies in the high-end TV market; it cannot be ignored that since 2018, Samsung has also increased its layout of Micro LED, and it will continue to make efforts to display another important weapon in the market.
So, what will happen to Samsung's products this year? How will it affect Mini LED and even the high-end TV market?