Earlier this year, LG and Samsung showed off their next-generation display technology for premium TVS by 2021. LG is focusing on
QNED
this year, while Samsung is
Neo QLED
. Both display technologies deliver improved color, peak brightness, and contrast of HDR content, and offer
4K and 8K
resolution specifications.
They both look great, but there are some differences, and understanding the differences between the two technologies may also provide some ideas for future TV purchases.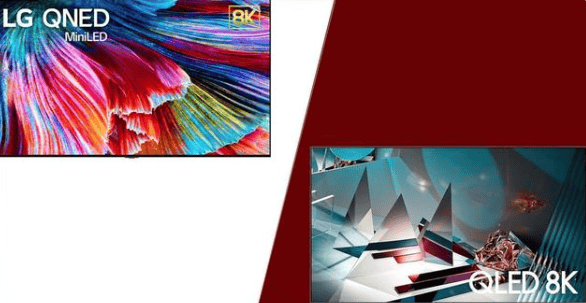 LG's QNED and Samsung's Neo QLED are both based on
mini LED
display technology. To understand this, let's see the development of LCD TV display technology.
1. Are QNED and Neo QLED better than other display technology? Why do we need them?



LCD
technology produces color by filtering ordinary backlighting. The disadvantage of previous LCD technology was that the backlight would bleed into the dark pixels, thus
reducing contrast
. This means that blacks are not as "pure" when using LCDs, so the contrast is poor compared to pixel-dot self-emitting OLEDs, and
is inherently flawed when displaying HDR content.
To solve this problem, LED TVs introduce multiple backlights and use "local dimming", which can improve the overall contrast. There are different ways to set the backlight to achieve dimming, each with its own advantages and disadvantages. Full-array local dimming is the best but also the most expensive option, while edge-based dimming is cheaper, but
the display is relatively poor
.
However, even with full-array local dimming, the number of lights in the dimming zone is still a limiting factor. LED TVs then often exhibit halos between adjacent bright and dark areas, so for some tiny images, such as stars in a dark sky, do not benefit from this, but may
become blurred
as a result.
Increasing the number of dimming zone lights helps reduce these errors and improve performance, but of course, it also makes the display panel more expensive. So you can see that many manufacturers are now turning to the use of OLED panels because each of its pixel points can be self-illuminating, and thus can obtain a higher contrast ratio. But LCD is gradually closing the contrast gap, and this is the next to introduce and compare LG QNED and Samsung Neo QLED technology.