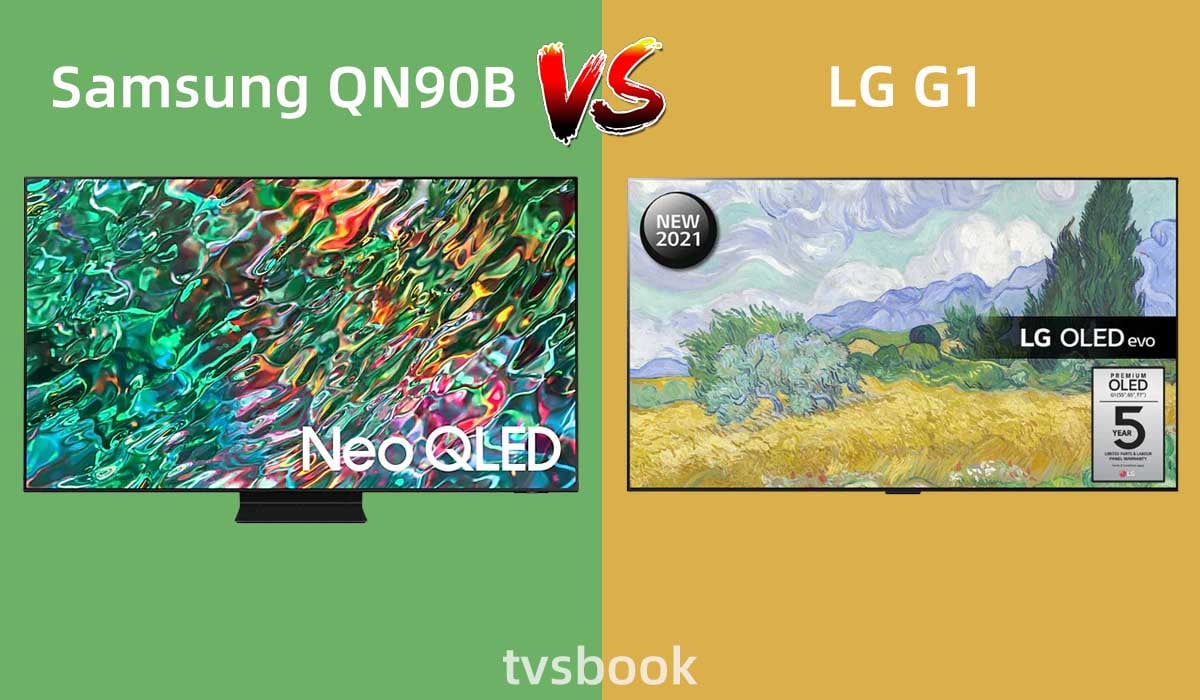 This article will compare Samsung QN90B vs LG G1 TVs.
The Samsung QN90B Neo QLED TV and LG G1 OLED use different panel technologies, each with its own advantages and disadvantages. Among them, Samsung QN90B is a 2022 model, while LG G1 is a 2021 model.
Samsung QN90B vs LG G1: Overall Comparison​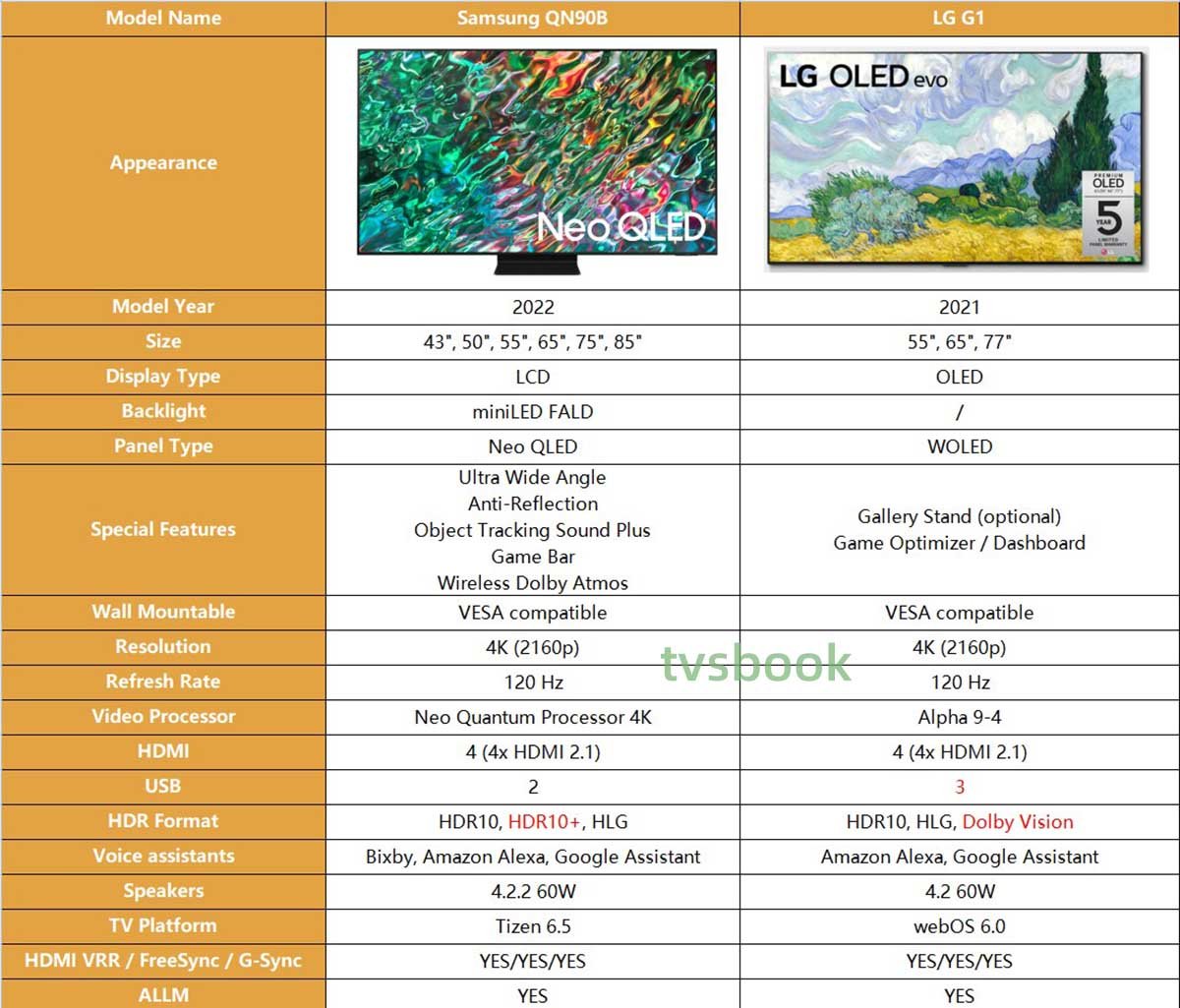 Samsung QN90B Neo QLED TV Quick Review​
The Samsung QN90B is the flagship 4K model that uses Samsung's new Neo QLED technology. It combines Quantum Dots and Mini LEDs to enhance contrast, brightness, and color to deliver images comparable to OLED screens.
It offers impressive peak brightness, and its use of Mini LED backlight technology allows more and smaller LEDs to be dropped inside the screen to provide more precise localized light control. the QN90B's localized dimming feature further improves contrast and is capable of rendering deep blacks in dark scenes. It has excellent reflection handling, and the high peak brightness is sufficient to combat glare in bright rooms. So whether you're viewing in a dark or bright room, you'll be able to get an accurate image.
PROS
High peak brightness and anti-glare capability
High contrast ratio and excellent local dimming
Rich gaming features
CONS
Lack of Dolby Vision
Halo near light spots
LG G1 OLED TV Quick Review​
The LG G1 OLED TV features LG's exclusive OLED Evo technology, which delivers brighter images and more realistic colors than regular OLED. With perfect contrast and deep blacks, it delivers amazing image quality in dark scenes. OLED's wide viewing angle makes it suitable for watching sporting events or movies in wide seats. It has excellent reflection processing and can display excellent images in bright rooms.
PROS
Perfect contrast and black level
Outstanding brightness
Rich game features
Excellent design
CONS
Lack of stand
Lack of HDR10+
Risk of screen burn of OLED
Samsung QN90B vs LG G1: Picture Quality​
The Samsung QN90B TV has a low native contrast ratio, but with its local dimming feature it is able to effectively raise the contrast ratio and can render deep blacks in the dark. Samsung's wide viewing angle layer causes a low native contrast but enhances the viewing angle.
It has amazing peak brightness and can be viewed in very bright or lighted rooms without fear of losing picture quality. In large bright scenes, its automatic brightness limiter (ABL) reduces the brightness of the picture.
The QN90B delivers very bright HDR content and is great for watching HDR movies or HDR gaming content. It supports HDR10, HDR10+, and HLG but, like other Samsung TVs, lacks Dolby Vision.
As an OLED TV, the LG G1 offers perfect contrast and renders very deep blacks. In dark scenes, you can see more picture details without halos around bright lights.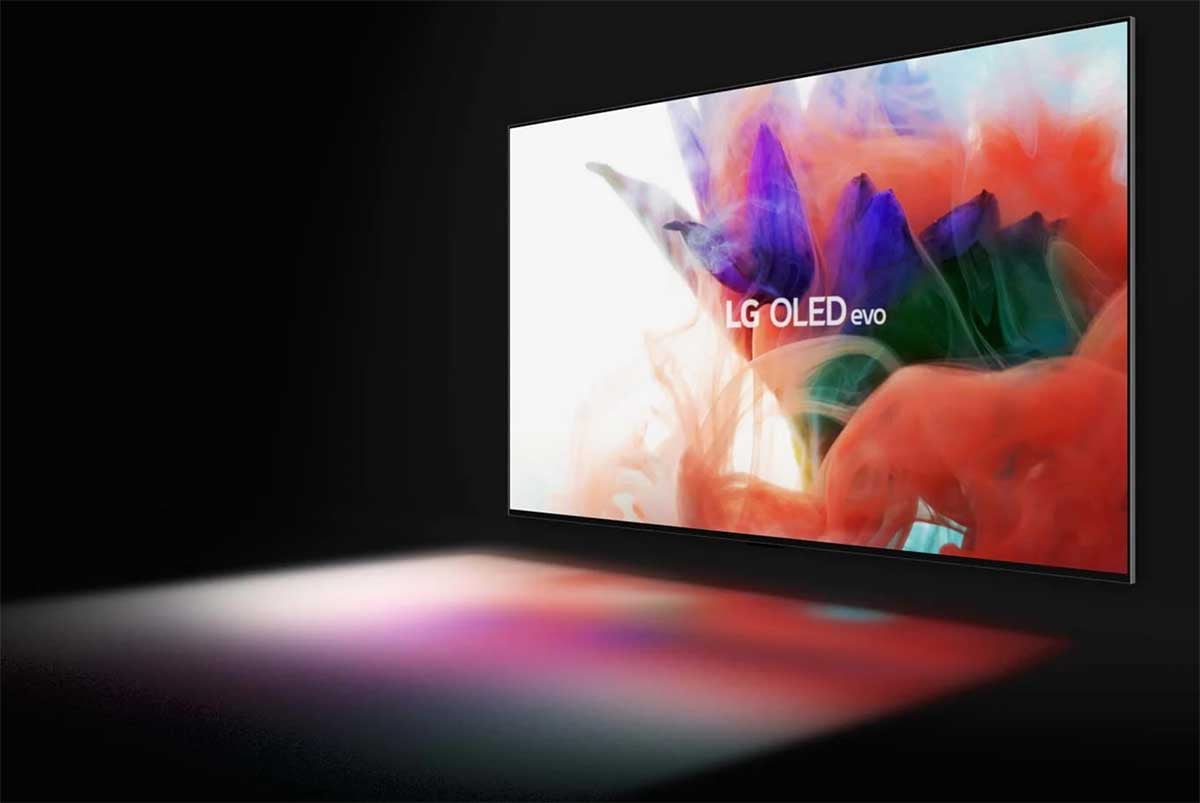 The LG G1's OLED Evo offers higher brightness than previous OLEDs, with improved clarity and other picture quality metrics. Nonetheless, it is far less bright than the Samsung QN90B, which uses an LCD panel. In rooms with more ambient light, it may not be bright enough to resist glare. Therefore the best image quality of LG G1 is better obtained when viewed in a dark room.
It supports most HDR viewing formats, including HDR10, HLG, and Dolby Vision, but not HDR10+. It has decent HDR peak brightness to highlight highlights.
Due to the nature of the OLED panel, the G1 has a wider viewing angle than the QN90B, making it ideal for viewing with friends or family.
Samsung QN90B vs LG G1: Sound​
The Samsung QN90B has a built-in 4.2.2 60W speaker and the OTS+ system places the sound right on or off the screen, but there is significant distortion at high volumes.
The LG G1 has a good response frequency and produces good bass, but lacks explosiveness.
But we don't usually expect too much from our TVs, and if you want better quality sound, you'll need to configure a soundbar.
Samsung QN90B vs LG G1: Design​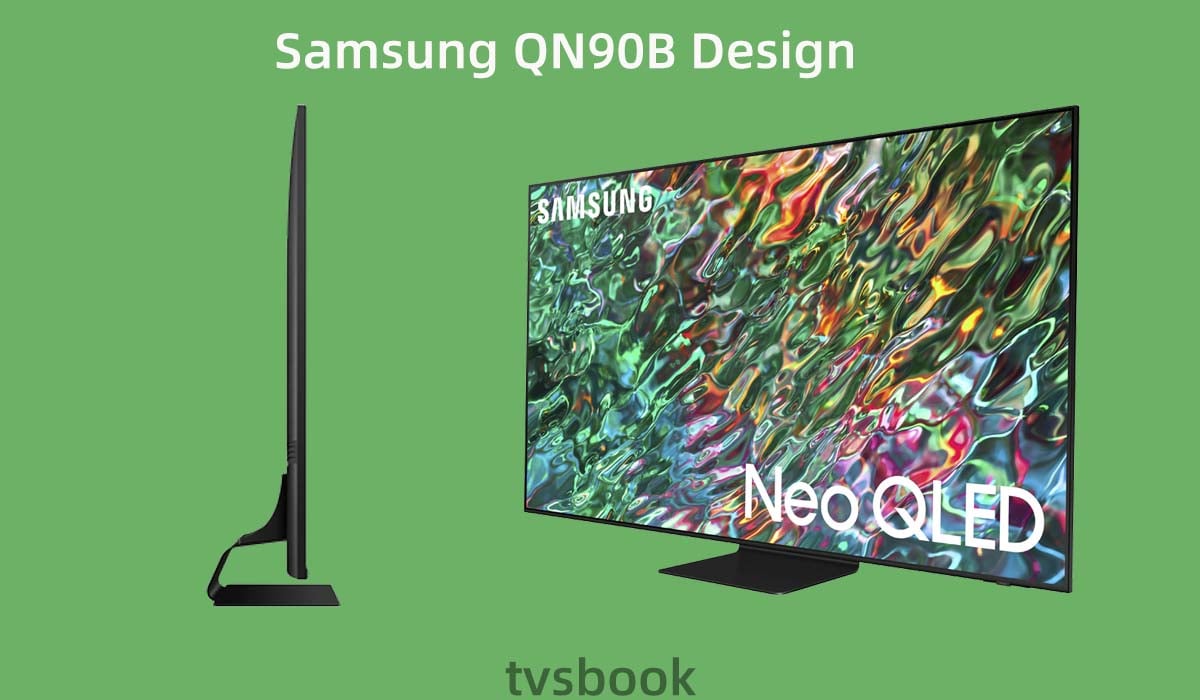 The sleek design of the Samsung QN90B features a slim black bezel with an ultra-thin black metal stand. The stand is heavy but small enough to fit on narrow desktops, but larger models can be wobbly.
Thanks to Mini LED, it is much thinner than a typical LCD TV and can sit flush with the wall when wall-mounted. The back of the panel provides access for cable management, making the input ports difficult to access when you choose wall mounting.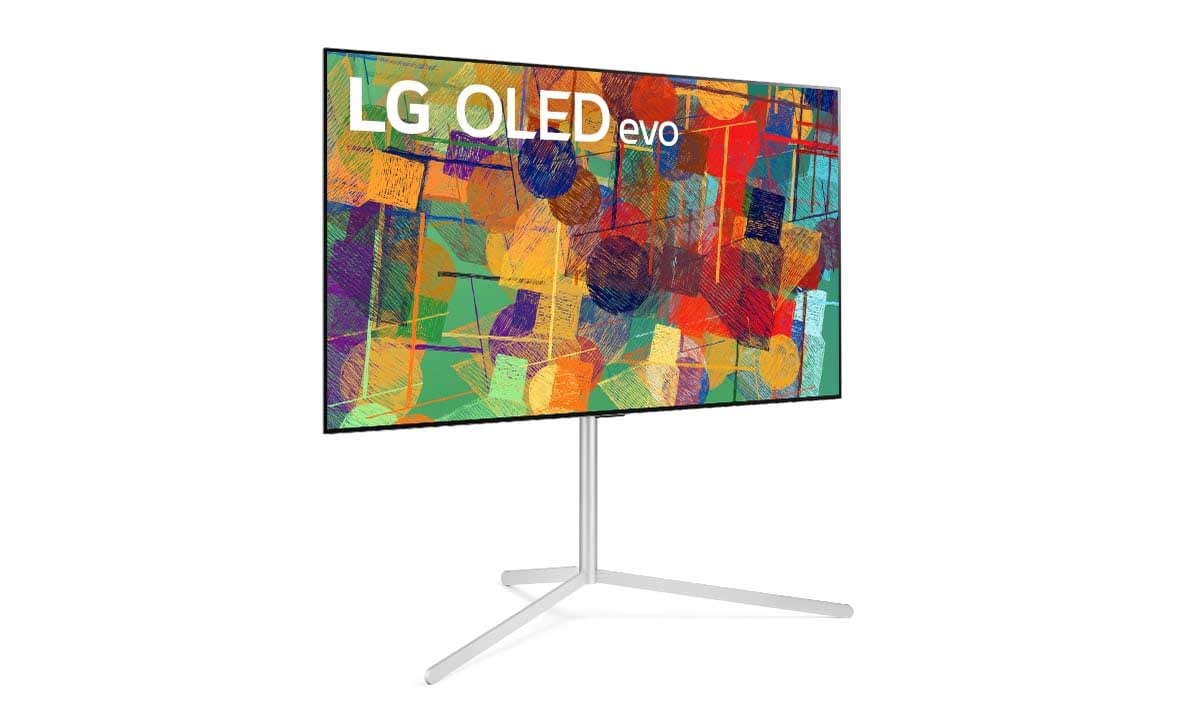 Designed to meet your imagination of modern TV aesthetics, the LG G1 is part of the "Gallery" series and features a picture frame design. As such, it is ideal for hanging on the wall using the special stand that comes with it. Its slim design allows it to sit perfectly flush with the wall, and with a thin bezel with delicate tapered edges, it blends in better.
Unfortunately, the LG G1 doesn't come with a stand; you'll need to purchase the leg accessories separately or the new, more design-oriented Gallery floor stand.
Samsung QN90B vs LG G1: System & Smart Features​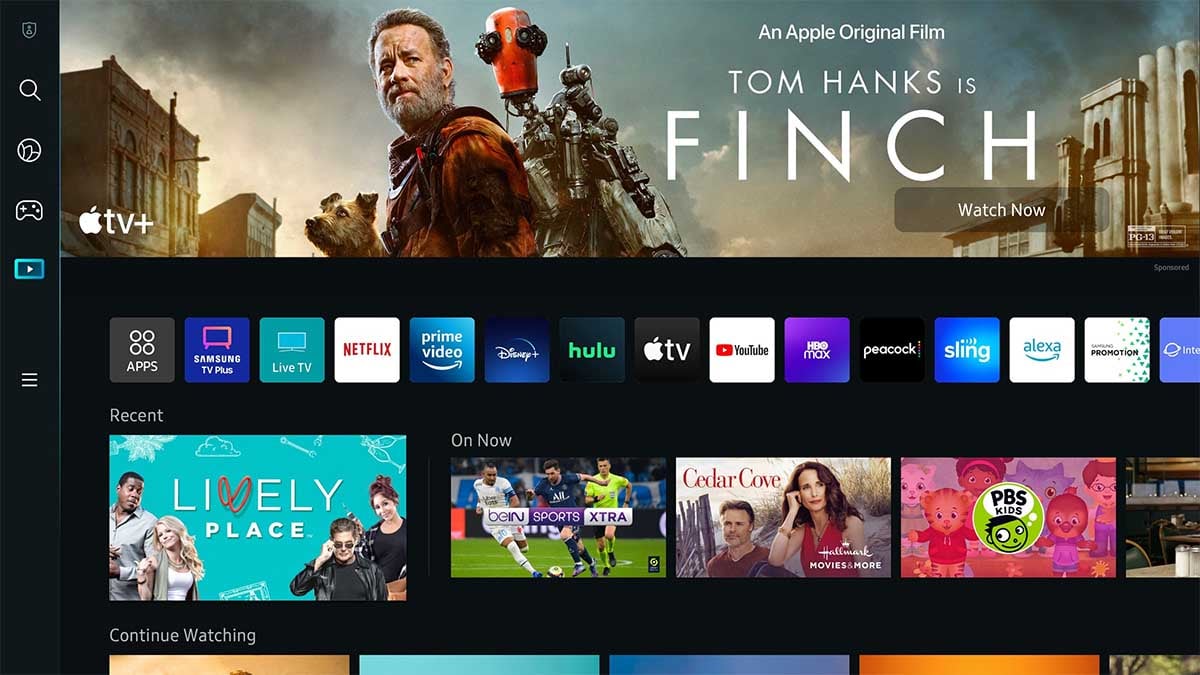 Samsung QN90B is equipped with the latest Tizen OS version 2022 with a redesigned interface that is easy to access and works smoothly.
Samsung's app store offers a wide range of apps and streaming services. The TV supports voice assistants, including Bixby, Google Assistant, and Alexa, so you can use the voice function on the remote to control the TV to launch apps or adjust certain settings.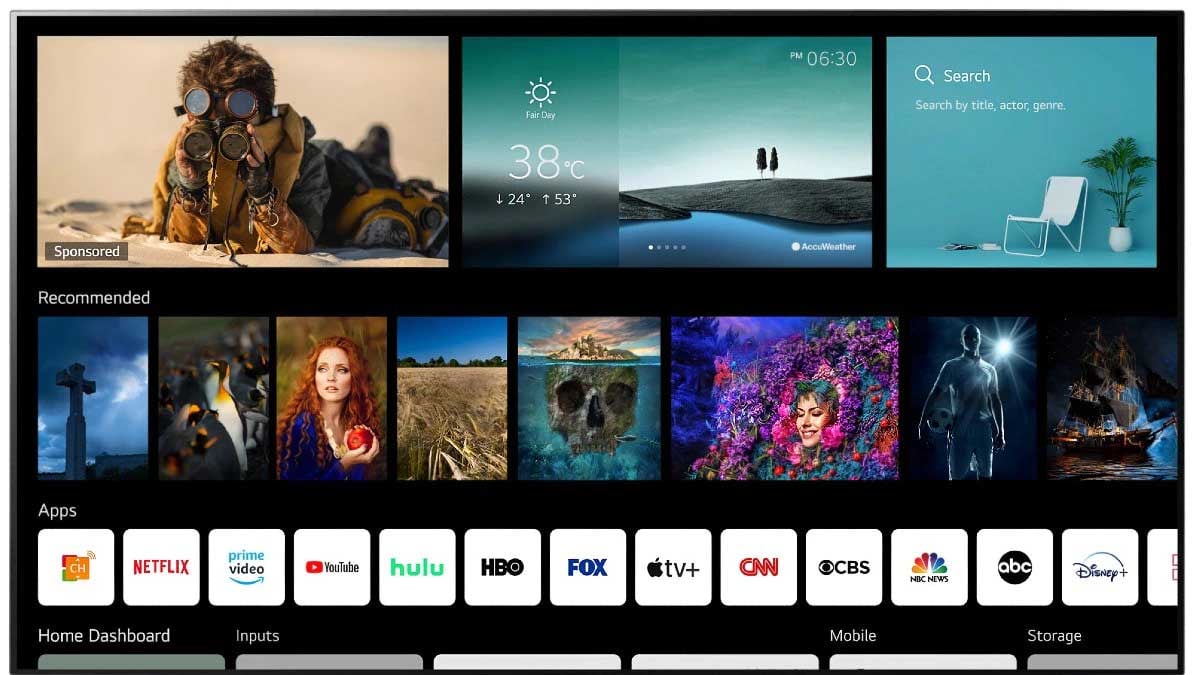 LG G1 is powered by the redesigned webOS smart platform for 2021, which changes the user interface to provide more recommended content on the home screen.
You can download the apps you need from LG's app store. The new LG Magic Remote is NFC-enabled, allowing you to tap the remote with your phone and project content onto the TV. You can also access Google Assistant and Alexa voice assistant through the remote.
Samsung QN90B vs LG G1:Summary​
Samsung QN90B and LG G1 have different features with Neo QLED and OLED Evo technologies respectively. Overall, the Samsung QN90B has higher brightness and is ideal for use in bright rooms. The LG G1, on the other hand, has higher contrast and black uniformity for viewing in the dark. the LG G1 has a wider viewing angle than the Samsung QN90B, but carries the risk of permanent aging.
Both TVs have 4 HDMI 2.1 ports and support 4K 120Hz. the TVs both support VRR / FreeSync / G-Sync and ALLM gaming features.
Last edited: