According to the RUNTOChina Smart TV Box Online Retail Market Monthly Tracker report, in October 2022, the online retail sales of smart TV boxes in China will be 164,000 units, a year-on-year increase of 12.3%, and a month-on-month decrease of 5.6%; retail sales will be 40 million yuan, a year-on-year increase of 9.5% , a month-on-month decrease of 1.3%, with an average online transaction price of 234 yuan.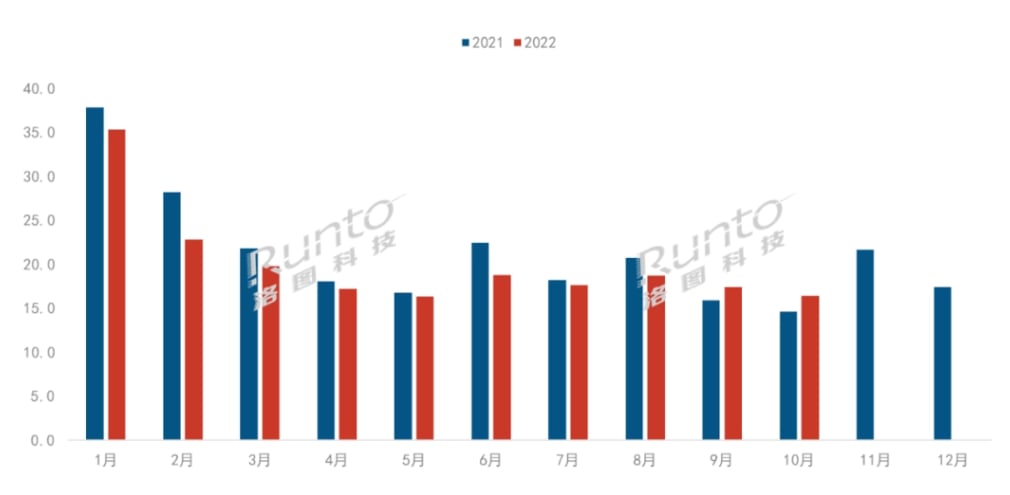 As a product with non-rigid demand, the performance of the smart box market is still sluggish, and the online retail sales in October were less than 170,000 units; on the other hand, due to the advance of the double 11 promotion, the volume increased year-on-year.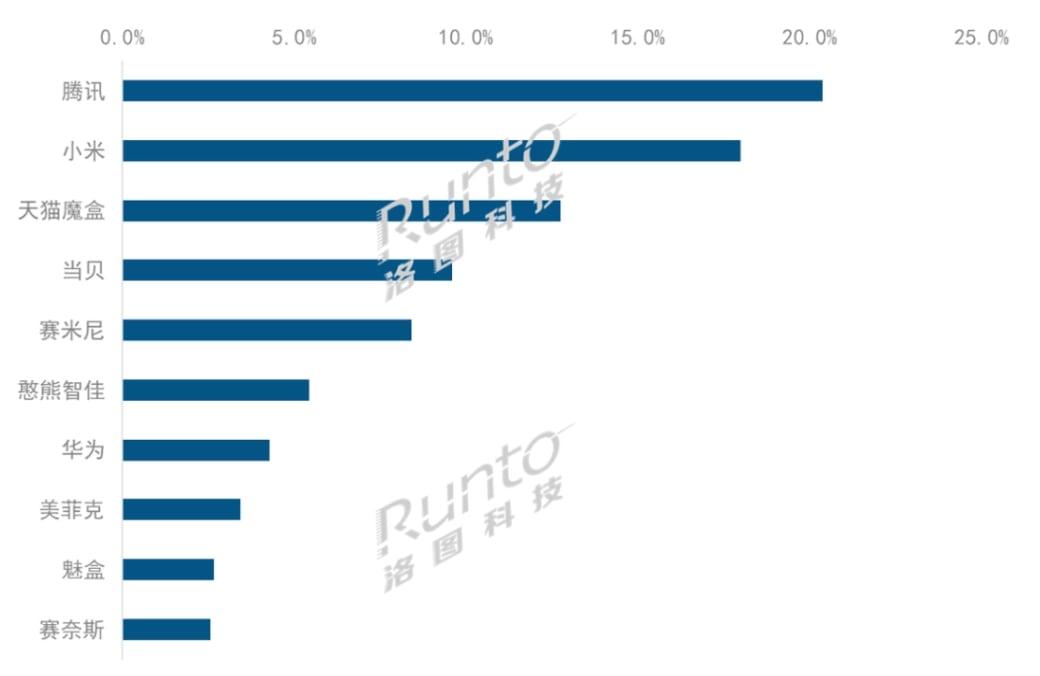 According to the data, the TOP4 brands in the smart box online market in October this year were Tencent, Xiaomi, Tmall Magic Box and Dangbei. CR4 reached 60.7%, a decrease of 9.2 percentage points from the same period last year, and an increase of 6.0 percentage points from the previous month.
Tencent topped the list for the second time since June this year, with a market share of 20.4%, a year-on-year increase of 3.1 and 3.9 percentage points respectively. Among them, the price of Tencent Aurora 3C box was reduced to 100 yuan, ranking first in the list of best-selling models.
Xiaomi ranked second, accounting for 18% of the market share, an increase of 1.1 percentage points from the previous month; the number of models sold in the Xiaomi product line was the least among the TOP4 brands, with only 5 models, and the single-machine contribution rate of Xiaomi Box 4S was the highest.
The market share of Tmall's Magic Box is 12.8%, and the price structure of products under promotion has dropped significantly. The internal share of less than 200 yuan has risen from 9% last month to 43% this month, but it still fails to drive sales. The brand share is higher than last month. down 1.4 percentage points.
Dangbei's sales accounted for 9.6%, and sales volume increased by 103% year-on-year; Dangbei focuses on the mid-to-high-end market, and is the highest and only brand with an average price of more than 500 yuan among the TOP10 brands.
As far as we know, the Chinese brand company, Dangbei, has software technology and hardware products, including TV boxes and projectors. Currently, the projector
Dangbei Mars Pro
is a 4K laser smart home projector for global sales, with 3200 Ansi lumens brightness, priced at $1799.
Affected by the long-term recurrence of the epidemic, most consumers' consumption desires are more conservative, and the choice of smart boxes is more inclined to low-priced and even distribution, so small and medium-sized brands are favored.